Review by
E.C. McMullen Jr.

THE ABYSS

- 1989
USA Release: AUG! 9, 1989
Lightstorm Entertainment, Pacific Western, Twentieth Century Fox
Rating: USA: PG-13
I don't know about you, but there are times in my life when I saw a movie I enjoyed, that I'd later see again and enjoy even more. I'd wind up buying it and every time I see it I still enjoy it and every time for more or different reasons.
And -
There are also those times I saw a movie that I didn't like, but after some time of thinking about it, gave it another chance and I enjoyed it, even to the point of eventually loving it.
And -
Of course the opposite is also true. There are times I enjoyed a movie, only to discover that it didn't hold up to repeat viewings.
Yet -
There are times I didn't like a movie, but due to a friend's encouragement, I watched it again only to find that I disliked it even more.
When it comes to movies I'm firmly in the J.C. camp of John Carpenter and James Cameron. They've made movies that not only endure through the years for me, but have become my definition of what cinema should be.
Yet -
They aren't all winners and after putting it off for decades I decided it's long past time to write a review of THE ABYSS.
Which means I had to watch it again.
A U.S. Navy submarine, deep sea and on a routine course. Suddenly radar picks up something odd. Something is moving quickly toward the sub.
They listen. It sounds like nothing they've ever heard. No sea life makes that sound, certainly nothing man made.
Whatever it is its moving faster. Submarines have all manner of sensors but what they didn't have in 1989 was a way to put actual eyes on visual confirmation. All they see is a bright dot heading toward them on a graph.
40 knots, 80 knots, well over 100. Nothing we know can move that fast and then, whatever it is, passed the sub.
The worst is yet to come as the sub is caught up in that powerful wake and 156 human lives inside the tube go spiraling out of control off into the depths of the ocean, crashing against undersea mountains.
Because this is James Cameron, whether on a giant movie screen or my TV, I nearly feel the panic the actors convey through their characters.
It doesn't hurt that I was in the Navy, so to a point some of this resonates with me.
This is James Cameron's THE ABYSS.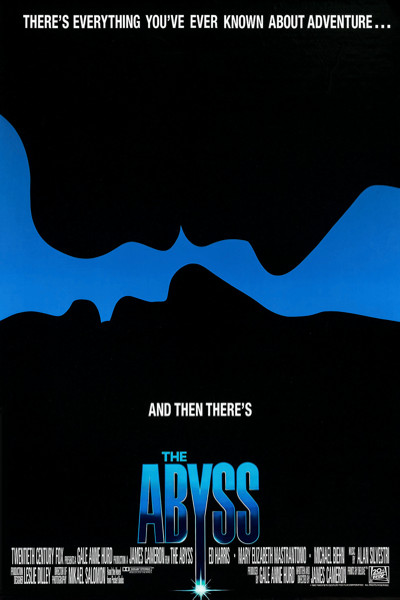 Remember: Every single James Cameron movie is a love story.
The entire story is only building up to the moment(s) where
either of the two characters will show just how far they'll go for love.
There are no exceptions to the Cameron Rule.
As blind luck would have it, an experimental submersible drilling rig called Deepcore (experimental because it's manned instead of automatic) is nearby. Like remote controlled automated systems, Deep Core sits on the ocean floor where it connects to the well and pumps the oil from the bottom, up through a long flexible "umbilical" hose to the floating platform above it.
An emergency rescue mission has to be cobbled together fast and since there is no one with the necessary equipment who is closer, who can get to the sunken sub sooner, the oil company that owns the equipment, Benthic Petroleum, is more than happy to work with the military.
The same cannot be said for Virgil "Bud" Brigman (Ed Harris: COMA, THE ALIENS ARE COMING, CREEPSHOW, THE FIRM, NEEDFUL THINGS, WAKING THE DEAD, THE HUMAN STAIN, A HISTORY OF VIOLENCE, CLEANER, MOTHER!, GEOSTORM, WESTWORLD [TV]), the boss of Deep Core.
They have all of the expensive robot rigs and piloted submersibles you could want, but Bud won't risk his crew, who aren't trained in deep sea rescue.
As a young man seeing this for the first time in the theater my first reaction to that was,
'This entire crew living on an underwater rig at deadly pressures, with everything they could possibly need to perform deep sea rescues, aren't trained in deep sea rescues? What if they need to rescue a crew member or, you know, the entire Deep Core rig?'
Then the oil company executive up top on the oil platform promises three times their pay to participate in the operation and suddenly everyone is ready to rock.
Ready to rock? How can they do a job they aren't trained to do?
Again, seeing this for the first time I was appalled at these inhuman cretins who, when faced with an emergency life or death situation, wanted to negotiate human life against padding their wallets.
James Cameron wrote these as the good guys.
So who are the bad guys?
The Navy SEAL rescue team led by Lt. Hiram Coffey (Michael Biehn: THE FAN, THE TERMINATOR, ALIENS, RAMPAGE, THE SEVENTH SIGN, TIMEBOMB, JADE, CHERRY FALLS, MEGIDDO: THE OMEGA CODE 2, THE INSATIABLE, PLANET TERROR, THEY WAIT, PSYCHE:9, BEREAVEMENT, THE DIVIDE, THE VICTIM, JACOB, THE NIGHT VISITOR, THE GIRL, SHE RISES, THE NIGHT VISITOR 2).
It gets worse when a woman named Lindsey (Mary Elizabeth Mastrantonio: AMOK, GRIMM [TV]) enters the picture.
Lindsey arrives by helicopter along with the SEALS and, however long their trip was, they already don't like each other.
The crew of Deepcore discover that Lindsey is topside and coming down and nearly all of them from Lisa (Kimberly Scott: FLATLINERS, BODY SHOT, BATMAN FOREVER, BATMAN & ROBIN, IMPOSTER) to Lindsey's estranged husband on Deep Core, react to the news with revulsion.
In short order Lindsey makes it clear that Deepcore is her personal project that she fought for four years to achieve, and it's more important than human life itself. The only reason she is here is to make sure that no one hurts her machine, as she knows it better than anyone. She is angry and despises everyone.
She pilots the mini sub that will take her and the SEALS from the floating oil platform down to Deep Core itself. From there they will go inside Deepcore but first endure 8 hours in a sealed enclosure to safely adapt their bodies from ambient sea level pressure to the 57 atmospheres of pressure in the deep sea drill rig.
Lindsey makes it clear to the SEAL team, who've already been advised, that despite the pressure adjustment, it doesn't work for everyone and some folks can still succumb to HPNS (high-pressure nervous syndrome - SEALS already know all of this. It's the unclassified part of their training).
It's during this 8 hour period that Deepcore caps its oil well, frees itself from its moorings and, still connected with the floating platform far above, is towed via Lisa in the Flatbed submersible 22 miles to the edge of the ocean's ledge at Cayman trough, where the Navy sub, USS Montana (not a real Navy ship name) waits far below.
Lisa pilots the main mini sub as the tow vehicle.
Let's review that last bit. Deepcore is moving toward hellacious hurricane Frederick, its floating platform in tow. Why is Deepcore attached to a narrow flexible pipeline attached to a crane on the floating platform? What possible reason is there for that?
Communication feed? Well that's nice but pretty dangerous. That umbilical only has so much tolerance (give) and moving two separate craft 22 miles, for eight hours, under two distinctly separate stressors - one near the bottom of the ocean floor so deep that sunlight can't penetrate, and the other floating above on the ocean's surface and heading for a storm - is a pretty dangerous proposition.
Worse come to worse, communication could always be carried by Morse code to each other simply by tapping on the inner hull of either craft.
Wait. How does that last part work? Time for a
!!!SCIENCE MOMENT!!!:
If anyone in cinema is unusually hard core on getting the science right, it's Writer, Director, Producer, James Cameron. So the SCIENCE MOMENT is right at home here.
Have you ever watched a World War II movie where the sailors on the submarine have to be absolutely quiet so the enemy ship on the surface cannot detect them?
That's because at most decibel levels (dB), and up to a given point, the denser the matter a sound has to travel through, the farther that sound can travel. So sound travels better in a liquid medium like salt water than gaseous medium like air (salt water being 800 times denser than air at sea level). The less dense the atmospheric gas, the less far sound can travel until you reach the vacuum of space where no sound can travel.
That's just as well because at only 90 plus million miles from our mind bogglingly massive star (size relative to us): a cosmic body that is in the daily process of exploding billions of times a second, if our planet's atmospheric density reached all the way to our sun, we would be instantly pulverized by Sol's shockwaves.
Would you like to deep dive into the minutia of details? Sure You Would!
8 hours later and Lindsey exits the pressure chamber along with the three SEALS. During that time its apparent that she has only made morale and matters worse between her and the rescue team and, save for her uncharacteristic (at this point), sisterly affection toward Deepcore crew member, Jammer Willis (John Bedford Lloyd: C.H.U.D., THE BOURNE SUPREMACY, THE MANCHURIAN CANDIDATE [2004], THE KILLING FLOOR), she is the second most damaging thing in this movie since whatever it was that sunk the U.S.S. Montana.
TRIVIA
Though there was no USS Montana when THE ABYSS was made, the USS Montana SSN-794 is now a real nuclear powered submarine expected to launch May of this year, 2020.
USS Montana Committee
---
Cameron wrote the Coffey character to be so cartoonishly villainous that according to IMDb,
"Michael Biehn who, after reading an early script, suggested to James Cameron to let his character Coffey suffer from HPNS (high-pressure nervous syndrome), as an explanation for Coffey's increasingly irrational behavior. He also grew a mustache to add to the menacing nature of his character."
- IMDb
---
Biehn gave his character of Coffey so much depth beyond Cameron's original script, that 20th Century Fox pushed for the Academy to give him an Oscar nomination.
James Cameron thought that Ed Harris deserved the recognition.
---
Why Michael Biehn Thinks 'The Abyss' Is James Cameron's Biggest Disappointment
AUG! 6, 2019
By Jason Hellerman
Continued at NoFilmSchool.
The SEAL rescue team is on a focused mission: to save however many people are left alive on the submarine. Because of that, the rescue team of SEALS neither care or have time to waste with the Deepcore crew's drama and endless questions.
Because of their focused, no time to waste attitude, the rescue team is looked upon unfavorably by the crew with most of the grief coming from both drama queen Lindsey and the third most damaging thing, the boyish man child, Hippie (Todd Graff: STRANGE DAYS), who accuses the rescue team of every vile thing he can think of for no other reason but that he gets off on it.
Bud: "Hippy, you think everything is a conspiracy."
Hippy: "Everything is."
Never mind that these SEALS are only there to save human lives and the Deepcore crew doesn't care if the survivors aboard the Montana all die. It's because the SEALS and the crew of the Montana are military, that they're painted as the villains, while the crew of Deepcore are the good blue collar workers who are being put in danger, for a job they agreed to do only for the fat paycheck.
So far the people I'm supposed to like in this story aren't likable and the heroes are the ones I'm supposed to hate.
This only gets worse when Lt. Coffey develops High Pressure Neurological Syndrome (HPNS). This doesn't come out of nowhere, either. When we first see the initial effects of it on the man, there's nothing said because the syndrome and its symptoms were explained in conversation that we the audience are onboard with it.
Michael Biehn provides great silent moment of show don't tell: something Cameron excels in as both a writer and a story teller.
Then it's ruined when this SEAL exhibits worsening behavior and obvious symptoms. His own SEAL team can see it and dialog already made it obvious that they know how to recognize it. Crew members like Lindsey see what he's going through, even point it out to each other in private and, instead of warning the man and his team mates of what is driving him mad, choose instead to mock and humiliate him in front of his team.
Not kidding.
Lindsey purposefully chooses to sanctimoniously drive Coffey - a man she knows is dealing with a potentially deadly and temporary mental illness; a man trained to save human lives under the most adverse conditions - over the edge into violence because he is, after all, inferior to her, in her mind.
W? T? F?
Then Cameron chooses Lindsey, of all people, to be the heroine of enlightened wonderment as she becomes the chosen one of those creatures that intentionally killed the submarine crew for no reason.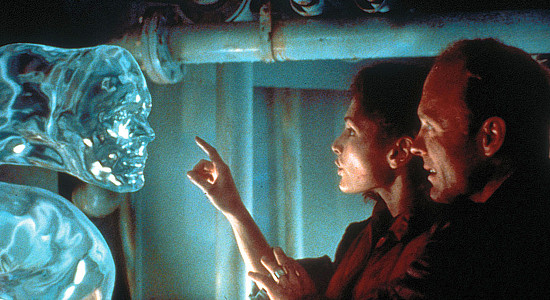 BUD: "Uh... Uh Lindsey? What are you doing?"
LINDSEY: "I'm just going to poke my finger into it's head and taste its brain."
BUD: "Wha...? Wait! WHAT?!?"
LINDSEY: *Sigh!* "Relax, "Virgil". Nothing is ever wrong as long as I'M the one doing it"
W? T? Flying F?
James Cameron wanted this to be his 2001: A SPACE ODYSSEY and all of the cinematic wonderment that James Cameron is known for, from the lived-in realism to the special effects, to the extraordinary attention to the smallest details, he made me feel fully immersed in his world.
However, if Cameron approached any director's vision of first contact this was less Stanley Kubrick 2001 and more Stephen Spielberg CLOSE ENCOUNTERS OF THE THIRD KIND.
Anyway -
Kudos for bringing that meticulous "Cameron look" actually goes to Production Designer,
Leslie Dilley (ALIEN, AN AMERICAN WEREWOLF IN LONDON, RAIDERS OF THE LOST ARK, INVADERS FROM MARS [1986], THE EXORCIST III, CASPER, DIABOLIQUE [1996], COLD CREEK MANOR) who was nominated for an Academy Award for his work on THE ABYSS, and -
Anne Kuljian (FATAL GAMES, CHERRY 2000, SPACE RAIDERS, HARD ROCK ZOMBIES, FLATLINERS, THE CROW: CITY OF ANGELS, SPHERE, MINORITY REPORT, EQUILIBRIUM, WAR OF THE WORLDS, MR. BROOKS, THE MUMMY: TOMB OF THE DRAGON EMPEROR, DIVERGENT, X-MEN: APOCALYPSE, GEOSTORM).
Then despite all of the hard, exhausting, and risky work by James, the cast, and crew, James destroyed it all with his characterizations and moralizing.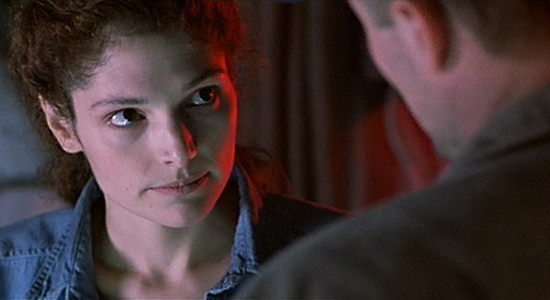 LINDSEY: "Coffey looks and he sees hate and fear, Bud.
You need better eyes than that."
BUD: "Coffey sees hate and fear because he's suffering from HPNS,
and you are intentionally pushing him into a psychotic breakdown."
LINDSEY: "'Virgil', I already told you that nothing is wrong when I do it.
I won't warn you again."

It's all just so unnecessarily vicious and hateful toward humanity while it hypocritically preaches love and seeing the world through "better eyes".
Yet those "better eyes" involve genocide!
For me THE ABYSS doesn't get better with every viewing, it just keeps getting worse.*
Ugh! Three barely earned Shriek Girls.




This review copyright 2020 E.C.McMullen Jr.
---
That's my review of the original Theatrical version.
If you watch the extended Special Edition, you'll see that Cameron wanted to make his "good guys" into genocidal maniacs, ready to commit a human holocaust on a scale never seen in the annals of human history - and they were supposed to be the Good Guys while doing it!
For a metaphor that doesn't spoil the Special Edition ending, imagine that a primatologist told you, "I'm so sick of seeing different groups of chimpanzees fight and kill and eat each other so much that I'm going to wipe all chimpanzees from the face of the earth!"
Does that seem "enlightened" to you?
*All that said, because I love James Cameron's creativity, work, and dedication so much, even his flaws are worthwhile. So I bought the rare two DVD disc Special Edition. The movie menus are beautiful and all of the great extras are worth the price and a better experience than the movie itself.
- Though a commentary track would have been sweet.
And yes, when this eventually comes out on BluRay or 4K (still not available as of April 2020, so there's likely a good reason for that), I know I'm going to buy that too.