Review by
E.C. McMullen Jr.

NO GOOD REASON NOT TO!


TIP JAR




DEEPSTAR SIX

- 1989
USA Release: Jan. 13, 1989
Carolco/Tri-Star Pictures
Rated: UK: Rated 18 / USA: R
This movie was released in 1989 when Hollywood was going through one of its periodical Water movie eras. LORDS OF THE DEEP, LEVIATHAN and DEEPSTAR SIX were all released in anticipation of the success that would surely follow James Cameron's THE ABYSS. As it turned out, THE ABYSS was both over budget and behind schedule, being released far after LORDS OF THE DEEP, LEVIATHAN and DEEPSTAR SIX. Without a major studio, mega-budget movie wake of a James Cameron movie to ride, the launched too early also-rans, sank. All three of them.
Make no mistake, in 1986 DEEPSTAR SIX was making no mystery about chasing after Cameron. The tagline for DEEPSTAR SIX is, Not All Aliens Come From Space.
Get it? Because DEEPSTAR SIX got the greenlight right after the success of ALIENS (1986) got Cameron the greenlight for THE ABYSS? Ho! Ho! and Ha! Ha!
However, THE ABYSS flopped too. 1989 just wasn't the right time for dopey, preachy Horror/SF movies in the water (8 years later, Hollywood would repeat itself and release a slew of underwater critter flicks just prior to the release of/or after the success of, James Cameron's TITANIC). DEEPSTAR SIX was bad news for Carolco, a studio which started the late eighties and into the early nineties trying to be the final word in SF/Horror movies (TOTAL RECALL, THE RUNNING MAN).
They are dead these days.
What I like about DEEPSTAR SIX is the fine acting despite the bad Special Effects, horrendous plot holes, derivative story, and pedestrian script (Screenplay by Lewis Abernathy and Geof Millar: HOUSE IV).
SFX are usually what keeps most Hollywood horror movies afloat, but not this one. The SFX are laughably bad and the movie score will make you groan time and again. Not because the music is bad in itself, but it's so wrong for the movie and comes in at all the wrong times. In fact, the music is so horrible for the movie (imagine a three way cross between the incidental music for Kojak, Charlie's Angels, and Murder She Wrote. It totally wrecks all suspense and action) that nowhere in the credits did I see a listing for who wrote the actual Music Score. There are a few listings for Music Coordinator, Music Engineer, and Additional Orchestration; but I think I'll just be nice and not mention their names here.
The highlights of the movie come from the Direction of Sean S. Cunningham (THE LAST HOUSE ON THE LEFT, FRIDAY THE 13th, HOUSE, HOUSE II) who, though good at direction, is lousy at choosing scripts. I hope he does well with the much anticipated, FREDDY vs JASON to be released in 2000.
A cast of mostly "Television Celebrities" provide surprisingly good acting. The words they speak stink for the most part, but actors like Greg Evigan (HOUSE OF THE DAMNED) cut his teeth on bad TV scripts.
Evigan plays McBride, a civilian sub jockey working contract for the U.S. Navy's DEEPSTAR SIX project. The Navy wants missile platforms at the bottom of the ocean and have thoughtfully provided a few Live Nukes for the team to toy with.
Wait! Live nuclear warheads as a free sample pack???
Da Fuk?!?
McBride's sweetheart is Joyce Collins (Nancy Everhard: DEMONSTONE), the first woman to ever pass through Navy SEAL Training. They are both led by two people: Captain Laidlaw (Taurean Blacque: [TV] THE NIGHT THE CITY SCREAMED) and Doctor Van Gelder (Marius Weyers) who is the harried and none too careful civilian project leader.
Van Gelder knows that the Navy wants him to hurry up, or they will close the DEEPSTAR SIX project. Putting schedule ahead of safety, Van Gelder has some of the crew plant a live bomb - A LIVE BOMB!!! - over a known underground cavern to blow it up and check for stability.
Da! Da! Da!
FU-UK?!?
Can you imagine any cavern that would be "stable" enough to withstand an atomic bomb?
Seems to me that throwing an atomic bomb at anything short of another planet would make it pretty unstable - but what do I, the United Nations (UN), or North Atlantic Treaty Organization (NATO), know? One oceanic belch later and Merry Mishaps Occur.
The two actors who really shine in this movie are Nia Peeples ([TV] Robin Cook's TERMINAL, TOWER OF TERROR [TV], BLOODHOUNDS II) who plays Oceanographer Scarpelli and Miguel Ferrer (ROBOCOP, Stephen King's THE NIGHT FLIER) who, as Communications Officer Snyder, dominates his every shot. Ferrer is a natural born scene stealer and underrated actor. He needs to be in movies worthy of his talents.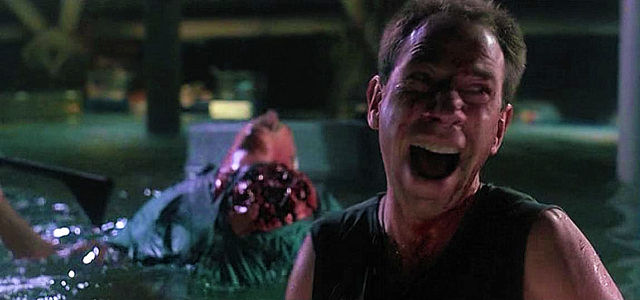 I don't get why he's laughing, but maybe that's just me.
DEEPSTAR SIX is worth watching just for Peeples and Ferrer.
!!!UNFAIR RACIAL CLICHÉ ALERT!!!:
While only having two non-white actors in this movie, they are both, of course, slaughtered in the time honored Horror movie cliché of Kill The Black People/non-whites. This is not to say that some white characters don't also die, they do. The UNFAIR RACIAL CLICHÉ ALERT is to let you know that, no matter how many victims or how many people from different races in the movie, the whites and ONLY the whites were cast as the survivors.
To be fair, Lewis Abernathy and Geof Millar's screenplay works best when simply showing the interaction of the folks involved.
The opening scene with Evigan and Everhard is sweet and real, due to script, acting and direction. The same can be said for Ferrer's interaction with everybody. This movie flops around like a water starved fish concerning everything else.
Especially bad are the unnecessary conflicts between crew members and the stupid antics of the creature. My rating is higher than some would expect for this flick, and it is not for the ridiculous Crawdad critter. Nia Peeples and Miguel Ferrer lead a cast that makes this movie worth watching.
Two Shriek Girls and one negative Shriek for nearly being so bad its good.




This review copyright 1999 E.C.McMullen Jr.