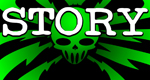 You Support This Site
When You Buy My Books
E.C. McMullen Jr.
PERPETUAL
BULLET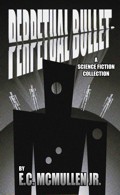 "'Some People' ... may be the standout story in the book."
-

John Grant

, Infinityplus

E.C. McMullen Jr.
WILLOW BLUE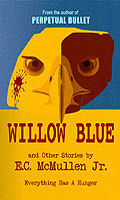 "'Willow Blue' will burrow under your skin and stay there long after you've put the book down."
- Jeffrey Reddick, Creator of
FINAL DESTINATION

IN OTHER BOOKS
E.C. McMullen Jr.'s
short story
CEDO LOOKED LIKE PEOPLE
in the anthology
FEAR THE REAPER

"This Ray Bradbury-esque is one of the most memorable and one of the more original stories I've read in a long time."
- Steve Isaak,
Goodreads

HORROR 201:
The Silver Scream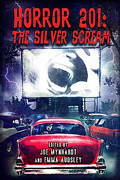 Filmmaker's Guidebook
featuring
RAY BRADBURY,
JOHN CARPENTER,
WES CRAVEN,
TOM HOLLAND,
E.C. McMULLEN Jr.,
GEORGE A. ROMERO,
and many more.



Extensively quoted in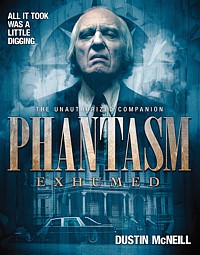 PHANTASM
EXHUMED
The Unauthorized Companion

Robert S. Rhine's
SATAN'S 3-RING
CIRCUS OF HELL

Forward by
GAHAN WILSON &
FEO AMANTE.
Featuring comics by
ALEX PARDEE,
WILLIAM STOUT,
STEVE BISSETTE,
FRANK DIETZ,
JIM SMITH,
FRANK FORTE,
ERIC PIGORS,
MIKE SOSNOWSKI,
OMAHA PEREZ,
DAVID HARTMAN,
STEVEN MANNION,
and more!

And
IN CINEMA


E.C. McMullen Jr.


Head Production Designer

MINE GAMES


(Starring:
JOSEPH CROSS, BRIANA EVIGAN,
ALEX MERAZ)

Dept. head
Special Effects Make-Up
(SFX MUA)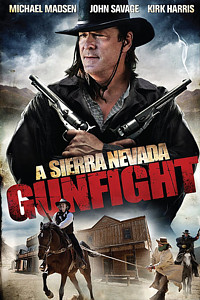 A SIERRA NEVADA
GUNFIGHT
(MICHAEL MADSEN & JOHN SAVAGE).

Production Designer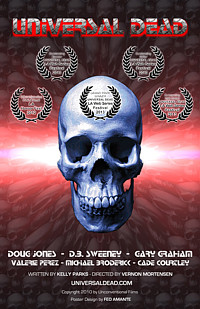 UNIVERSAL DEAD
(DOUG JONES,
D.B. SWEENEY,
GARY GRAHAM)

ART DIRECTOR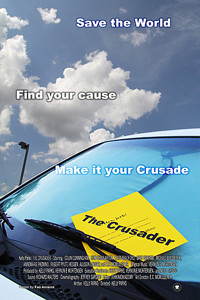 THE CRUSADER
(COLIN CUNNINGHAM,
GARY GRAHAM)
Review by
E.C.McMullen Jr.

HELLBOY II: THE GOLDEN ARMY

- 2008
USA Release: July 11, 2008
Columbia Pictures
Rated: USA: PG-13
At the close of World War II, some nefarious doings were getting done by some Nazis and luckily, the American Army, and a young U.S. Government Supernatural expert, Professor "Broom" Bruttenholm, put an end to their shenanigans. The outcome of all of this was a saved humanity and something that "came through", a cute little guy they called Hellboy.
About ten years later, Hellboy (played by SFX artist, Montse Ribé: EL LABERINTO DEL FAUNO, EL ORFANATO) is around 13 and acts like he's five. Professor Broom has aged about forty years in that period, looks 70, and still has about another 50 years to go! Hellboy is watching Howdy Doody, holding a stuffed toy, has one broken horn, and an enthusiastic pleading, and wide-eyed aspect. This scene doesn't work well at all, so Broom (John Hurt: ALIEN) reads him a bed time story called Narrative Exposition.
The story involves a battle between the Elves and the Humans. Man had a hole in his heart that he could never fill with love or things, so he always wanted more (this is coming from a bunch of rich guys who have so much disposable income that they blow hundreds of millions of dollars - more than the GNB of some countries - on making movies so they can have even hundreds of more millions. So ... they should know what they're talking about). This human attitude really chafed the Elves, who felt that short-lived humans should behave like virtually immortal Elves with magical powers. The humans didn't see their point and so there was a war.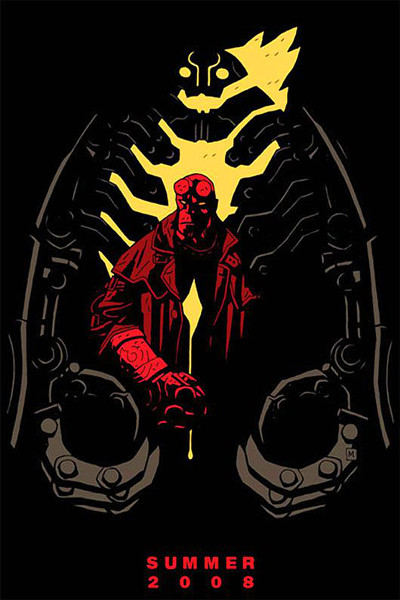 When the Elves started losing, the one-armed King of the Elves, Balor (Roy Dotrice: BEAUTY AND THE BEAST [TV], ALIEN HUNTER) ordered one of his vendors to make some Weapons of Mass Destruction. Thus was born the virtually indestructable Golden Army (at least, indestructable by the standards of War as set a few thousand years ago). The Golden Army were solid gold machines of loving alchemy and none could withstand them. The King of the Elves saw their brutal might in battle and was appalled, so he called them off and a truce was made between the Elves and the Humans. I don't know the nature of the truce, but the humans seemed to get the better end of the deal.
In any case, the Prince of Elves, who delighted in the slaughter, got his nose put out of joint when his Pop called a halt to the festivities. Junior stormed off, annoyed with the whole peace process and vowed to return one day and restore bloodshed.
Whew! Some exposition, eh? Fortunately, this is all done with stop-motion-like puppetry and, as far as Narrative Exposition goes, is one of the rare and better ways to handle it.
So now we're in the present, Broom's dead, Dr. Tom Manning (Jeffrey Tambor: SATURDAY THE 14th, TEACHING MRS. TINGLE) has full control of The Bureau of Paranormal Research and Defense (BPRD) and he's not happy with his job.
TRIVIA
In HELLBOY, the product placement was Baby Ruth candy bars.
HELLBOY II features very obvious product placement for Tecate beer. Tecate is a great tasting beer on tap, but I'm no fan of cans.
Tecate is also a charming Mexican city that borders California. Both the city and its people are way preferable for tourists than the filthy piece of corrupt crime ridden crap known as Tijuana.
Hellboy and his less than subtle ways of fighting supernatural crime, is giving Tom fits. He has a long conversation with Fishman, Abe Sapien (Doug Jones: MIMIC, BUG BUSTER, MEN IN BLACK II - in suit and voice), which is really more exposition but again, done well and comically. Then something happens to show why no one would ever want to work in the BPRD. Human life expectancy for agents is likely measured in days.
Yes, Liz Sherman (Selma Blair: SCREAM 2) and Hellboy (Ron Perlman: THE ISLAND OF DR. MOREAU, ALIEN RESURRECTION, DOWN, BLADE II, STAR TREK NEMESIS, MASTERS OF HORROR: PRO-LIFE) are having marital troubles again - this time its mostly Hellboy's fault. Liz was bad at dating and Hellboy is bad at being married, and they are both fed up with always being cooped up at the BPRD. Hellboy, who saves humans even though he doesn't particularly like them, wants their adulation all the same. He's been saving their butts from supernatural varmints for decades! Howza 'bout a little recognition?
It's at this moment that the Elf Prince, Nuada (Luke Goss: BLADE II), still as youthful looking as ever (man! How the hell old is his Pop then?), decides to wage war on the humans. All he needs to do first, to awaken the Golden Army, is to find the ancient missing pieces of the gold McGuffin (a crown in this case), which will control the shiny robot army. The Elf Prince is upset about many things regarding humans, chief among them being shopping malls, and for that he takes people to task.
Don't get me wrong here, as powerful as he sounds, he's really quite the self-centered little whining cry-baby. Age brought neither wisdom or maturity. When he has the opportunity, he'll kill his own people and even murder his father. He'd murder his sister, Princess Nuala (Anna Walton: VAMPIRE DIARY) too for disagreeing with him, but they are twins, and you know how that goes in Elfin lore. But the second he faces someone more powerful than he (like Hellboy), then he whines and mewls over how unfair life is for him and wouldn't Hellboy rather serve him than some humans?
Meanwhile, there is a new and efficient boss at the BPRD whom Dr. Manning just adores. Dr. Johann Kraus (voiced by Seth MacFarlane), is German and apparently due to his heritage, highly efficient. He's also dead, without a body, and has to wear a suit to keep himself contained. Kraus' manner rubs Hellboy raw, in fact his skin is red.
Plus there is Abe who has fallen in love for the first time in his life, and so can no longer be trusted.
Elves, monsters, Liz, a new boss, and an old friend going through love-sickness, Hellboy has a lot to handle with this one.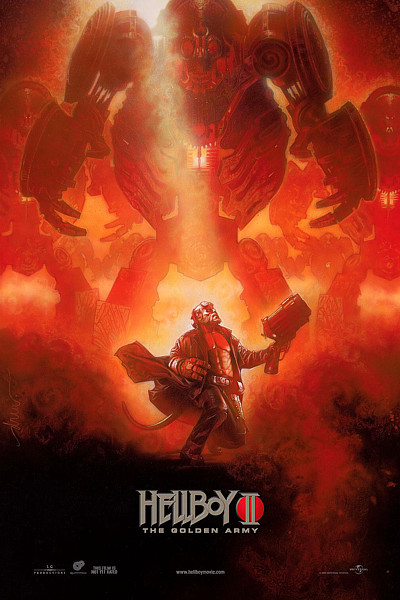 Visually, this movie is great and the imagination behind the various varmints is creepy and beautiful. What's more, all of the actors bring their A-game and the interaction is a joy. Director and co-writer, Guillermo Del Toro and co-writer and Hellboy creator Mike Mignola, create a solid tension among Hellboy, Liz, and Abe, as outsiders torn between defending a world that doesn't want them (humans), and a world they belong to but never knew (the supernatural underworld).
The only part I didn't like, the one that didn't ring true in any sense, was the way we humans treat Hellboy once we know of his existence.
For a fact there are always going to be the hateful bigots among us (unless we put them all into camps and gas them!), but in HELLBOY II, NO ONE is a fan of Hellboy and that doesn't make any sense at all.
It's July 2008 and I'm about to attend the San Diego Comic-Con, the largest convention in the world. Nearly a quarter of a million people are expected to attend. What's more, Science Fiction, Horror, and Comic conventions tend to be the largest, most profitable conventions in the U.S.A.! This genre dominates bookstores, video games, music, and movies. There are an enormous number of people who love the weird and the unusual, so the idea in this movie that everyone would hate, be afraid of, and generally deride Hellboy for his appearance is WAY unlikely. He'd be a media mega-superstar sensation and the movie should have gone in the direction of Hellboy regretting that he got what he wished for, as the fanboys and girls wouldn't give him a moment's peace.
Also, as in HELLBOY, Hellboy doesn't really like humans. When they are dying all around them his attention is elsewhere. And when the BPRD itself suffers massive casualties, there is no mention of the loss of human life. Even the tragic loss of fellow co-workers, can't break through to Liz and Hellboy who are too selfishly concerned about their own petty problems and desires, to care about anyone else. Hellboy, Liz, Abe, and their enemies as well, all come off as incredibly shallow, self-centered, attention-hungry snobs. A super-powered, supernatural clique of self-pity. Seriously! Get thee to a Goth Coffee Shoppe!
Outside of the HELLBOY films, these are not the kinds of movies that Guillermo Del Toro makes or writes. So he's intentionally portraying these characters as not valuing the very lives they are punishing themselves to save. Which makes their own lives less valuable and their motivation unbelievable.
As much as I enjoyed HELLBOY II while watching it, that was an after taste that stayed way too long.




This review copyright 2008 E.C.McMullen Jr.