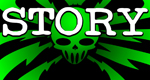 You Support This Site
When You Buy My Books
E.C. McMullen Jr.
PERPETUAL
BULLET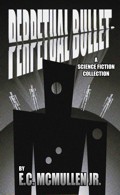 "'Some People' ... may be the standout story in the book."
-

John Grant

, Infinityplus

E.C. McMullen Jr.
WILLOW BLUE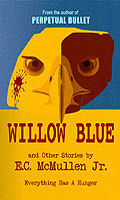 "'Willow Blue' will burrow under your skin and stay there long after you've put the book down."
- Jeffrey Reddick, Creator of
FINAL DESTINATION

IN OTHER BOOKS
E.C. McMullen Jr.'s
short story
CEDO LOOKED LIKE PEOPLE
in the anthology
FEAR THE REAPER

"This Ray Bradbury-esque is one of the most memorable and one of the more original stories I've read in a long time."
- Steve Isaak,
Goodreads

HORROR 201:
The Silver Scream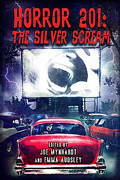 Filmmaker's Guidebook
featuring
RAY BRADBURY,
JOHN CARPENTER,
WES CRAVEN,
TOM HOLLAND,
E.C. McMULLEN Jr.,
GEORGE A. ROMERO,
and many more.



Extensively quoted in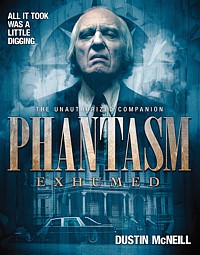 PHANTASM
EXHUMED
The Unauthorized Companion

Robert S. Rhine's
SATAN'S 3-RING
CIRCUS OF HELL

Forward by
GAHAN WILSON &
FEO AMANTE.
Featuring comics by
ALEX PARDEE,
WILLIAM STOUT,
STEVE BISSETTE,
FRANK DIETZ,
JIM SMITH,
FRANK FORTE,
ERIC PIGORS,
MIKE SOSNOWSKI,
OMAHA PEREZ,
DAVID HARTMAN,
STEVEN MANNION,
and more!

And
IN CINEMA


E.C. McMullen Jr.


Head Production Designer

MINE GAMES


(Starring:
JOSEPH CROSS, BRIANA EVIGAN,
ALEX MERAZ)

Dept. head
Special Effects Make-Up
(SFX MUA)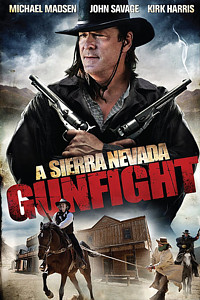 A SIERRA NEVADA
GUNFIGHT
(MICHAEL MADSEN & JOHN SAVAGE).

Production Designer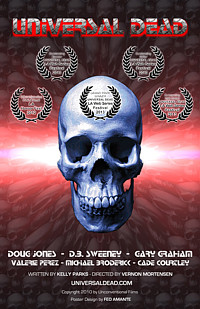 UNIVERSAL DEAD
(DOUG JONES,
D.B. SWEENEY,
GARY GRAHAM)

ART DIRECTOR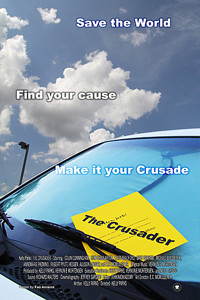 THE CRUSADER
(COLIN CUNNINGHAM,
GARY GRAHAM)
Review by
Terrence Kelsey

THE HOUSE OF THE DEVIL

- 2009
USA Release: October 1, 2009
Constructovision, Dark Sky Films, Glass Eye Pix, RingTheJing Entertainment, Magnet
Rated: USA: R
What are you to do when you're given an offer that is too good to be true, especially when there's hundreds of dollars at stake, and your ass is broke as a joke?
That's the dilemma for Sam (Jocelin Donahue - THE BURROWERS), when she answers a seemingly innocent handwritten baby-sitting posting, which ultimately turns out to have some questionable circumstances attached (all centering around a lunar eclipse).
Her best friend and current college dorm roommate Megan (Greta Gerwig - BAGHEAD) wishes she wouldn't accept the job, finding the Man behind the ad: Mr. Ullman (Tom Noonan - WOLFEN, MANHUNTER, THE ASTRONAUT'S WIFE, EIGHT LEGGED FREAKS, THE ALPHABET KILLER) way too odd to trust. Unfortunately, Sam badly needs the money within a few days to secure her rent for a new place. She insists she'll be okay and pleads Megan to pick her up once the job is done. As the night wears on, Sam soon wishes she had listened to her friend's warnings. But it may be far TOO LATE!
Joining Noonan is the Woman of the house, Mrs. Ullman (Mary Woronov - DEATH RACE 2000, WARLOCK, THE DEVIL'S REJECTS). Together, these two actors, known for their creepy and over-the-top performances, effectively downplay their roles, yet somehow they still manage to make the hair on my arms stand on end.
Lurking on the periphery is the mysterious Victor Ullman (AJ BOWEN - THE SIGNAL) whose violent nature is revealed early on into the film.
Lastly, Dee Wallace (THE HOWLING, CRITTERS, THE FRIGHTENERS, THE LOST, THE PLAGUE, ABOMINABLE, Rob Zombie's HALLOWEEN) has a little cameo in the film as well. See if you can spot her.
Through editing, cinematography, wardrobe, set design and particular props, writer / director / editor Ti West (TRIGGER MAN) and his gang of technicians successfully capture the early 80's cinematic vibe and decor.
While the film doesn't state the actual year the story takes place, my guess it's 1983.
Even the title credits in their simplicity recalls the era, and the use of classic 80's pop rock/new wave songs that were once staples of a then new channel called MTV totally took me back to my pre-teen years (yes, I am dating myself here, youngsters).
For example, Sam has her own Tom Cruise/RISKY BUSINESS moment, prancing about the Ullman's house, while The Fixxs "One Thing Leads To Another" blares through her walkman (anyone remember those? Haha! The days before iPods and iPhones).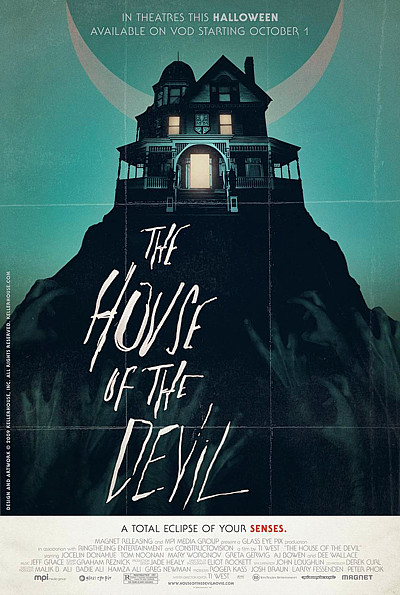 The mood and sinister subject matter brings to mind many B-movie horror films of the 1970's (like Dario Argento's SUSPIRIA). Coincidently, Sam/Jocelin, with her feathered brunette bangs, shares an uncanny resemblance to SUSPIRIA actress Jessica Harper. She also reminds me - to a degree - of a young Kate Jackson in SATAN'S SCHOOL FOR GIRLS (1973).
The quiet creepiness of the film seems to channel a vibe similar to 1971's LET'S SCARE JESSICA TO DEATH, but with an added dose of early 80's splatter gore (akin to Lucio Fulci's underrated 1981 chiller HOUSE BY THE CEMETERY). For the record, there also happens to be a cemetery nearby in THE HOUSE OF THE DEVIL - a subtle homage perhaps?
The first two thirds of the film (albeit a slow burn at times) oozes with tension and suspense, as we watch Sam coping with her new "baby-sitting" gig.
I have some issues with the third act when the shit finally hits the fan for Sam. But since I refuse to mention any spoilers, I won't go into detail on what was bothering me.
On the other hand, I will admit that if THE HOUSE OF THE DEVIL were hypothetically released in the early 80's, and I saw it as a pre-teen, I wouldn't have a problem with it at all. A friend of mine, whom I saw the film with, reminded me that many horror flicks of that era pulled many of the same cheats and conceits, so I should take that into consideration.
Given that West set out to make an authentic early 80's horror feature, I concede that he was successful in that regard.
Still, because of some pacing issues and my gripes over the aforementioned third act, I technically would like to give this flick 3 and a half Shriek Girls - meaning THE HOUSE OF THE DEVIL is a very good Horror film - not quite great, which would garner it a 4 - but certainly better than a 3. However, I did enjoy it very much, and I will be glad to own it when the DVD is eventually released. So 4 Shriek Girls it is.





This review copyright 2009 E.C.McMullen Jr.
YOU MIGHT ALSO LIKE THESE (Sub-Section: VIOLENT VARMINTS)
MANDY
MOVIE REVIEW
TURBO KID
MOVIE REVIEW
THE VOID
MOVIE REVIEW