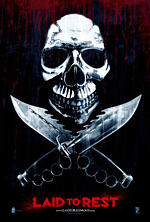 LAID TO REST
- 2009
Dry County Films / Anchor Bay Entertainment
Rating: N/A
So the opening credits have a bunch of girls, mostly girls, getting all beat, cut, and otherwise discombobulated.

Then we go to a young woman in a coffin. She busts out of the coffin and it turns out that said casket was merely in a funeral home. Better than being buried, trust me. So she tries to find a phone, then call the cops, her head is definitely messed up but I keep watching because she has long black hair and a hefty chest. Since this IS the unrated Director's version I'm ready for anything. It dawns on The Girl (Bobbi Sue Luther: THE KILLER PAD. Luther is also the Producer) that she's in a place where dead bodies are kept. She finds a phone but can't really help the operator on the 911 line - she doesn't know who she is, where she is, and she is so dazed she refers to the coffin she was in as a box, which doesn't help the 911 operator. A man on the other side of the door (Richard Lynch: THE SWORD AND THE SORCERER, Rob Zombie's HALLOWEEN) comes to help her, but in her fear, she locked the door before she realized he was safe (IF he's safe!). As he fumbles for the keys to unlock the door, a man in black with a chrome skull facemask (Nick Principe: THE THIRST, SANDS OF OBLIVION) comes up behind the old guy and ... okay, NOW the old guy is safe. This gives Girl screamin' meemies. One thng leads to another and she MIRACULOUSLY makes it OUT through the door, PAST the killer, and into the street. She runs away until she slows to a walk and stands in the middle of the road waiting for someone to stop for her. AMAZINGLY the car that pulls up isn't the chrome skull killer - or IS he?

His name is Tucker (Kevin Gage: STRANGELAND, PAPARAZZI) and he walks with a cane. Okay, the Chrome skull guy didn't walk with a cane so Tucker is off the hook. MAYBE. Tucker takes the Girl home to meet his wife, Cindy (Lena Headey: THE CAVE, THE BROTHERS GRIMM, 300, TERMINATOR: THE SARAH CONNOR CHRONICLES) and by this time it's made clear that, though the funeral home is rather large and has a secondary storage building about a hundred yards away, this town is so small that it has no Police Department and INCREDIBLY with everyone living so far from each other, nobody has a phone. But they DO have Internet service (at this point I felt a headache coming on).

Long story short, Chrome Skull has implied supernatural powers like Michael or Jason. You can shoot him, stab him, poke his eye out. It doesn't matter. He can magically find you no matter where you are, within minutes of your arrival, even if you've drove for hours all over nowheresville and he's on foot. With just a pair of knives he can take out four armed police officers and leisurely butcher each and every one in semi-creative ways. And when people do shoot him, they always aim for the one place that looks (and is) bullet proof: His metal mask. Nobody bothers trying to shoot him in the heart, neck, anywhere. And even though he has very large, possibly 44mm bullets bouncing off of his thin metal mask, they never penetrate and the impact doesn't break his neck. Johnny (Johnathon Schaech: THE FORSAKEN, QUARANTINE) gets a knife thrown through the front of his face even though he is sticking his head through his car window talking to his girlfriend (Jana Kramer: PROM NIGHT [2008]), who is in front of him. Where was Chrome Skull when he threw said knife? Many yards BEHIND Johnny!

Okay, there are any number of times I've seen a Direct to Video movie and realized that it was theatrical release material. But this isn't one of those times. LAID TO REST has been released to 9 theaters so far and will probably go to a half dozen more, but it was already pressed for DVD land and won't see even limited release except in theaters that were paid to show it.

There are also any number of times that I've watched a movie by a first time feature film director who knocked it right out of the park. NIGHT OF THE LIVING DEAD, THE TEXAS CHAINSAW MASSACRE, THE LAST HOUSE ON THE LEFT, THE EVIL DEAD, MAD MAX, RESERVOIR DOGS, EL MARIACHI, THE BLAIR WITCH PROJECT, THE OTHER SIDE, and many others. It can be done, but despite his great connections, Writer and Director Robert Hall couldn't pull it off - for the second time in a row. The problem with his first feature is the problem now: Robert doesn't know how to write characters of any depth or any interest - it's all body count and gooey gorey murders. Even for a slasher sub-genre that often features silent, emotionless, masked and mysterious killers like Michael Myers and Jason Voorhees, Chrome Skull is without a past, without a motive, and without a point. This is possibly the least written lead character I've ever seen in a movie. And as if one cypher as a lead wasn't bad enough, LAID TO REST has two. The other lead is known only as The Girl. She got a bonk on the head and can't remember who she is. And even when we eventually discover a little more about her, by the movie's end she remains as much an unknown as the guy in the Chrome Skull mask.

Amazingly, Kevin Gage, usually a wooden actor, puts the most of himself in this picture. The script didn't ask for it, and he won't win any Oscars, but this is the best performance I've seen him give since ever. It is mostly silent and physical though, as he is largely written as grieving husband. Period. He mostly just grieves.

Actor Sean Whalen (THE PEOPLE UNDER THE STAIRS, MEN IN BLACK, IDLE HANDS, PYTHON) also gives the most while working with the least as another man grieving over a woman, this time his Mom. So two unknown lead characters and two supporting characters mourning their dead women. Everything else follows slasher movie form, but only in the broadest sense. By this time Slasher movies can bring in the bucks by largely being cut and paste, as Adam Green intentionally showed with HATCHET. Only Adam added a bit of fun and creativity with his various characterizations. LAID TO REST has none of that.

What it DOES have are really cool make-up effects and prosthetics courtesy of Hall's Almost Human studio. See, as bad a Writer and Director as Robert Hall is, he is REALLY good at prosthetic make-up effects (BODY SNATCHERS, THE ISLAND OF DR. MOREAU [1996], BLACK SCORPION, GHOSTS OF MARS, VOODOO MOON, ROOM 6, TERMINATOR: THE SARAH CONNOR CHRONICLES), and worked with Joss Whedon on BUFFY THE VAMPIRE SLAYER (TV), FIREFLY (TV), and ANGEL (TV). If this was his first feature film, I'd say it was basically a resume of his work, like Rick Baker's THE INCREDIBLE MELTING MAN. But instead this is a second feature film and the only thing that saves this from having more than one star are the make-up production values and the acting.

Two Shriek Girls.



This review copyright 2009 E.C.McMullen Jr.




Return to Movies