Review by
E.C.McMullen Jr.

OVERLORD

- 2018
USA Release: Nov. 9, 2018
Bad Robot, Paramount Pictures
RATINGS: USA: R
Talk on the boards was this was a J.J. Abrams movie. In addition to talk ranging from this being a Cloverfield extension or this being a Wolfenstein video Game to Movie, the talk was also about the guy who rebooted and immediately killed an otherwise popular Star Trek franchise and hobbled a Star Wars franchise.
J.J. is the guy who made his fortune with great opening concepts you can cram into a trailer, even though the actual show always goes flaccid halfway through and just lays there at the end, unable to perform under the weight of its own dingbattery (LOST [TV], FRINGE [TV], SUPER 8, STAR TREK [2009], ALMOST HUMAN [TV], THE CLOVERFIELD PARADOX).
Abrams also cannot write believable women.
In every other case, Abrams - the Producer - has excelled whenever he doesn't touch the script or the director's chair (CLOVERFIELD).
J.J. Abrams produced OVERLORD.
So what happened next?
An unbelievable head-banging, virtuoso, genuinely scary, blood and guts Horror War movie that is action-packed to the ninth place! That's what!
Needless to say, I didn't see THAT coming from J.J. Abrams!
With an ocean full of warships and a sky full of war planes, OVERLORD opens like something out of a Steven Speilberg war movie. This mass movement of men and machines means that events have reached that point in the 1940s where America has had enough of Adolf Hitler's bullshit.
In the belly of a transport plane, a flying can of whoop-ass is commanded by Sergeant Rensin (Bokeem Woodbine: THE BREED, THE CIRCLE, DEVIL, GHOST OF NEW ORLEANS, TOTAL RECALL [2012], RIDDICK, THE HOST [2013], SPIDER-MAN: HOME-COMING). His men are committed but that doesn't mean they aren't thinking about, and fearing, their impending death. Though Sgt. Rensin is hard-assed about the job he knows he's got to get his crew's heads all in the game.
The Mission: Infiltrate NAZI occupied Europe, find and destroy a German radio tower so the allies can launch D-Day.
To that end, Rensin's second in command is Corporal Ford (Wyatt Russell: SOLDIER, COWBOYS & ALIENS, WE ARE WHAT WE ARE, AT THE DEVIL'S DOOR). Cpl. Ford is a brooding survivor, possibly the only survivor of a previous mission. At his young age, he's seen it all, lost a lot, and isn't about to make friends with anyone on this flight. The overall atmosphere is this is a suicide mission.
The one who can't help fixating on that is Private Boyce (Jovan Adepo: THE LEFTOVERS [TV], MOTHER!). Among his group, fresh out of bootcamp, Boyce isn't the strongest, smartest, bravest, quickest, or best with a gun, something that Private Tibbet (John Magaro: THE BOX, MY SOUL TO TAKE) won't let him forget.
Tibbet, being a pool hustler from New Jersey, apparently surprised himself in boot camp to find that his pool skills made him adept at lining up shots down the barrel of an Army rifle. Tibbet saw enough of Boyce's awkward behavior in boot and doesn't want the casualty-in-waiting watching his six and lowering his odds.
Intrusively disturbing everyone's private introspection while they wait, is Army Command photographer, Chase (Iain De Caestecker: AGENTS OF SHIELD [TV], LOST RIVER), who no one likes.
Rounding out this immediate crew from the many is Private Rosenfeld (Dominic Applewhite), who appears to be little more than a token Jew (which is puzzling).
Abrupt engagement with enemy fighter planes forces an early parachute drop from their exploding transport and a fall into occupied France, one that few survive.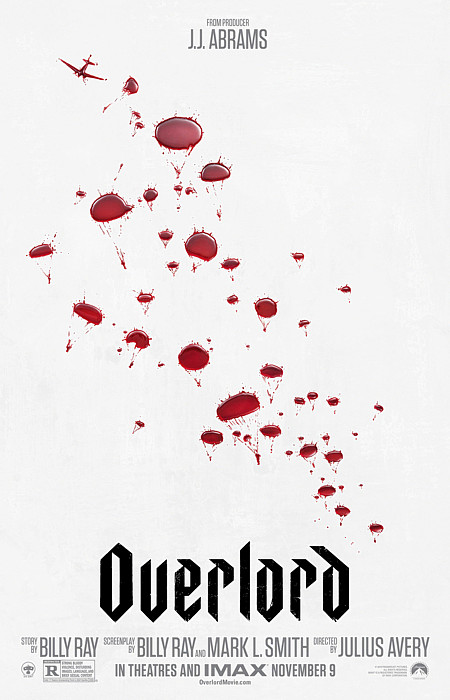 Upon closer inspection of this poster, you see that the
blood drops are all parachutists.
In the violent aftermath, Ford, Boyce, Chase, and Tibbet eventually find each other and prepare themselves for the mission ahead.
In preparing themselves, they are interrupted by a young French woman, Chloe (Mathilde Ollivier). She walks among the dead, taking what she can. Spotting each other, chase is given and the Americans quickly capture the Feisty French woman.
Boyce, being the only one who can speak French, tells the woman that they are Americans and won't hurt her. But they have a mission and that's to destroy the German radio tower, which happens to be in her village.
With this fragile alliance, the Americans sneak into the French village. At this point the pace slows as the movie switches gears from a War Story to a Horror story. When we enter the NAZI base, things rapidly go downhill from there in gruesome ways.
OVERLORD has a brisk pace, edge of your seat suspense, War movie action and surprisingly genuine frights, as well as loads of Eli Roth-style gritty gore.
It also has more than its share of what appears to be intentional B-Movie gaffs.
Now we've seen intentional "gaffs" before, meant to elicit a B-Movie atmosphere in movies ranging from RAIDERS OF THE LOST ARK to in-your-face intentional goofs like PLANET TERROR and DEATH PROOF.
The gaffs here include everyone hiding in an apartment, being as quiet as possible so as not to attract the attention of the neighbors in the next room, as well as the NAZI soldiers patrolling outside, then yelling at each other, loudly beating a prisoner, and firing their pistols.
Then it's back to being deathly silent so the soldiers in the street won't hear anything.
Unlike Lucas & Spielberg and Robert Rodriguez & Quentin Tarantino trashy fun flicks, OVERLORD takes itself super serious. There is no humor to be had here.
While the monstrosities aren't anywhere near the level of John Carpenter's THE THING, they fit the tone of the Billy Ray (SUSPECT ZERO, FLIGHTPLAN, THE HUNGER GAMES) and Mark L. Smith (SÉANCE, VACANCY, THE HOLE, MARTYRS [2015]) screenplay and Director Julius Avery doesn't try to overshoot that.
So what we get is a cool, hardcore Horror movie that adheres to its low budget roots (at $38 mill., low budget for a Hollywood studio movie at any rate) and B-movie inspirations.
It's just a shame that the movie was so heavily promoted as a J.J. Abrams everything, as Abrams's career is currently going through his Middle-age M. Night Shyamalan crisis period and with last year's PARADOX burn, he's got no audience cache to fill those seats.
I expect this to have a better life on home video than the near empty theater where I watched this. That said, Horror movie fans should love OVERLORD. I know I did!
4 Shriek Girls!





This review copyright 2008 E.C.McMullen Jr.