IRON SKY

IRON SKY - 2012
By Energia Productions, Blind Spot Pictures, New Holland Pictures and 27 Films production companies

To be released, April 4, 2012.

Iron Sky official website

Directed by Timo Vuorensola
Written by Jarmo Puskala, Johanna Sinisalo, Michael Kalesniko
Produced by Oliver Damian, Tero Kaukomaa, Samuli Torssonen
What is that video with the nazis on the moon?

This is the video you're probably thinking of: From the Nazi-ass kicking country of Finland comes the Alternate History, SciFi comedy, IRON SKY.

In 1945, upon the destruction of Germany's grip on Europe, the Nazi science heirarchy left their secret Antarctic base. Where did they go? They fled to the far side of the moon ("The Dark Side of the Moon!"). There they perfected their weapons technology for their long anticipated (for them) triumphant return to earth: To establish the Fourth Reich!


TEASER TRAILER 1


TEASER TRAILER 2

IRON SKY began production back in 2006. That's when I became their MySpace friend. So yeah, I've been waiting for quite some time! Since 2006, another retro SciFi comedy that I first friended on MySpace is now complete and making the Film Festival circuit: THE GHASTLY LOVE OF JOHNNY X.

Unlike that movie, however, IRON SKY came loaded with expensive computer animation.

Official website

IRON SKY

.

Iron Sky IMDb page.

Iron Sky Wikipedia page.

2012

February 12,

Nazis in space pack in the crowds at Berlin film fest
A sci-fi black comedy about Nazis from the moon invading Planet Earth is one of the hottest tickets at the Berlin film festival, which is better known for its gritty political fare.

"Iron Sky", a B-movie spoof drawing the crowds at the 11-day event in the German capital, imagines that Hitler's surviving henchmen set up a lunar colony after the fall of the regime in 1945, biding their time to strike back.

Continued at Breitbart.com.
---
February 9,
The latest trailer features a U.S. president who looks like Alaskan Sarah Palin but talks with a Southern U.S. accent. Back in 2006 Sarah Palin wasn't on the political map. They've radically changed their movie in order to be "topical", a misstep which ages a movie like little else (why none of us watch the SCARY MOVIE flicks more than once.).
Hopefully we haven't waited over 5 years to watch the Finland boys drop the ball now.

FIRST TRAILER FOR 2012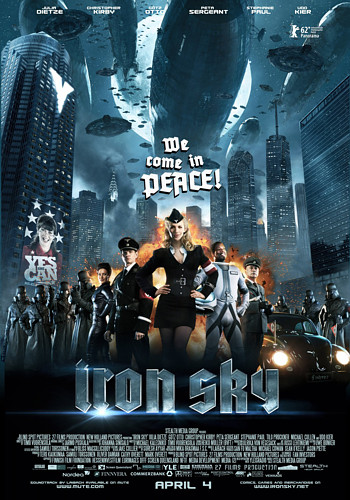 'Iron Sky' Trailer Gives Us Something New to Fear: Moon Nazis
Listen, everybody knows that eventually a world-beating threat is going to come out of its hiding place on the dark side of the moon and try to take over Earth. That's just obvious. What the upcoming SXSW midnight movie Iron Sky does is present our eventual moon-birthed doom with an interesting twist.
Continued at FilmSchoolRejects.
FeoNote: "Iron Sky" for real!

Duluth Has 'Eyes' in the Sky
Iron Sky camera surveillance system goes live in Duluth to help police protect citizens, catch criminals.
Don't even think about doing anything bad in Duluth! The city's Iron Sky system just went live. Eleven high-definition pan-tilt-zoom surveillance cameras along Buford Highway, Downtown Duluth and Bunten Road Park will give Duluth police officers extra eyes to protect residents and catch criminals.
Continued at Patch.com.
---
February 8, 2012
Finnish sci-fi Nazi movie is hot ticket at Berlinale
Among the worthy films being premiered at the Berlin film festival over the next 10 days are an epic tracing China's history; three documentaries about the Fukushima nuclear disaster; Werner Herzog's look at death row; and Angelina Jolie's take on the Bosnian war.
But one of the most popular films on the day that tickets went on sale was a Finnish sci-fi comedy about Nazis living on the dark side of the moon.
Continued at Guardian.
Is Crowdsourcing The Future Of Film?
More like this please.
I still think the best Superbowl commercial was the one that Chevy crowdsourced.
There's something about getting fans and creative people to collaborate with one another that can really add not just quality, but a level of enthusiasm to a project that I find really inspiring.
Continued at Forbes.
---
January 25,
Iron Sky Trailer Reveals Space Nazis
Nazis are maybe the best of movie bad guys. Their human yet inhumane, so we as an audience can unrepentantly relish in their destruction be it at the hands of Indiana Jones, Captain America: The First Avenger, or Inglourious Basterds. Because as Lieutenant Aldo Raine gleefully acknowledged in the last, we want those scalps.
Continued at CinemaBlend.
2011
October 10, 2011
Iron Sky Comic Explains How Nazis Got to the Moon
As Iron Sky's filmmakers put the final touches on their crowd-funded sci-fi black comedy, they've published a prequel comic book explaining how Third Reich refugees found their way to the moon.
Continued at Wired.
---
Sep. 29, 2011
'Iron Sky' producers make peace with pirates
The Finnish producers of a $10 million sci-fi Nazis-on-the-moon spoof, "Iron Sky," have taken a counter-intuitive approach after a Chinese games company pirated their concept for an iPad game.
Continued at Variety.
---
May 13, 2011
Web-Financed Space Nazi Comedy Iron Sky Will Open in 2012
As the saying goes, it takes a village… and when the long-gestating Nazi comedy Iron Sky finally hits theaters next year, we'll have many folks to thank. (Including crowdfunding backers and financiers from the U.K., Australia, Germany, and Finland.)
Continued at MovieLine.
---
May 12, 2011
New Iron Sky trailer shows the Space Nazi meteor blitzkrieg hitting the Earth
Little did we know that the Nazis have been secretly hiding on their Moonbase, poised for attack. The brand new trailer for Iron Sky takes us into their mind-wiping space colony, and shows off their outer space army!
Continued at io9.
There are more movies at the Feo Amante Theater. Go to NOW SHOWING!
This page copyright 2011 E.C.McMullen Jr.