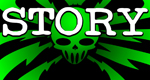 You Support This Site
When You Buy My Books
E.C. McMullen Jr.
PERPETUAL
BULLET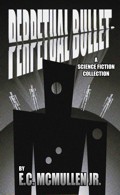 "'Some People' ... may be the standout story in the book."
-

John Grant

, Infinityplus

E.C. McMullen Jr.
WILLOW BLUE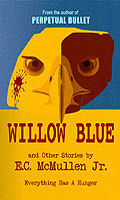 "'Willow Blue' will burrow under your skin and stay there long after you've put the book down."
- Jeffrey Reddick, Creator of
FINAL DESTINATION

IN OTHER BOOKS
E.C. McMullen Jr.'s
short story
CEDO LOOKED LIKE PEOPLE
in the anthology
FEAR THE REAPER

"This Ray Bradbury-esque is one of the most memorable and one of the more original stories I've read in a long time."
- Steve Isaak,
Goodreads

HORROR 201:
The Silver Scream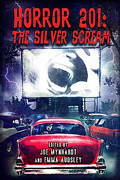 Filmmaker's Guidebook
featuring
RAY BRADBURY,
JOHN CARPENTER,
WES CRAVEN,
TOM HOLLAND,
E.C. McMULLEN Jr.,
GEORGE A. ROMERO,
and many more.



Extensively quoted in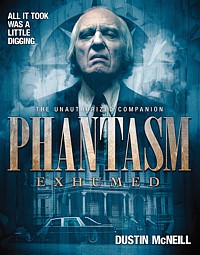 PHANTASM
EXHUMED
The Unauthorized Companion

Robert S. Rhine's
SATAN'S 3-RING
CIRCUS OF HELL

Forward by
GAHAN WILSON &
FEO AMANTE.
Featuring comics by
ALEX PARDEE,
WILLIAM STOUT,
STEVE BISSETTE,
FRANK DIETZ,
JIM SMITH,
FRANK FORTE,
ERIC PIGORS,
MIKE SOSNOWSKI,
OMAHA PEREZ,
DAVID HARTMAN,
STEVEN MANNION,
and more!

And In
CINEMA


E.C. McMullen Jr.


Head Production Designer

MINE GAMES


(Starring:
JOSEPH CROSS, BRIANA EVIGAN,
ALEX MERAZ)

Dept. head
Special Effects Make-Up
(SFX MUA)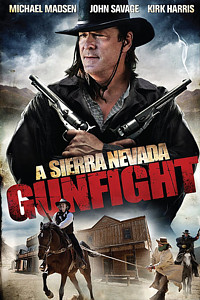 A SIERRA NEVADA
GUNFIGHT
(MICHAEL MADSEN & JOHN SAVAGE).

Production Designer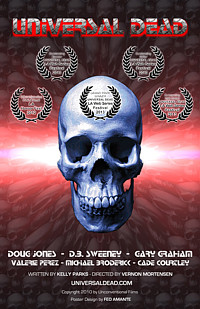 UNIVERSAL DEAD
(DOUG JONES,
D.B. SWEENEY,
GARY GRAHAM)

Art Director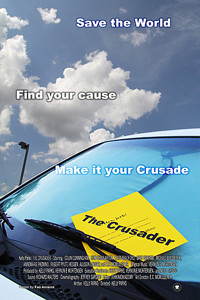 THE CRUSADER
(COLIN CUNNINGHAM,
GARY GRAHAM)
Review by
E.C.McMullen Jr.

PIRATES OF THE CARIBBEAN: At World's End

- 2007
USA Release: May 25, 2007
Walt Disney Pictures
Rated: USA: PG
From the beginning, PIRATES OF THE CARIBBEAN was not a hit with the critics. It rambled, it meandered, it was "bloated".
And yet, for fans, particularly Horror Thriller fans like me, the movie was magnificent. It was that lowest form that most critics despise: it was a "Crowd Pleaser".
As I mentioned in my reviews of the first two POTCs, the movies are indeed filled with many unnecessary scenes, storylines, and sidestreets, but there is a place in the all encompassing form of Story for the sweeping, even sprawling grand epic. The theater has its DER RING DES NEIBLUNG. Literature has it's WAR AND PEACE. Cinema has its SHOAH as well as epic movies made from epic books. So even in our modern cinematic world of economic stoytelling (start your story as close to the end as you can) THE PIRATES OF THE CARIBBEAN belongs to an established and respected form.
Even better, PIRATES OF THE CARIBBEAN: At World's End, clocking in at three hours and eight minutes, is nearly as long as this year's GRINDHOUSE, but I never noticed the time. More than the first two (and especially PIRATES OF THE CARIBBEAN: DEAD MAN'S CHEST), AT WORLD'S END is strongly focused. It has to be. It needs to answer all of the questions as well as all of the reasons for pretty much everything that was brought up in the first two. No fear, they are answered in AWE.
The movie begins with a noose. Lord Cutler Beckett (Tom Holland: PAPARAZZI, PIRATES OF THE CARIBBEAN: DEAD MAN'S CHEST) of the East India Trading Company has declared Marshall Law on his new tiny island, taken from the powers of Governor Weatherby Swann (Jonathan Price: STIGMATA, PIRATES OF THE CARIBBEAN [all], THE BROTHERS GRIMM, PIRATES OF THE CARIBBEAN: DEAD MAN'S CHEST). As such nearly anything can be used as an excuse for execution though all laws fall somewhere in the range of having anything at all to do with a pirate. Even children are hung until dead.
This is too much even for pirates, but those who come to the island to fight find themselves tangling with none other than Davy Jones (Bill Nighy: UNDERWORLD [all], SHAUN OF THE DEAD, PIRATES OF THE CARIBBEAN: DEAD MAN'S CHEST), Captain of the horrifiying ship of death; the Flying Dutchman. Lord Beckett holds the chest that holds Jones heart, and thus controls the greatest terror of the seas: Davey Jones, his ship, and the Kracken - which answers only to Davey. No pirate can survive the savagery of Jones and his monstrous crew.
All pirates are in route, which finds the strained and unlikely alliance of the revived Captain Barbossa (Geoffery Rush: HOUSE ON HAUNTED HILL, PIRATES OF THE CARIBBEAN [all]), Will Turner (Orlando Bloom: THE LORD OF THE RINGS [all], PIRATES OF THE CARIBBEAN [all]), and Elizabeth Swann (Keira Knightley: PIRATES OF THE CARIBBEAN [all]). The Brotherhood of Pirates must be called. 9 pieces of 8 must be assembled at Shipwreck Cove. The problem is that one of the Pirate leaders is missing. The very one made a Pirate captain by Davey Jones himself - Captain Jack Sparrow. Sparrow died before he could pass on a trinket of his rule to another, so the three must travel to the end of the world to bring Jack back. Not for the sake of his life, but for the trinket bestowed to him by Davey Jones. R!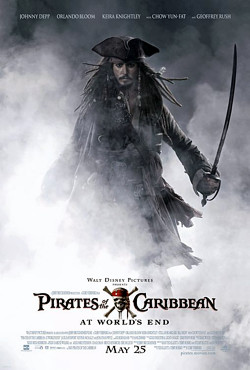 Jack, meanwhile, is truly dead. And unlike Barbossa, he doesn't even have a dead body to re-animate (he was eaten by the Kracken in DEAD MAN'S CHEST). Jack is damned to suffer in the worst of all possible worlds: he is forced live with himself. Captain on a ship in the desert (in life, the only place he could be realistically safe from Davey Jones), manning a huge ship's crew of himself. Each Sparrow feeling that HE should be the Captain; each one mutinous, all of them frustrated that none have the ability to lead, and angry that they are all responsible for their predicament.
Jack's afterlife is played light and comedic, but drives home the point of Jack's worthless life.
He wants to be a Captain, but is too selfish - even for a Pirate - to inspire loyalty.
He wants to command a crew, but is unable to lead.
He wants his freedom, but needs the servitude of others.
What his wonky compass really underlines: he wants adventures but doesn't know where to find them.
He's a lonely man who cannot focus his desires long enough to make them his passions and distrusts the attempt. His life, like the compass, leads him nowhere. That's why he felt compelled to make the devil deal with Davey Jones to rob Barbossa of the Black Pearl.
Sparrow needed someone to give him what he couldn't take for himself.
Jack's strength is his gift of gab in which he is able, at least temporarily, to inspire others to get him what he wants. But like another Jack in BIG TROUBLE IN LITTLE CHINA, sooner or later Sparrow rubs everyone the wrong way and finds himself abandoned and lost.
Meanwhile, Will Turner is harboring distrust toward the love of his life, Elizabeth Swann. He can't help but wonder if Elizabeth loves Sparrow, having no idea that it was Elizabeth who murdered Jack, feeding him to the Kracken. In his last few moments, Sparrow told Elizabeth that, only now through her betrayal had she become what she dreamed of being, A Pirate. The knowledge chilled Elizabeth, who realized that her fantasy and the real world are two different things.
AT WORLD'S END is a movie about loss and facing reality. Barbossa and Sparrow both wish to captain the Black Pearl, but only Barbossa has the inate ability to lead.
Sparrow, with his big mouth and impugning attitude can never be more than a spoiler instigating trouble. Will made a promise to save his father, Bootstap Bill Turner (Stellan Skarsgård: DEEP BLUE SEA, EXORCIST: THE BEGINNING, PIRATES OF THE CARIBBEAN: DEAD MAN'S CHEST), from his debt and enslavement to Davy Jones, not knowing the price of such a rescue.
Other necessary but secondary characters abound to great effect and good star turns with Tia Dalma (Naomi Harris: 28 DAYS LATER, PIRATES OF THE CARIBBEAN: DEAD MAN'S CHEST), Captain Norrington (Jack Davenport: THE TALENTED MR. RIPLEY, PIRATES OF THE CARIBBEAN [all]), and Captain Sao Feng (Yun-Fat Chow: LIE TOU, LING QI PO REN, QI YUAN, THE PHANTOM BRIDE, SCARED STIFF).
PIRATES OF THE CARIBBEAN: At World's End is truly the definition of the sweeping saga. Director Gore Verbinski has attained that rarified air of A-list director and for good reason. Writers Ted Elliot and Terry Rossio have maintained, expanded and evolved the storyline, adding great twists turns, and lush myth to what could have been a disaster of a movie based on an amusement park ride (think the lackluster The Country Bears or THE HAUNTED MANSION).
Despite the story and direction, the movie would be adrift without the thrilling score by Hans Zimmer and the detailed, best ever, special cgi effects by an enormous SFX crew.
I have no question that if this was put in any lesser hands, and I mean practically ANYONE else's hands, the entire PIRATES trilogy would be an utter disaster. The timing, nonsense, imagination, trivia, fun, and annoyance are as finely balanced as Sparrow's staggering gait. There is nothing of the strong leading man in Orlando Bloom's physical appearance nor is there anything strongly feminine in Keira Knightly's straw-thin boyish shape.
Including Johnny Depp, the three main characters make PIRATES OF THE CARIBBEAN the most androgenous pirate movie ever made. As such, it makes the three the least identifiable for most audience members. This would be a problem for most movies but in this series it works because the main characters are so out of step and exotic. Their differences make them fascinating, not merely unappealing.

This Crowd Pleaser is the grand sweeping spectacle that every movie goer who ever wanted to see a knock-down, drag-out, over the top, and bombastic pirate movie dreamed of (you'll have to forgive my alliteration, but geez! This movie!). PIRATES OF THE CARIBBEAN: At World's End raises the bar for pirate movies into the stratosphere!
Five Shriek Girls.






This review copyright 2007 E.C.McMullen Jr.