Review by
Mike Bracken

PHENOMENA

aka CREEPERS - 1984
USA Release: AUG! 2, 1985
DACFilm / Intrafilm World Sales / New Line Cinema / Anchor Bay Entertainment / Starz
Rating: France: 16 / USA: Unrated
Argento purists will debate forever as to whether TENEBRE, SUSPIRIA, or DEEP RED is his best film, but one thing's for certain: PHENOMENA is the one that's the most fun.
Originally released in the USA as CREEPERS (which was cut to ribbons, running 20+ minutes shorter than its intended length) PHENOMENA has been much maligned by many Argento fans - some who think it's brilliant, others who absolutely despise it. Argento himself often refers to it as his favorite film, and its influences can be seen in numerous movies that came later (notably DEMONS, STAGEFRIGHT, and THE CHURCH). At any rate, it's an interesting film because it tries to be something different . . . a giallo film with supernatural elements. For those unfamiliar with Italy's gialli subgenre, here's a brief explanation.
Giallo (Italian for "yellow") films are a subgenre in the Italian cinema based on popular thriller/mystery novels (so named because their covers are yellow). These films are essentially murder mysteries, but what sets them apart from their British and American counterparts are the elaborate set pieces and gory deaths. They are almost single-handedly responsible for ushering in the whole 1980's American slasher era (FRIDAY THE 13th is essentially a giallo. FRIDAY THE 13th Part 2 director Steve Miner admits to borrowing several death sequences from Mario Bava's TWITCH OF THE DEATH NERVE*).
The films are traditionally noted for placing many red-herrings throughout the plot line to throw off the audience, and for featuring masked killers. Good examples of the form are Bava's BLOOD AND BLACK LACE and Argento's films TENEBRE and THE BIRD WITH THE CRYSTAL PLUMAGE.
*But FRIDAY THE 13th is a lot more like Bava's BAY OF BLOOD. - Feo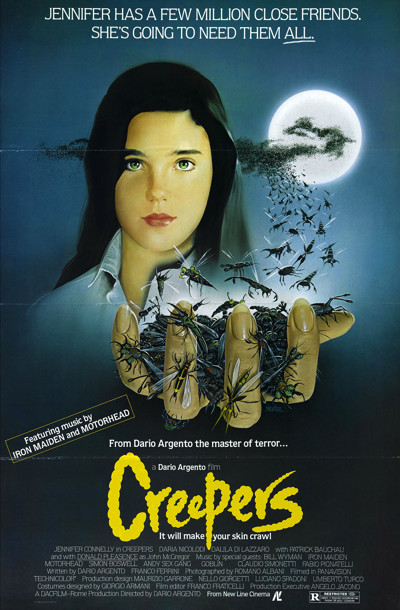 Argento made PHENOMENA in 1984, roughly two years after returning to his gialli roots with the critically acclaimed TENEBRE and having spent the mid 70's and early 80's working on the supernaturally imbued films SUSPIRIA and INFERNO. It appears that he wanted to "marry" the two styles. PHENOMENA is the end result.
Jennifer Corvino (Jennifer Connelly: DARK CITY, THE HULK) is a young girl who can communicate telepathically with insects. She's sent to an all-girl boarding school in Switzerland, where a murder and several disappearances have occurred.
She meets the wheelchair bound entomologist, Dr. McGregor (Donald Pleasence: HALLOWEEN, 2, 4, 5, 6, DRACULA, and a whole lot of other cool flicks), who not only understands her gift, but gives her a fly that was born from an egg laid in the first victim's severed head. Said insect then leads her back to some more bodies, and eventually our heroine solves the mystery, but not until we get to see some gory deaths, about 8 huge plot twists, a really cool pit of maggots and body parts, and perhaps the greatest revenge murder in film history. Sure it sounds hokey. It is hokey, but it's good hokey. Connelly does a great job playing the lead role, managing to look both 13 and disturbingly sensual.
Pleasence plays his part with his usual aplomb, portraying McGregor as a toned-down version of HALLOWEEN's Dr. Loomis. Argento makes it a family affair as well, allowing daughter Fiore to be the first victim and casting girlfriend Daria Nicolodi (OPERA, TENEBRE, INFERNO, DEEP RED) as Mrs. Bruckner. Astute viewers will also notice occasional actor and brilliant director Michele Soavi (THE CHURCH, STAGEFRIGHT, THE SECT, CEMETERY MAN) as a police detective.
PHENOMENA's visuals are as good as we've come to expect from "Italy's Hitchcock", notably the opening shots of the Swiss Mountains and fields and a few scenes where Connelly uses her abilities to summon hordes of swarming insects. Argento knows how to compose a scene and it shows. While the film doesn't make use of color in the same way that SUSPIRIA and INFERNO did, it does take advantage of some very cool gothic architecture and the area's natural beauty.
The score is both a positive and a negative. Claudio Simonetti and Goblin provide some very cool synth music for the movie, and Bill Wyman adds a nice, moody, atmospheric piece as well. Unfortunately, Argento's decision to include cuts by Iron Maiden and Motorhead detract from the scenes they're included in and date the film horribly (which is a problem in OPERA and DEMONS as well.)
The film showcases the fine SFX creations of Sergio Stivaletti (PHANTOM OF THE OPERA, STENDHAL SYNDROME). Viewers are treated to the aforementioned maggot infested head and pit of maggots and dismembered body parts, as well as an impalement and decapitation (the beheading looks a little cheesy, but hey, it was 1984) There's enough grue and violence here to please most gore fans. In the end, few people will ever proclaim PHENOMENA to be Argento's best film. It's too light-hearted and goofy to compete with the likes of SUSPIRIA or DEEP RED. Yet, it's still a competently made piece of cinema, filled with some nice stylistic flourishes, and an un-pretentious desire to do little more than entertain.
I give it 4 shriek girls.





This review copyright 2000 E.C.McMullen Jr.
LOVE THIS SITE?
Support it when you buy my books
E.C. McMullen Jr.
PERPETUAL
BULLET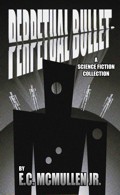 "'Some People' ... may be the standout story in the book."
- John Grant, Infinityplus
WILLOW BLUE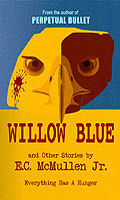 "'Willow Blue' will burrow under your skin and stay there long after you've put the book down."
- Jeffrey Reddick, Creator of
FINAL DESTINATION
IN OTHER BOOKS
E.C. McMullen Jr.'s
short story
CEDO LOOKED LIKE PEOPLE
in the anthology
FEAR THE REAPER


"This Ray Bradbury-esque is one of the most memorable and one of the more original stories I've read in a long time."
- Amazon Review
HORROR 201:
The Silver Scream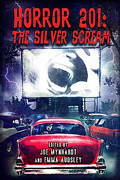 Filmmaker's Guidebook
featuring
RAY BRADBURY,
JOHN CARPENTER,
WES CRAVEN,
TOM HOLLAND,
E.C. McMULLEN Jr.,
GEORGE A. ROMERO,
and many more.
Extensively quoted in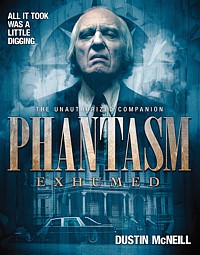 PHANTASM
EXHUMED
The Unauthorized Companion
Robert S. Rhine's
SATAN'S 3-RING
CIRCUS OF HELL


Forward by
GAHAN WILSON &
FEO AMANTE.
Featuring comics by
ALEX PARDEE,
WILLIAM STOUT,
STEVE BISSETTE,
FRANK DIETZ,
JIM SMITH,
FRANK FORTE,
ERIC PIGORS,
MIKE SOSNOWSKI,
OMAHA PEREZ,
DAVID HARTMAN,
STEVEN MANNION,
and more!
Also
IN CINEMA
E.C. McMullen Jr.
Head Production Designer


MINE GAMES
(Starring:
JOSEPH CROSS, BRIANA EVIGAN,
ALEX MERAZ)
PRODUCTION DESIGNER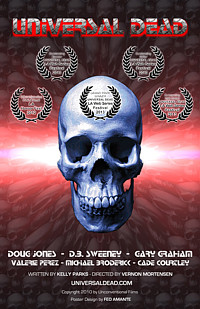 UNIVERSAL DEAD
(DOUG JONES,
D.B. SWEENEY,
GARY GRAHAM)