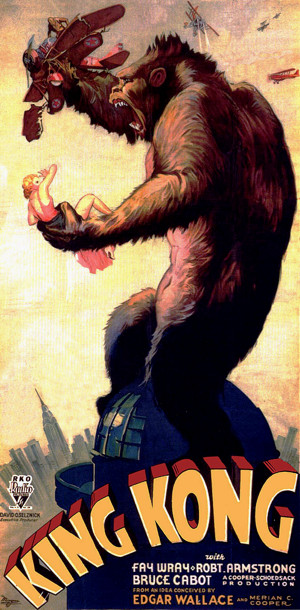 KING KONG - 1933
RKO Radio Pictures
Rating: N/A
Would it surprise you to know that KING KONG gets no URCA? In fact, its amazing how, for its time, KING KONG is as tolerant of other folks regardless of skin color.
Charlie, the Chinese cook, speaks broken English, but the crew don't look down on him for it and Ann talks to him as an equal. In the movie, his English language skills don't make him an inferior, merely someone who speaks a different language.
Until they kidnap Ann and give her to Kong, Carl, the Captain, and the crew are respectful of the Skull Island natives.
The lead character, Carl Denham, was based on the co-creator of KING KONG, Merian C. Cooper. Like many world traveling adventurers then (Robert Leroy Ripley, of Ripley's Believe it Or Not fame), Cooper was exactly the type of showman who traveled the world making movies of the unusual and exotic. Not one to be frightened by differences in nature, Merian was inspired by the wide variety of life and that included people of all races.
At about the same time, another showman by the name of P.T. Barnum, of Barnum and Bailey's Circus, had gone on record as saying that, of all the people in the world, he loved his freaks the best. Legend has it that, after the show would close for the night, Barnum would hang out and play cards with his various sideshow freaks. The social bravery of these three men, who were larger than life for their time and known world wide, were the types of influential people who not only influenced KING KONG, but stories of fictional adventurers in this period including Indiana Jones.
KING KONG creators Merian C. Cooper and Edgar Wallace (the latter of whom died before the completion of KING KONG) went into uncertain circumstances with a camera and the hope of friendship, not some pathetic "Great White Hunter" (the nomenclature of the period) standing behind a group of hired thugs and an elephant gun.
As of 2005, no Hollywood KING KONG remake was as racially accepting, diverse, and tolerant as the original.