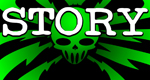 Support This Site

When You Buy My Books
E.C. McMullen Jr.
PERPETUAL
BULLET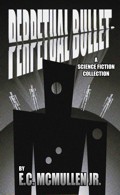 "'Some People' ... may be the standout story in the book."
-

John Grant

, Infinityplus

E.C. McMullen Jr.
WILLOW BLUE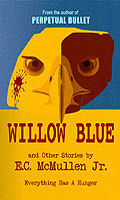 "'Willow Blue' will burrow under your skin and stay there long after you've put the book down."
- Jeffrey Reddick, Creator of
FINAL DESTINATION

IN OTHER BOOKS
E.C. McMullen Jr.'s
short story
CEDO LOOKED LIKE PEOPLE
in the anthology
FEAR THE REAPER

"This Ray Bradbury-esque is one of the most memorable and one of the more original stories I've read in a long time."
- Amazon Review

HORROR 201:
The Silver Scream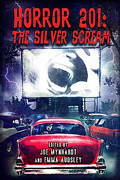 Filmmaker's Guidebook
featuring
RAY BRADBURY,
JOHN CARPENTER,
WES CRAVEN,
TOM HOLLAND,
E.C. McMULLEN Jr.,
GEORGE A. ROMERO,
and many more.



Extensively quoted in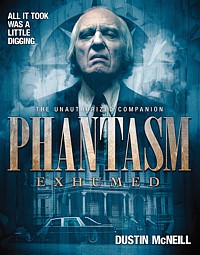 PHANTASM
EXHUMED
The Unauthorized Companion

Robert S. Rhine's
SATAN'S 3-RING
CIRCUS OF HELL

Forward by
GAHAN WILSON &
FEO AMANTE.
Featuring comics by
ALEX PARDEE,
WILLIAM STOUT,
STEVE BISSETTE,
FRANK DIETZ,
JIM SMITH,
FRANK FORTE,
ERIC PIGORS,
MIKE SOSNOWSKI,
OMAHA PEREZ,
DAVID HARTMAN,
STEVEN MANNION,
and more!

Also
IN CINEMA
E.C. McMullen Jr.
Head Production Designer

MINE GAMES


(Starring:
JOSEPH CROSS, BRIANA EVIGAN,
ALEX MERAZ)

Dept. head
Special Effects Make-Up
(SFX MUA)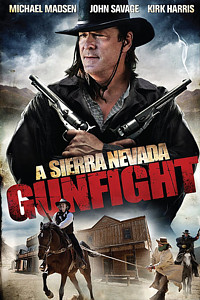 A SIERRA NEVADA
GUNFIGHT
(MICHAEL MADSEN & JOHN SAVAGE).

Production Designer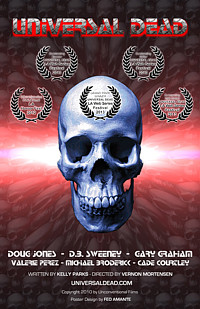 UNIVERSAL DEAD
(DOUG JONES,
D.B. SWEENEY,
GARY GRAHAM)

ART DIRECTOR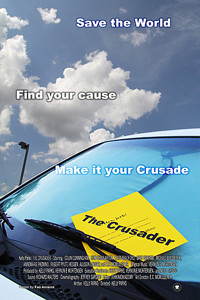 THE CRUSADER
(COLIN CUNNINGHAM,
GARY GRAHAM)
Review by
Terrence Kelsey

TRICK 'R TREAT

- 2007
USA Release: Dec. 9, 2007
Lea Cinematografica, National Cinematografica, C.C. Astro
Rated: West Germany: 18 / USA: R
Beginning as an old school animated short film ten years ago, centering around the pivotal child-like pumpkinhead spectre known as Sam, comes TRICK 'r TREAT - an ode to John Carpenter, Stephen King and George Romero from writer/director Michael Dougherty (X-MEN 2).
The flick is a raucous, fun-filled, occasionally bloody return to the format known as the Horror Anthology - i.e. CREEPSHOW (1982), Mario Bava's BLACK SABBATH (1963), TALES FROM THE CRYPT (1972), ASYLUM (1972), TALES OF TERROR (1975), THREE EXTREMES (2004), etc. (you get the idea)
What sets Dougherty's ambitious directorial debut apart from its predecessors is the way the film jumps around from story to story and back again, while keeping their general locations within a single town setting. Main characters from one story become background extras, or minor players in the other stories. Therefore showing that each character is interrelated on the surface.
Tying this complex narrative web together is the aforementioned Sam - so cute, so evil - whom represents the traditions of Halloween that we all take for granted and should dare not disregard. For doing so will bring out his wrath, complete with his sharp-edged pumpkin lollipop.
The stories goes as follows -
"The Opening" - a young couple Emma and Henry: Leslie Bibb (IRON MAN, MIDNIGHT MEAT TRAIN) and Tahmoh Penikett (BATTLESTAR GALACTICA, DOLLHOUSE [TV]) respectively are terrorized by someone or something after she, with her spiteful attitude towards the holiday begins taking down their Halloween decorations a little too early.
Next we're sent to the home office of "The Principal", where sinister Steven Wilkins (Dylan Baker: THE CELL, SPIDER-MAN, FIDO) and his annoyingly cute son, Billy (Connor Christopher Levins: SUPERNATURAL [TV], Masters of Horror: HOMECOMING) entice one of Wilkins' school pupils: the local obnoxious, pumpkin-smashing kid Charlie (Brett Kelly - Masters of Horror: WE ALL SCREAM FOR ICE CREAM) with some "special" candy and things proceed to go to unexpected depths of depravity (and not in a pedophile way, you sick pervs).
From there, we go to the "Surprise Party" to meet Laurie (Anna Paquin: X-MEN [all], DARKNESS, TRUE BLOOD) dressed as a virginal Red Riding Hood, along with her Cinderella sister Danielle (Lauren Lee Smith: MUTANT X [TV], PATHOLOGY, SUPERNATURAL [TV]), whom are hoping to help Laurie with her "first time". Danielle's cherry-breaking becomes more than anyone (including we the audience) had bargained for.
Afterwards, we venture into "The Halloween School Bus Massacre Revisited" as we're introduced to a group of kids - Marcy (Britt McKillip: DEAD LIKE ME [TV]), Schrader (Jean-Luc Bilodeau: KYLE XY [TV]), Sara (Isabelle Deluce), and Chip (Alberto Ghisi: FINAL DESTINATION 3) - whom invite a strange pumpkin-loving girl Rhonda (Samm Todd) out with them, only to set her up for a very terrifying trick. Granted, things don't go necessarily as planned.
Lastly, there's the old, scraggly, long-haired Mr. Kreeg (Brian Cox: MANHUNTER, THE RING, X-MEN 2, Wes Craven's RED EYE) whose cantankerous killjoy attitude towards Halloween brings about his impending doom when the time ultimately comes for him to "Meet Sam" in a violent battle to the death... maybe!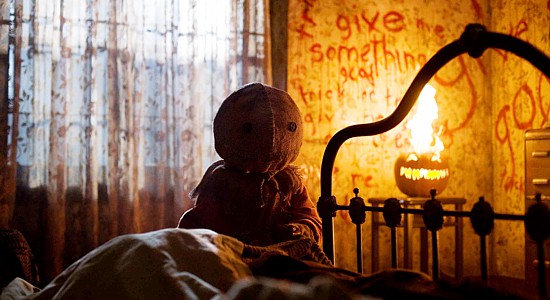 In lesser hands, this anthology concept could've easily fallen at the seams. Doughtery's writing and direction deftly juggles these stories and characters like a well-seasoned orchestra conductor.
Some may recall Quentin Tarantino's PULP FICTION or Doug Liman's GO as influences, but I believe TRICK 'R TREAT is more akin to Wong Kar Wai's CHUNGKING EXPRESS (1994) and FALLEN ANGEL (1995). It may just be the first Horror film to utilize this particular style of multi-story telling, giving us Horror fans something fresh and unique to look at.
Furthermore, the lush cinematography of Glen MacPherson (THE FINAL DESTINATION 3D) and the production design of Mark S. Freeborn (BLACK CHRISTMAS [2008], FINAL DESTINATION 3) really enhance those traditional Halloween earth tones of gold-ish yellow, vivid orange and tinted browns, while adding a special emphasis on the color red when needed.
Clearly, TRICK R TREAT is Dougherty's love letter to John Carpenter, with subtle homages to HALLOWEEN (1978), THE FOG (1980) and THE THING (1982) incorporated throughout. Even the font of the end titles are a homage to Carpenter, according to Dougherty at a recent Q & A.
I have no idea why Warner Bros. sat this excellent movie on its shelves for two years. Dougherty doesn't appear to know either. Were they afraid to compete with the SAW franchise? Did the anthology structure make them nervous about how they were going to market the film? All I know is that whenever the film was screened to audiences, it sold out the venues every time. In hindsight, the studio could've taken Paramount's current midnight showing/word-of-mouth approach to PARANORMAL ACTIVITY with TRICK 'R TREAT and then open the film up to more screens as Halloween drew closer.
Fortunately, horror fans worldwide can finally see the flick on DVD and Blu Ray. But this film really needs to be seen on the big screen with an enthusiastic audience.
I believe Michael Dougherty has created the ultimate Halloween-themed horror film that future flicks will now have to judge themselves by - if they dare to tread. With that I am proud to give TRICK 'R TREAT the highest score of 5 Shriek Girls.






This review copyright 2009 E.C.McMullen Jr.