| | | |
| --- | --- | --- |
| SCIENCE | | MOMENT |
SPOILERS AHEAD!
!!!SCIENCE MOMENT 2000!!!
BEWARE THE SCIENCE FROM THESE TITLES OF THE

28 WEEKS LATER
- 2007

EUREKA!

The most famous "healthy carrier", of course, is Mary "Typhoid Mary" Mallon (
September 23, 1869 – November 11, 1938
), who carried and spread typhoid fever even though she never actually got it. This is usually the result of a mutant gene that keeps the disease from taking its course. The portrayal of just such an individual here is perfectly reasonable and represents a good news bad news situation, since on the one hand she's potentially the source of a vaccine or even a cure, but on the other hand she's really dangerous because she's a Rage virus incubator.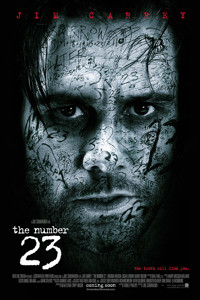 THE NUMBER 23
- 2007


EUREKA!


Some have criticized THE NUMBER 23 for having such a silly concept as being possessed by numbers, but the psychosis of numbers is real and has been covered in other stories and even movies before (PI). That fact that it looks silly to an outsider is not an excuse to dismiss this movie, as every addiction looks ridiculous to someone who doesn't share that addiction.

To an outsider, the cure for an addiction seems simple. Are you obese? Stop eating so much. Are you an alcoholic? Stop drinking. Are you addicted to gambling? Stop betting. THE NUMBER 23 could have fit any addiction into the storyline and it would have worked, but by giving us a rarity such as this, it draws us in with its alien nature. Like PI, the majority of the movie is all inner monologue as Walter tells us of his life in his own words, a la Walter Mitty.

Continued at
Science Moment /The Number 23
.
PRIMEVAL
- 2007


EUREKA!


There really is a Gustave the giant crocodile. His size is often exaggerated but he does exist and does eat people. He was last sighted by researchers in April, 2007, according to the National Geographic web site. Gustave is easy to recognize because of his many bullet wounds.
SERENITY
- 2007
In the original series the intro included talk about how after Earth got "used up" humanity found a new solar system with dozens of worlds and hundreds of moons and that everything, all the space travel, all the terraformed worlds, was in this single solar system.
That's an astronomically unlikely arrangement because first, everything we know about solar system formation says such a crowded system is unlikely to exist. Second, if it did exist – if you had so many worlds in a single system – it would be horribly unstable and the many planets would long since have collided with each other. And third, it's completely unnecessary because since they obviously have interstellar travel (to reach this new solar system) why not just assume that humanity spread to many normal solar systems and terraformed the worlds therein? And in fact in later episodes of Firefly various lines of dialogue seemed to confirm that the spread-across-multiple-solar-systems idea was the actual arrangement. In other words they corrected the mistake.
But for some unknown reason the movie backtracks and makes the original mistake again, specifying in the intro about the whole really crowded single solar system. Why, I don't know, but there it is and it bothers me.
It also bothered me that they had sound in space. Normally that's such a universal sci-fi movie mistake that I ignore it but one of the things I loved about the series was that Firefly didn't have sound in space - the only sci-fi TV show ever that got that right. And during most of the movie they get it right but then there's a big space battle scene where suddenly you can hear explosions and rockets blasting, etc. Not just wrong but inconsistent, in other words.

Kelly Parks was one of the first voices asking to SAVE FIREFLY
SPECIES IV: THE AWAKENING
- 2007


EUREKA!


I don't have a huge problem with any of the science here. It's not quite implausible. The basic idea – that an alien broadcast contained enough information on genetic engineering to allow us to create alien-human hybrids – is sound and if you accept that you can achieve enough suspension of disbelief to get through the movie.

No, I have no problem with the science.
WRONG TURN 2: DEAD END - 2007
These inbred mountain people have more than just inbreeding to thank for their mutations.

It turns out that pollution from a long since closed paper mill not only turned the locals into super-strong freaks, it also killed off all the local wildlife, leaving these hunters no choice but to turn to humans for meat. All this is unworkable (mutagenic pollution would leave them all sterile and/or dead of cancer, not super-strong) and unnecessary, since generations of inbreeding are much more likely to cause freakish mutations. Plus, you don't need to give inbred freaks a reasonable explanation for being cannibals.
NEXT
- 2007


EUREKA!


Paramount Pictures
This is a psychic power which is fantasy so the usual rules of science don't really apply. But I do want to mention that, in the narration, Cris implies that his ability is related to quantum mechanics when he says,
"Every time you look at the future, it changes."
If you really get into the details of quantum mechanics it's a lot like fantasy so I can live with it.
I AM LEGEND
- 2007
Universal Pictures
Rated: PG-13
The idea that a genetically engineered virus could turn deadly is perfectly believable so that part of the story is fine. But the idea that the virus could make the entire suite of mutations required to turn humans into the monsters found here is harder to swallow. It essentially makes them into another species and – while not impossible – it's hard to believe that could happen basically by accident.
ALIEN VS PREDATOR: REQUIEM
- 2007
If you were in orbit around Earth and a dangerous alien creature got loose and killed your crew, that would not make the spaceship crash because orbit is a stable position that doesn't require the application of propulsion. If it's a very low orbit the tenuous upper atmosphere will eventually make it decay (
in days or weeks
) but they weren't that low.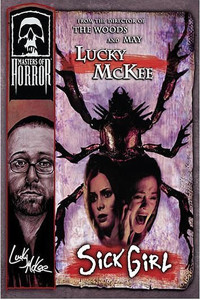 SICK GIRL
- 2005

Things get stupid when Max, a supposed degreed entymologist, actually says, "Insects don't hunt warm blooded animals."

THE HELL? Since when did insects like Praying Mantis' not hunt and eat small birds and rodents? Since when do bees and wasps not hunt and sting mammals? Since when do ants and horseflies not hunt and bite mammals? Since when do fleas not hunt and live off of the warm blood of mammals? Mosquitos anyone?

Come on, doofus! You're getting paid good money to write and direct this. Is it that difficult to research a MAJOR plot point?

Here, let me provide you with a nice visual of an insect specifically hunting down, capturing, and eating a mouse while it is still alive.
Note: This is NOT the PeTA or ALF approved version of reality.
DOOMSDAY
- 2008
In the opening sequence, hordes of Scots are trying to escape before the wall closes. Guards are sensibly posted to ensure no one infected gets through. Upon discovering a carrier amongst the crowd, the military opens fire.


Wrong:
projectile weaponry sprays infection and leaves a carcass for carrion animals to spread. The de-facto method to kill a known viral pathogen with no vaccine and with an unknown vector is to burn it. Would a flame-thrower be too much to ask?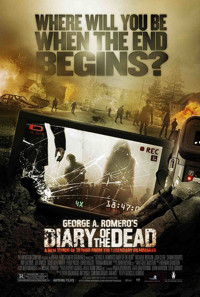 DIARY OF THE DEAD
- 2008
Romero is well versed, especially so for a guy his age, in the Internet and how it affects people young enough to be his grandchildren. But while he knows about the use of the Internet, he knows surprisingly little about the workings of the Internet.

For example, George covers things like cellphones going out, telephones going out, Television stations going out, even power going out: things he has no doubt experienced for years. Yet in an entirely arbitrary way, power comes back on whenever and where ever it is needed. What's more, since this is supposed to be a worldwide phenomenon, who in the hell is running all of the computer servers in all of these nations where presumably they are having just as much trouble with their power grid as the rest of us?

There is a reason why, in 2008, Internet phone companies like Vonage can't reliably guarantee that your 911 emergency line will work - the Internet is woefully unstable. What's more, it takes thousands of Internet Technician (

I.T.

) experts standing in air conditioned rooms hovering over rows of banks of servers sucking up enormous amounts of electricity just to run the thing at all. But in

DIARY OF THE DEAD

, Internet connectivity has never been better and websites like YouTube don't crash or even stall! Who is maintaining the Internet and these websites and individual servers everytime the power goes out and who is turning on and rebooting all of the computers everytime the power returns? And who is at all of the high speed Internet providers to be so Johnny-On-The-Spot to make sure the throughput goes through?

Romero creates a world where both society and technology are breaking down at a breakneck pace, and he SHOWS us that. Yet our intrepid heroes find magical wireless broadband world-wide Internet connectivity wherever they find a computer. Even more unbelievable than zombies! But hey: if you can have leaping invisible zombies and magical Internet, then why are fast running zombies so hard to swallow?
IRON MAN
- 2008
There are four obvious questions that come to mind when you see Iron Man in action. My first was, "Where are his fuel tanks?" He flies half-way around the world and back and that takes lots of reaction mass. Where is it?
Answer: He doesn't use jets – he uses repulsor beams, which constitute magical handwaving but as long as the issue is addressed I'm fine.

Next question: "Where does the power for the repulsor beams and all the other amazing technology come from?"
Answer: Arc reactors. More handwaving but also kind of cool, that the power of a nuclear reactor could be reduced to a glowing, hand-held gadget.
Third question: "How can he fly level?"
Answer: He can't.* Planes have wings for a reason and this is a mistake. When his propulsion system is directed backwards, thrusting him forwards, then nothing is fighting the pull of gravity (like the lift force created by wings) and he'd drop like a rock.
Final question:

Continued at IRON MAN/SCIENCE MOMENT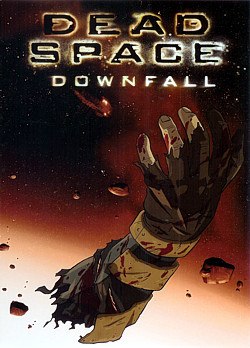 DEAD SPACE: DOWNFALL
- 2008
Blech! To the sound in space of course. Just because it is a common stupidity doesn't make it an acceptable one.

There are a number of things that could be wrong with the whole geosynchronous orbit of the Ishimura (
where an object stays above the exact same place over a planet
). Such orbits are quite high in accordance to Kepler's Law (
geosynchronous orbit for earth starts at 36,000km above planet surface
), and the Ishimura appears to be only 10 or so kilometers above the surface. Far too low for a geosynchronous orbit. But they are using some kind of futuristic tractorbeam tech that I'm unaware of, so I'll let that one go.

This
SCIENCE MOMENT
however, is about where the story takes place. These folks are supposed to be hundreds of years from us in the future and several million light years away from earth on Aegis 7 in the Cygnus System. The closest Cygnus to us is the Cygnus region of our own galaxy, which is only 6,000 light years away. The next closest Cygnus is the Cygnus A radio galaxy, which is 600 million light years away. Cygnus A is also a powerful Quasar (
all Quasars are powerful of course, but they're just peanuts compared to Cygnus A, listen...
). Cygnus A is five times the size of our own Milky Way and its center is a Quasar so powerful that we'd die from radiation long before we could ever enter the outer arm. Even for a Quasar, Cygnus A is considered a hyper-active galaxy, and is the closest of the ultra-luminous galaxies. It's possibly the closest a type A radio galaxy can get to us without destroying us - cosmologically speaking.
More on the Cygnus radio galaxy by Caltech. More on Quasars by Vermont U.
Far into the future, and incredible technology so... why do people still wear glasses? And why the hell are they still using old fashioned combustion bullets WITH shell casings? We're moving away from shell casing tech now so quaint doesn't begin to describe it. We aren't talking the technological difference between arrows and bullets here. We're talking the difference between nearby rocks on the ground to mag rail launchers - which we have now, so why would we need bullets in the far flung future? The whole bullet and eyeglass things are so anachronistic. Especially when you consider that they are firing all of those bullets in, around, and at the interior of their spaceship and the various things that power and provide life support in said spaceship.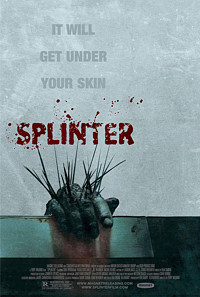 SPLINTER
- 2008


EUREKA!


One of the characters discovers that the spiky varmint is blind but attracted to heat, and so decides to lower his body temperature (

using bags of ice

) to around 91 degrees to attempt escape. The temperature at which you die from the cold does not occur outside on the surface of the body (

it can be below zero

) but your body's interior core temperature, which should hover at an average of 98.6. When your body's core temperature drops below 98.6, hypothermia sets in, in three stages.


Stage 1 Hypothermia
occurs when the body's core temperature is down by only three degrees. At 95.6 you shiver uncontrollably, your muscle and cerebral functions are impaired, your arteries near the skin surface shrink causing your flesh and lips to change color, and higher brain functions shut down.
At 91.6, Stage 2 Hypothermia, you stumble, become confused and amnesia-tic. In SPLINTER, the character says that if his core body temperature gets to 89 degrees Fahrenheit, he could die, and that's true though not likely. Arteries in the skin constrict further to keep the warm blood flow around the internal organs (your skin is also an organ). This is where frostbite can set in as your skin and extremities (toes, fingers, nose, ears) are starved of oxygen bearing blood. These extremities will go numb and you won't feel pain in them. Your body shivers uncontrollably in an effort to burn calories and increase warmth.
Bodily death will occur at 86.0, Stage 3 Hypothermia. As death approaches you will try to dig or burrow into something, anything: Garbage, leaves, a snowpack, a crevice - it's called Terminal Burrowing, and you won't be able to help it or stop yourself. Your heart will beat faster as your blood pressure drops. You also won't be able to call out for help or even hear others calling your name. Should the internal cold persist, your body will completely shut down as your brain will be the last thing to die. Your brain controls and uses the most of your body's resources.
The character's behavior is in keeping with how a human being would act under those conditions and so makes perfect sense. Kudos to the writers for using real science to bring the scary!
OUTPOST - 2008
Ever heard of the Nazi Bell? How about the Philadelphia Experiment? If not, Wikipedia has informative entries on both. These legendary science projects (neither of which ever happened despite what many believe) allegedly involved unusual aspects of electromagnetism and possible solutions to Einstein's Unified Field Theory.
The movie implies that Einstein gave up his search for a single equation that would explain all the forces of nature because the atomic bomb terrified him into destroying all his notes. In fact, the A-bomb wasn't based on anything to do with Unified Field Theory and Einstein kept looking for that equation 'til the day he died.
Fascinating, right? But how does that lead to Nazi super soldiers? For that you have to watch the movie but the explanation given is sort of workable though not really consistent. Sometimes you see the soldiers get injured and survive and sometimes bullets don't hurt them at all. Which is it?

Continue to
2009 to 2010
This page Copyright 2008 E.C.McMullen Jr.


E.C. McMullen Jr. is a participant in the Amazon Services LLC Associates Program, an affiliate advertising program designed to provide a means for sites to earn advertising fees by advertising and linking to amazon.com.
BUY BOOKS FROM
E.C. McMullen Jr.
WILLOW BLUE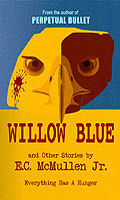 "'Willow Blue' will burrow under your skin and stay there long after you've put the book down."
- Jeffrey Reddick, Creator of
FINAL DESTINATION

PERPETUAL BULLET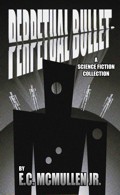 "'Some People' ... may be the standout story in the book."
- John Grant, Infinityplus

IN OTHER BOOKS
E.C. McMullen Jr.'s
short story
CEDO LOOKED LIKE PEOPLE
in the anthology
FEAR THE REAPER


"This Ray Bradbury-esque is one of the most memorable and one of the more original stories I've read in a long time."
- Amazon Review
HORROR 201: The Silver Scream
PAPERBACK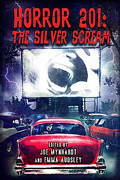 Filmmaker's Guidebook
featuring
RAY BRADBURY,
JOHN CARPENTER,
WES CRAVEN,
TOM HOLLAND,
E.C. McMULLEN Jr.,
ED NAHA,
GEORGE A. ROMERO,
and many more.
Extensively quoted in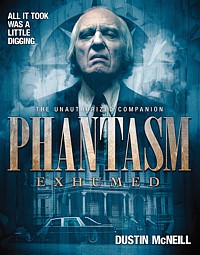 PHANTASM EXHUMED
The Unauthorized Companion

Robert S. Rhine's
SATAN'S 3-RING CIRCUS OF HELL


Forward by
GAHAN WILSON,
FEO AMANTE.
Featuring comics by
WILLIAM STOUT,
HILARY BARTA,
STEVE BISSETTE,
SPAIN RODRIGUEZ,
FRANK DIETZ,
JIM SMITH,
TONE RODRIGUEZ,
FRANK FORTE,
ERIC PIGORS,
ALEX PARDEE,
MIKE SOSNOWSKI,
OMAHA PEREZ,
DAVID HARTMAN,
D.W. FRYDENDALL,
SHANNON WHEELER,
VINCENT WALLER,
JACOB HAIR,
NENAD GUCUNJA,
STEVEN MANNION,
NORMAN CABRERA,
and more!
ALSO
IN CINEMA
E.C. McMullen Jr.
HEAD PRODUCTION DESIGNER


MINE GAMES
(Starring:
JOSEPH CROSS, ALEX MERAZ, BRIANA EVIGAN)
Dept. head
SPECIAL EFFECTS MAKE-UP
(SFX MUA) and Michael Madsen's stunt double on the movie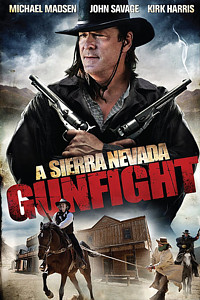 A SIERRA NEVADA GUNFIGHT
(Starring:
MICHAEL MADSEN and JOHN SAVAGE).

PRODUCTION DESIGNER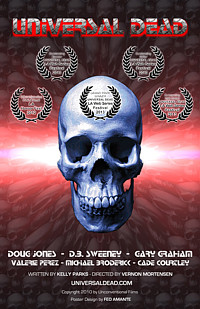 UNIVERSAL DEAD
(Starring:
DOUG JONES, D.B. SWEENEY, GARY GRAHAM)

ART DIRECTOR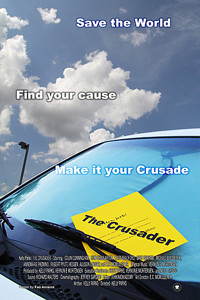 THE CRUSADER
(Starring COLIN CUNNINGHAM, GARY GRAHAM)