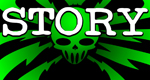 You Support This Site
When You Buy My Books
E.C. McMullen Jr.
PERPETUAL
BULLET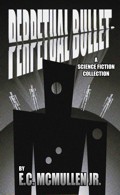 "'Some People' ... may be the standout story in the book."
-

John Grant

, Infinityplus

E.C. McMullen Jr.
WILLOW BLUE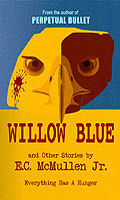 "'Willow Blue' will burrow under your skin and stay there long after you've put the book down."
- Jeffrey Reddick, Creator of
FINAL DESTINATION

IN OTHER BOOKS
E.C. McMullen Jr.'s
short story
CEDO LOOKED LIKE PEOPLE
in the anthology
FEAR THE REAPER

"This Ray Bradbury-esque is one of the most memorable and one of the more original stories I've read in a long time."
- Steve Isaak,
Goodreads

HORROR 201:
The Silver Scream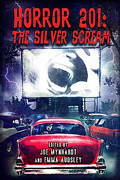 Filmmaker's Guidebook
featuring
RAY BRADBURY,
JOHN CARPENTER,
WES CRAVEN,
TOM HOLLAND,
E.C. McMULLEN Jr.,
GEORGE A. ROMERO,
and many more.



Extensively quoted in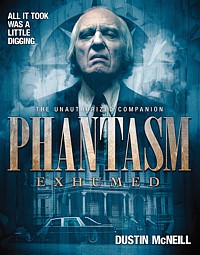 PHANTASM
EXHUMED
The Unauthorized Companion

Robert S. Rhine's
SATAN'S 3-RING
CIRCUS OF HELL

Forward by
GAHAN WILSON &
FEO AMANTE.
Featuring comics by
ALEX PARDEE,
WILLIAM STOUT,
STEVE BISSETTE,
FRANK DIETZ,
JIM SMITH,
FRANK FORTE,
ERIC PIGORS,
MIKE SOSNOWSKI,
OMAHA PEREZ,
DAVID HARTMAN,
STEVEN MANNION,
and more!

And In
CINEMA


E.C. McMullen Jr.


Head Production Designer

MINE GAMES


(Starring:
JOSEPH CROSS, BRIANA EVIGAN,
ALEX MERAZ)

Dept. head
Special Effects Make-Up
(SFX MUA)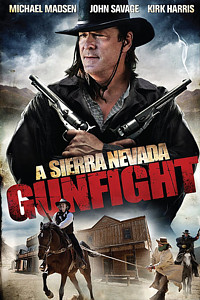 A SIERRA NEVADA
GUNFIGHT
(MICHAEL MADSEN & JOHN SAVAGE).

Production Designer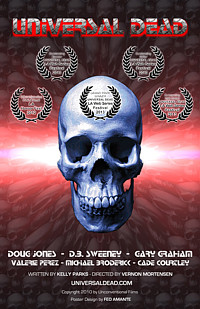 UNIVERSAL DEAD
(DOUG JONES,
D.B. SWEENEY,
GARY GRAHAM)

Art Director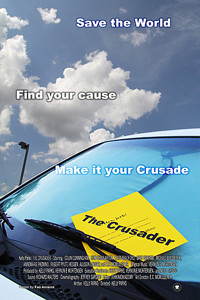 THE CRUSADER
(COLIN CUNNINGHAM,
GARY GRAHAM)
SPOILERS AHEAD
!!!SCIENCE MOMENT!!!
BEWARE THE SCIENCE OF THESE TITLES FROM THE
1970s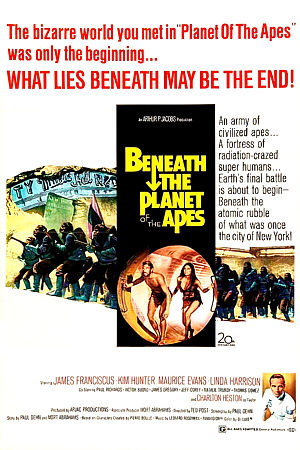 BENEATH THE PLANET OF THE APES - 1970


I must talk about The Bomb.

This weapon, worshipped by the mutant humans of the future, is briefly described as a cobalt bomb. Brent and Taylor take it for granted that this bomb can destroy the world but can that be true? Well, sort of. It depends on your definition of "destroy." You see adding cobalt to an H-bomb does not make the explosion bigger - it makes the fallout worse; worse in the sense of staying radioactive and deadly for many years instead of just a few months like a regular nuke. For a good story about a cobalt weapon war worst-case scenario, see ON THE BEACH.

So if by destroy you mean "kill all mammalian life" (those damn cockroaches would survive just fine) then yes, it would destroy the world. But if you mean "blow up the Earth" (implied in the next movie) or "ignite the atmosphere and incinerate the Earth" (mentioned in this movie) then no. Only an anti-matter weapon or something similar could accomplish such a gargantuan energy release.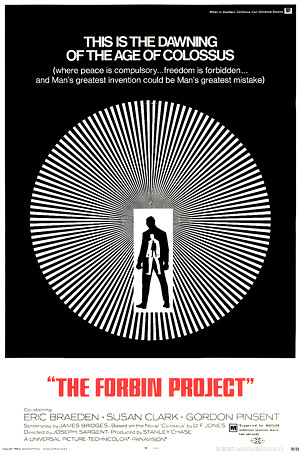 COLOSSUS: The Forbin Project - 1969


The computer technology in this movie is very quaint by today's standards.

The "printer" sound effect and punch card font letters in the opening credits were meant to seem futuristic but today seem as primitive as stone tablets. And the assumption that computers, which at the time were huge, room filling machines, would just get bigger was reasonable before the tiny computers developed for the Apollo program came along and led to a PC on every desktop in the world. But don't let the primitive tech fool you because the basic assumptions here are sound.

Once you develop true artificial intelligence, that quickly leads to machines that can improve themselves faster than is humanly possible. For better or worse, I have no doubt that sometime in our new century we will build machines that will replace us as masters of the Earth.
ESCAPE FROM THE PLANET OF THE APES - 1971


When Dr. Dixon first sees the three apes, he's mildly surprised to see that they're wearing clothes and seem very bright, but he dismisses it by saying they must be well trained.

Is that how a zoologist would react in that situation?
NO!
He'd say,
"Oh my god! They're standing upright and have opposable thumbs! This is a whole new species of chimpanzee! Maybe a new order of primate! I've got to publish immediately so I can name the species. I'll be famous!"

The fact that they can talk (which is discovered very quickly when Zira can't resist the need to give her opinion) would just be the icing on the cake. At first glance they are very obviously not like any chimpanzee ever seen before.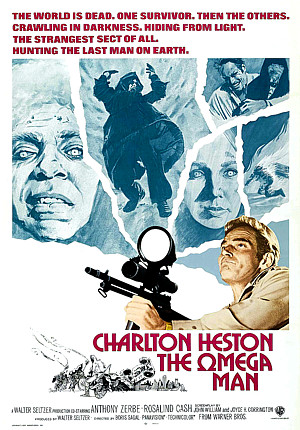 THE OMEGA MAN - 1971

EUREKA!
In the novel the infected are vampires and the movie LAST MAN ON EARTH is faithful to that aspect of the story. But screenwriter Joyce H. Corrington, also a PhD. in chemistry, wanted to write science fiction, not fantasy (she explains all this in an interview included in the DVD extras) so the vampires became the believable victims of a terrible, man-made disease.

Biowar was just becoming a major concern in the late 60's / early 70's when this movie was made (and we know now that the Soviet Union kept stockpiles of some very nasty stuff). The Sino-Soviet war releasing bioweapons that spread across the globe was very much a reasonable fear then and unemployed Soviet scientists selling their expertise to terrorists is a perfectly reasonable fear now.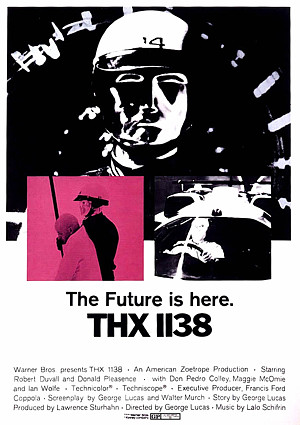 THX 1138 - 1971


EUREKA!
There is a truly odd mix of technology here, from 70's era computers and displays to the super-advanced robot cops.

Normally that would bother me - if you have that kind of robotics tech you don't need human workers at all - but it doesn't because this is a police state. Logic and totalitarian philosophy do not mix so I assume it all makes sense within their society. It reminds me of the Soviet Union, which never threw out anything that still worked.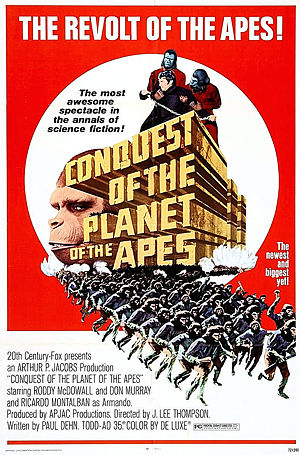 CONQUEST OF THE PLANET OF THE APES - 1972


There is a key scene where Caesar's chimpanzee girlfriend Lisa (Natalie Trundy: BENEATH THE PLANET OF THE APES, ESCAPE FROM THE PLANET OF THE APES, BATTLE FOR THE PLANET OF THE APES) actually speaks, apparently learning how from Caesar.

I'm sorry, but no. Apes don't speak - not because they haven't learned - but because they can't. They don't have the vocal apparatus. If you transplanted a human brain into a chimp's body the resultant creature might understand everything you said but would not be able to answer. The only thing that would turn modern apes into sentient, speaking beings like Caesar is some serious genetic engineering.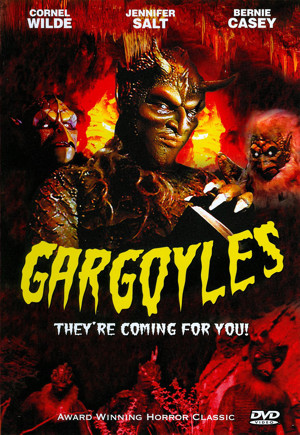 GARGOYLES - 1972


This movie tries to portray the race of Gargoyles as intelligent reptilians with an unusually long egg incubation period: 500 years. That's why they disappear for centuries and become mere legend, then make a new appearance, get all but wiped out by humanity, and are forgotten as legend again until the next time.

That raises lots of questions, like why aren't skeletons of these creatures found all the time and where are the fossils of whatever line of reptiles lead to these intelligent beings? But I can let all of that go with some handwaving and I can respect their attempt to approach gargoyles from a science direction.

What I can't let go is the flying. You can't have something as big and heavy as a man flying on such flimsy, slow wings without invoking magic. The physics just doesn't work out on its own unless the wings (and associated back muscles to drive the wings) are much, much bigger.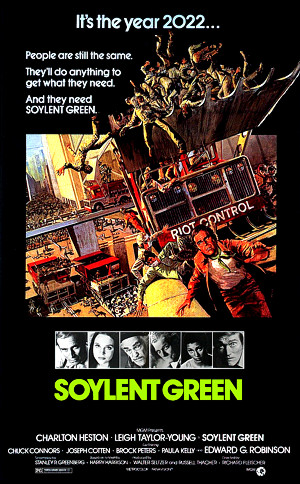 SOYLENT GREEN - 1972

I have to be careful here, because I don't want this to be a spoiler just in case you haven't heard someone quote Heston's famous line at the end of this movie, when he finds out why Simonson was killed.

What I want to address is something he says just before the famous line: "The oceans are dying! The plankton is dying!" If that were true then we would follow pretty quickly. Oceanic plankton produces about 70% of the oxygen in the atmosphere. If the plankton were gone then Earth would not be what we think of as an "Earth-like" planet any more.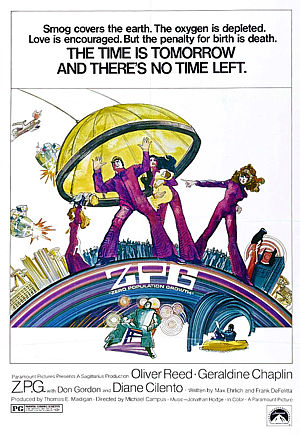 Z.P.G. - 1972

A lot of people in the 70's were very concerned about over population and the whole idea of Zero Population Growth was an often discussed potential solution.

Famine and environmental disaster seemed inevitable and a lot of the sci-fi movies from this era are dystopian and downbeat (SOYLENT GREEN, for example). But if you've been paying attention you'll have noticed that in spite of there being lots more people today, none of the disasters they worried about in the 70's ever happened.

Sure, there have been famines, but only because of corrupt, incompetent governments, not because there were too many people. There are billions more people now than in the 70's and between now and then steady improvements in agricultural technology have made food nothing but cheaper and more plentiful.

But if you're still worried about overpopulation, consider this: except for the United States and New Zealand, every Western Nation (including Japan and all of Europe) has a birth rate below replacement level. That means deaths are outpacing births and the population is shrinking. In some cases (Russia, for example) for every two people who die only one new one is born, which means the population is halving every generation.

On top of that, even cultures with high birth rates (most of Islam) are seeing a gradual decline over time. Add all this together and most predictions now show the population of the world leveling off around mid-century, and dropping thereafter.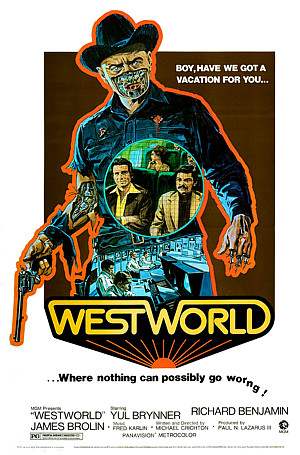 WESTWORLD - 1973


EUREKA!
Michael Crichton was trained as a medical doctor before he became a big shot author / screenwriter / director. I don't know it for a fact but I'm assuming that's why he imagined a robot "disease" that spreads though out the park. Today that would probably be written as a computer virus but I have no problem taking the movie at its original intent, mostly because of something the chief supervisor says in a Delos meeting discussing the problem. He says that most of the robots have "been designed by other computers - we don't know exactly how they work." This is something that is actually happening today (google "genetic algorithm" if you want to know more).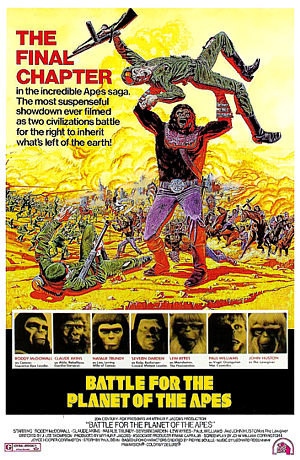 BATTLE FOR THE PLANET OF THE APES -1973

The movies never really say exactly how modern apes are transformed into intelligent simians. Many assume that it must be either evolution or mutations from lingering radiation. Neither of these can be the answer.

Something in the neighborhood of 5 million years separates modern humans and modern chimpanzees from their common ancestor. Two thousand years ain't gonna do it. Evolution needs more time to make changes that dramatic.

And as for radiation, the answer is no for the same reason the answer would be no for radiation creating the giant ants in THEM. Mutations just don't work that way. They almost always cause bad changes in genes, that result in still births or shortened life spans (if you take the text from a book and randomly scatter the letters, what are the chances the book will be better? Odds are it won't even be legible anymore).

The one and only way these apes could exist is if they were created deliberately. A great deal of genetic engineering is the only answer. The Theory of Special Creation would actually apply, although their creator was something less than divine.

So here's the problem. Twenty years after CONQUEST OF THE PLANET OF THE APES, where shambling, inarticulate apes were being used as slaves, all of simian kind has been transformed into the upright, speaking creatures we saw in the first movie, WITH NO EXPLANATION AS TO HOW THIS HAPPENED!

I mean, what the hell?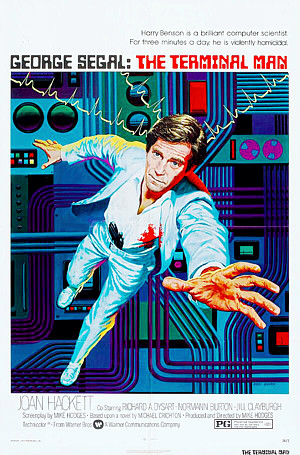 THE TERMINAL MAN - 1974

EUREKA!
Cases like this – a head injury turning a normal person into a violent monster – are well known.

It takes an effort of will to keep this SCIENCE MOMENT short, not because there are mistakes that deserve mention – there are none – but because there are so many topics that apply. I'll limit myself by saying that, as is often the case when Michael Crichton is involved, this story is ahead of its time.

The bulk of the public is unaware that the field of neuroscience is about to unleash a host of discoveries that will raise as many ethical questions as genetic engineering. We've come to understand enough about the brain that soon we will have infallible lie detectors, drugs that genuinely enhance your intelligence, and methods that would allow the kind of control seen in this movie.

It's all closer than you think.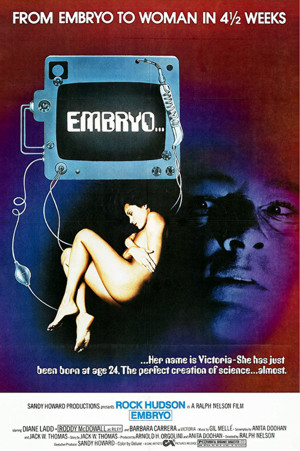 EMBRYO - 1976

The growth hormone is pure drivel, but the concept of an artificial womb is sound. It has turned out to be more difficult than scientists thought but it is coming.

Imagine the implications: No more premature infants or miscarriages. No more painful, medically risky childbirth. Total control over when and where babies are born. No more women lording it over men about the "pain" they go through!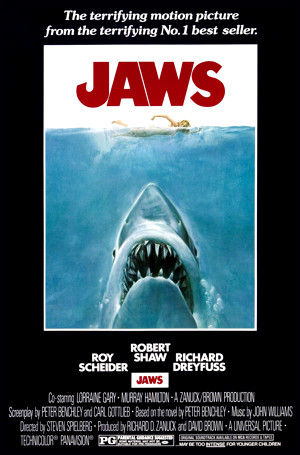 JAWS - 1976


Great Whites generally do not go out of their way to eat people. Their preferred foods are pinnipeds (seals and sea lions) because they like the blubber. People are too lean for their taste. Some think that when Great Whites do attack people, it's because they're mistaking a surfer paddling on a surfboard for a seal. In fact that's not true.

Great Whites are perfectly able to tell the difference as evidenced by their approach.

When attacking a seal they rocket up from beneath and slam into the seal, practically leaping out of the water.

When attacking a person they leisurely swim up and take a bite. They're just curious to see what this odd creature tastes like and generally they take that one test bite, decide we're not very flavorful, and swim away. Of course one Great White bite can be fatal but the fact is most people survive these attacks.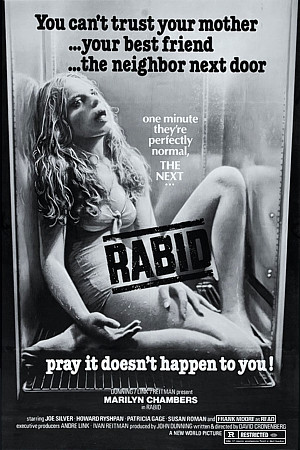 RABID- 1977


There's a Gahan Wilson cartoon that shows the gated entrance to the lair of a mad scientist. Next to the gate is a big sign that says, "Trespassers will be experimented upon!"

The good doctors of the Keloid clinic must have gone to the mad scientist medical school if they think it's legal to perform experimental surgery on unfortunate accident victims, even if they are using stem cells. Yes, stem cells! Well, they didn't call them stem cells but that is what they were describing when they took a piece of skin from Marilyn Chambers' leg and sent it away to a lab to be grown into more skin and any other body parts she might need.

Now exactly what went wrong when they did that, I couldn't comment on because the movie never explains. I get the impression the intention was these magic cells "knew" she needed blood so it grew her a blood stealing needle thingie (pardon the technical jargon) in her armpit. But why that causes rabies is never explained.

Continued at THE SCIENCE MOMENT/Rabid.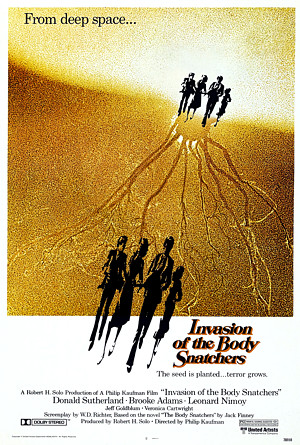 INVASION OF THE BODY SNATCHERS - 1978


The only thing I didn't like in terms of science was the opening segment.

The alien filaments or spores or whatever float from the surface of a planet, into space and find their way to Earth in both a cheesy, bad effect (the only bad one in the movie) and a manner that demonstrates a complete lack of understanding of gravity in general and the distances between solar systems. It made me cringe.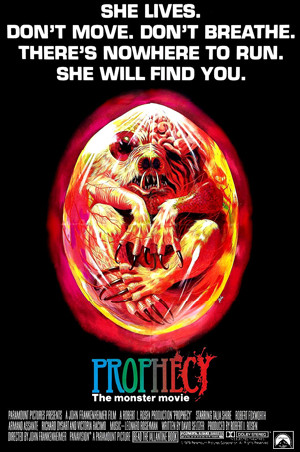 PROPHECY - 1978

The culprit here is mercury poisoning. Mercury, used by loggers to prevent wood from rotting as it floats down river, gets into the fish and anything that eats the fish (including Robert and Maggie).

Now, it is true that Mercury itself can damage your nervous system and cause insanity, and it is true that many Mercury compounds are mutagenic. This is very well known – in fact, it's too well known. There have been so many thoroughly studied cases of mercury poisoning that if mercury caused giant, mutant bears everyone would know it.

Teenage boys would be breaking open thermometers and sneaking into the zoo late at night. They should have made up some scientific sounding but completely imaginary substance, like dilithium crystals or Nutra-Sweet.
ALIEN - 1979

EUREKA!
Every form of life on Earth, from bacteria to oak trees to people, is based on DNA. But DNA is far from the only solution to the chemistry problem of self-replicating molecules. Life that evolved elsewhere would certainly be based on different chemistry. What I'm getting at is the idea that a creature like this could have naturally evolved the ability to make use of alien biochemistry is out of the question. I'm not saying these monsters are impossible – I'm saying they can only be artificial. They were created by a culture with a very advanced understanding of extraterrestrial biology and genetic engineering.

ALIEN is one movie that science geeks really love to discuss because this is one of the very few Hardcore Science Fiction movies in existence (the other being ALIENS).

Science Geeks Kelly Parks and E.C.McMullen Jr. have a discussion over the possibilities of a xenomorph like the Alien actually being able to exist. For hardcore science fans only: ALIEN SCIENCE
Back to
MOVIES
Links To The FUTURE!
MAN CONQUERS SPACE
What a beautiful future it was.
BUZZ ALDRIN
He walked on the moon!
Neil Armstrong took his picture! On! The! Moon!
He became an MTV Award!
He flew Homer Simpson into space and put the "Buzz" in Buzz Lightyear!
---
SCIENCE LINKS!
BAD ASTRONOMY
debunks the myths with clear, easy to understand facts.
CENTER FOR THE STUDY OF SCIENCE FICTION
JUNK SCIENCE
debunks the myths and the myth makers.
MADSCI.org
Where your science questions are answered by REAL (though not necessarily mad) scientists!
---
LINKS TO THE PAST!
NASA.gov
See history archived before your very eyes! NASA's own online mausoleum!