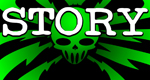 Support This Site

When You Buy My Books
E.C. McMullen Jr.
PERPETUAL
BULLET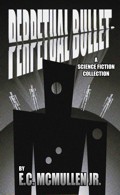 "'Some People' ... may be the standout story in the book."
-

John Grant

, Infinityplus

E.C. McMullen Jr.
WILLOW BLUE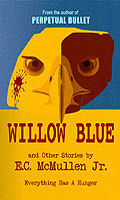 "'Willow Blue' will burrow under your skin and stay there long after you've put the book down."
- Jeffrey Reddick, Creator of
FINAL DESTINATION

IN OTHER BOOKS
E.C. McMullen Jr.'s
short story
CEDO LOOKED LIKE PEOPLE
in the anthology
FEAR THE REAPER

"This Ray Bradbury-esque is one of the most memorable and one of the more original stories I've read in a long time."
- Amazon Review

HORROR 201:
The Silver Scream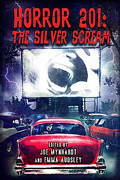 Filmmaker's Guidebook
featuring
RAY BRADBURY,
JOHN CARPENTER,
WES CRAVEN,
TOM HOLLAND,
E.C. McMULLEN Jr.,
GEORGE A. ROMERO,
and many more.



Extensively quoted in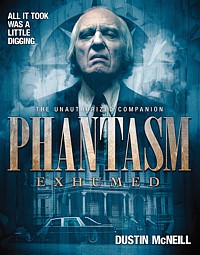 PHANTASM
EXHUMED
The Unauthorized Companion

Robert S. Rhine's
SATAN'S 3-RING
CIRCUS OF HELL

Forward by
GAHAN WILSON &
FEO AMANTE.
Featuring comics by
ALEX PARDEE,
WILLIAM STOUT,
STEVE BISSETTE,
FRANK DIETZ,
JIM SMITH,
FRANK FORTE,
ERIC PIGORS,
MIKE SOSNOWSKI,
OMAHA PEREZ,
DAVID HARTMAN,
STEVEN MANNION,
and more!

Also
IN CINEMA
E.C. McMullen Jr.
Head Production Designer

MINE GAMES


(Starring:
JOSEPH CROSS, BRIANA EVIGAN,
ALEX MERAZ)

Dept. head
Special Effects Make-Up
(SFX MUA)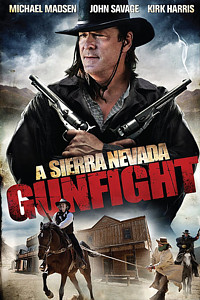 A SIERRA NEVADA
GUNFIGHT
(MICHAEL MADSEN & JOHN SAVAGE).

Production Designer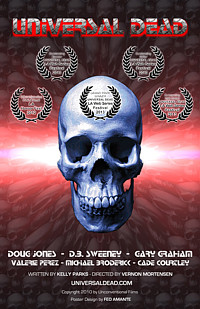 UNIVERSAL DEAD
(DOUG JONES,
D.B. SWEENEY,
GARY GRAHAM)

ART DIRECTOR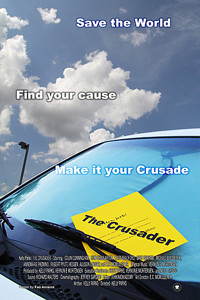 THE CRUSADER
(COLIN CUNNINGHAM,
GARY GRAHAM)
Review by
Kelly Parks

WESTWORLD

- 1973
USA Release: AUG! 15, 1973
MGM
Rating: USA: PG
USA Release: November 21, 1973
The catchphrase is better known than the movie. You've heard it: "Where nothing can possibly go wrong…go wrong…go wrong." It gets the idea across although it implies that the "nothing can go wrong" announcement was being played from a vinyl record, something ridiculous even in the 70's. But I'm getting ahead of myself.
WESTWORLD was written and directed by the amazing Michael Crichton (THE ANDROMEDA STRAIN, COMA, JURASSIC PARK, THE 13th WARRIOR). Comparisons between this movie and the much later JURASSIC PARK are inevitable, by the way, because both are stories of futuristic amusement parks gone wrong.
The story opens with a promotional film for the Delos Corporation's new amusement parks: Roman World, Medieval World and West World. Guests just returning from these parks are interviewed and all report they had a fabulous time. Here we learn that these theme parks use robots that look and act like people from the specified era, allowing one to live the experience. It's made clear that you can "kill" the robots and it's implied that they also make excellent sex partners.
We cut to the Delos hovercraft (some kind of huge ground-effect aircraft) traveling over the desert bringing guests to the resort. Peter Martin (Richard Benjamin: LOVE AT FIRST BITE) and his friend John Blane (James Brolin: THE AMITYVILLE HORROR, THE CAR) are on their way to West World. Peter is nervous and uncertain but John has been there before and keeps telling Peter to relax.
TRIVIA
WestWorld is the first feature film to incorporate computer animation.
Special Effects artists (Brent Sellstrom, John Whitney Jr.) used Raster imagery in creating the robot (Yul Brynner) Gunfighter's, pixelated "vision".
Meanwhile, deep underground, technicians prepare hundreds of robots for their duties and monitor the activities of the guests. The Chief Supervisor (Alan Oppenheimer: PHANTOM 2040 [TV], HELTER SKELTER, THE BIONIC WOMAN [TV], THE SIX MILLION DOLLAR MAN [TV]) has things well in hand except he does notice that robot malfunctions seem to be increasing. Hmmmmmm.
The day to day operation of this park and its androids is believably portrayed. Peter discovers that yes, you can kill the robots when he is accosted by a robot gunslinger (Yul Brynner: FUTUREWORLD, THE ULTIMATE WARRIOR, THE MAGNIFICENT SEVEN). We also see some very high technology because the guns don't use bullets - they run on batteries but still throw something like a bullet. The guns also are able to distinguish robot from guest so nobody is really in danger here. That technology is impressive but still paltry compared to fully AI driven humanoid robots, something we're very far from being able to produce.
Still, it all sounds like fun, doesn't it? It's like Star Trek's holodeck, except with basically realistic technology instead of magical force fields. Peter and John have a great time between gunfights (the gunslinger gets fixed up every night and sent back into town) and visits to the brothel where (speaking of Star Trek) the robot madam is played by Majel Barrett. The good times come to an end, of course, when something finally does go wrong.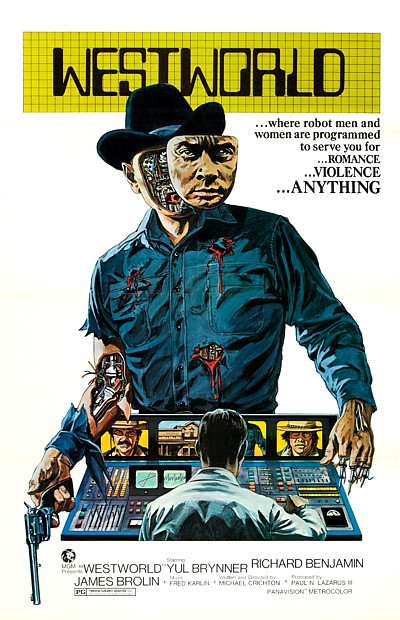 I won't tell you enough about what goes wrong to ruin the story, but what little I can say is included in my
!!!SCIENCE MOMENT!!!:
Michael Crichton was trained as a medical doctor before he became a big shot author / screenwriter / director. I don't know it for a fact but I'm assuming that's why he imagined a robot "disease" that spreads though out the park.
Today that would probably be written as a computer virus but I have no problem taking the movie at its original intent, mostly because of something the chief supervisor says in a Delos meeting discussing the problem. He says that most of the robots have "been designed by other computers - we don't know exactly how they work."
This is something that is actually happening today (google "genetic algorithm" if you want to know more).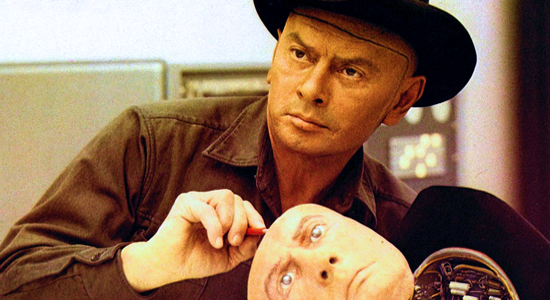 There are some flaws: some of the stuff that happens to the guys in the control room is just plain stupid. But the rest of the film is fun and interesting as well as tense and thrilling. The malfunctioning gunslinger becomes an implacable foe that will remind you of THE TERMINATOR. I give WESTWORLD four shriek girls.





This review copyright 2005 E.C.McMullen Jr.