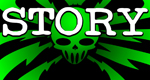 You Support This Site
When You Buy My Books
E.C. McMullen Jr.
PERPETUAL
BULLET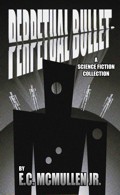 "'Some People' ... may be the standout story in the book."
-

John Grant

, Infinityplus

E.C. McMullen Jr.
WILLOW BLUE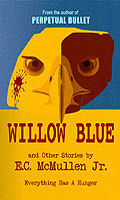 "'Willow Blue' will burrow under your skin and stay there long after you've put the book down."
- Jeffrey Reddick, Creator of
FINAL DESTINATION

IN OTHER BOOKS
E.C. McMullen Jr.'s
short story
CEDO LOOKED LIKE PEOPLE
in the anthology
FEAR THE REAPER

"This Ray Bradbury-esque is one of the most memorable and one of the more original stories I've read in a long time."
- Steve Isaak,
Goodreads

HORROR 201:
The Silver Scream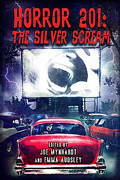 Filmmaker's Guidebook
featuring
RAY BRADBURY,
JOHN CARPENTER,
WES CRAVEN,
TOM HOLLAND,
E.C. McMULLEN Jr.,
GEORGE A. ROMERO,
and many more.



Extensively quoted in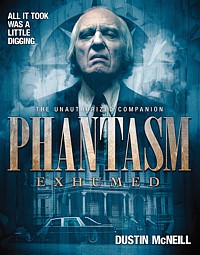 PHANTASM
EXHUMED
The Unauthorized Companion

Robert S. Rhine's
SATAN'S 3-RING
CIRCUS OF HELL

Forward by
GAHAN WILSON &
FEO AMANTE.
Featuring comics by
ALEX PARDEE,
WILLIAM STOUT,
STEVE BISSETTE,
FRANK DIETZ,
JIM SMITH,
FRANK FORTE,
ERIC PIGORS,
MIKE SOSNOWSKI,
OMAHA PEREZ,
DAVID HARTMAN,
STEVEN MANNION,
and more!

And In
CINEMA


E.C. McMullen Jr.


Head Production Designer

MINE GAMES


(Starring:
JOSEPH CROSS, BRIANA EVIGAN,
ALEX MERAZ)

Dept. head
Special Effects Make-Up
(SFX MUA)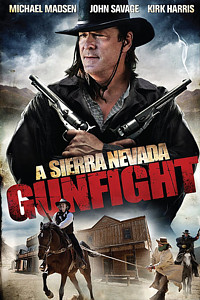 A SIERRA NEVADA
GUNFIGHT
(MICHAEL MADSEN & JOHN SAVAGE).

Production Designer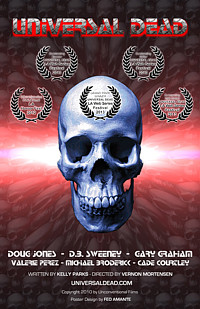 UNIVERSAL DEAD
(DOUG JONES,
D.B. SWEENEY,
GARY GRAHAM)

Art Director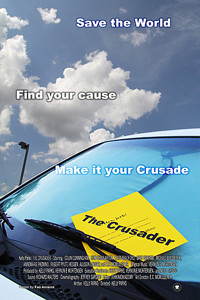 THE CRUSADER
(COLIN CUNNINGHAM,
GARY GRAHAM)
Review by
Kelly Parks

JURASSIC PARK

- 1993
USA Release: June 11, 1993
Universal Pictures
Rated: Australia, Canada, Ireland, Israel, Singapore, UK: PG / Iceland: 10 / India: UA / Brazil: Livre / Hong Kong: II / Netherlands: 6 / Peru: PT / Argentina, Spain: 13 / Chile: TE / Finland: K-12/9 / France: U / Germany, South Korea: 12 / Netherlands: AL / Norway: 11 / Portugal: M/12 / Sweden: 11 / USA: PG-13
I have a love-hate relationship with Steven Spielberg. Not that he's aware of it or even cares*, but damn it, he pisses me off sometimes.
JURASSIC PARK, Directed by Mr. Spielberg (JAWS) and written by Michael Crichton (THE ANDROMEDA STRAIN, WESTWORLD, COMA, JURASSIC PARK: The Lost World, THE 13th WARRIOR) has an excellent opening. A group of very tense armed men stand outside a large enclosure. Something is approaching through the jungle. It turns out to be a caravan delivering a cage containing an unseen but clearly dangerous creature. The men attempt to transfer the creature to the enclosure but something goes wrong and the vicious beast is able to grab hold of one of its keepers, tearing him to shreds.
Cut to a different jungle, much quieter and safer, as lawyer Donald Genaro (Martin Ferrero: HIGH SPIRITS, X-FILES [TV]) in an inappropriately clean business suit arrives at an amber mine. Amber is a semi-precious stone formed from fossilized tree sap and in the process of formation insects are occasionally trapped and preserved forever. The lawyer has a discussion with the manager of the mine about the death of a worker on "the island", clearly the poor unfortunate in the previous scene.
Cut again, this time to Montana. A group of paleontologists are painstakingly digging out the bones of a dinosaur called a raptor. The group is lead by Dr. Alan Grant (Sam Neill: THE OMEN III, DEAD CALM, EVENT HORIZON, IN THE MOUTH OF MADNESS) and Dr. Ellie Sattler (Laura Dern: WILD AT HEART, BLUE VELVET).
When an insolent young boy (what he was doing there, I don't know) makes a disparaging comment about the raptor, Dr. Grant pulls a fossil raptor claw from his pocket and waxes poetic on the subject of raptor eating habits, scaring the little brat (Whitby Hertford: POLTERGIEST II, A NIGHTMARE ON ELM STREET 5: The Dream Child, THE ADDAMS FAMILY) into a respectful silence.
The scene is thrown into chaos by the unexpected arrival of a helicopter carrying John Hammond (Richard Attenborough) who turns out to be the wealthy individual who's been funding Dr. Grant and Dr. Sattler's dig. Between his charm and his offers of further funding, Hammond convinces Grant and Sattler to come with him for the weekend so they can give their expert opinion on a project of his.
Sattler and Grant are choppered in to Hammond's island near Costa Rica. Along the way they meet the lawyer, Donald Genaro, and another scientist, Ian Malcolm (Jeff GoldBlum: INVASION OF THE BODY SNATCHERS [1978] THE FLY [1986]). Ian is a mathematician specializing in chaos theory which is a foreboding of events to come.
The group arrives on the island and are taken by jeep to a hill top where one of the best scenes in movie history takes place. Like any science geek I'm fascinated by dinosaurs and the thought of actually seeing one of these spectacular beasts in the flesh gives me goose bumps. So when conversation stops as a brontosaurus comes into view . . . Well, either you understand or you don't. I watched that scene three times.
On the other hand, I wish I had fast forwarded through the next part. Everyone goes to the visitor's center of "Jurassic Park", Hammond's dinosaur wildlife preserve, soon to be opened to the public. The scientists get over their initial awe and begin questioning the details of how this was done. Hammond provides the answers by showing them a short film about the process of extracting dino-DNA from mosquitoes that were trapped in amber millions of years ago (this reminded me a lot of the woody woodpecker cartoon from "Destination: Moon"). Then Ian begins babbling about chaos theory and evolution and he pissed me off so much that I feel the need for a . . .
!!!SCIENCE MOMENT!!!:
Ian goes on at some length about how all their safeguards in regards to keeping the dinosaurs contained are doomed to failure because evolution shows that it is the nature of life to break free, to find a way: and that is true. Evolution is all about life taking on new forms to handle new situations, if you give it a million years or so! Later that afternoon? No.
Ian is supposed to be the "responsible" scientist warning everyone about the dangers of technology, which is why I'm so angry at Spielberg (self-professed "good friend" of Bill Gates -Feo). He makes great movies but he feels the need to toss in this pop psychobabble and neo-luddite fear of innovation in a lot of them, in spite of the fact that most of his movies couldn't be made at all without using the very latest cutting edge technology! I wish he'd either entertain me or go live with the Amish, but STOP PREACHING!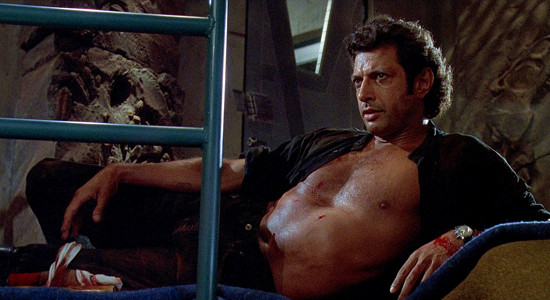 Once typecast only as a nervous geeky nerdy dork, Jeff Goldblum cemented
his place in cinema Science Fiction Horror history as an intelligent hunk.
This movie also gets an
!!!UNFAIR RACIAL CLICHE ALERT!!!:
Like the majority of Horror Thriller movies coming out of Hollywood, JURASSIC PARK gets the UNFAIR RACIAL CLICHE ALERT or URCA. You don't know what that is? Then go to URCA and find out about this trope, which has never been more popular than it is now.
Then check out the URCA for JURASSIC PARK. But BEWARE! There are SPOILERS at this link. URCA/JP.
The dinosaurs do break free, of course, or we wouldn't have much of a story. This happens not through "life finding a way" but through malice on the part of Dennis Nedry (Wayne Night: BASIC INSTINCT, DEAD AGAIN, TO DIE FOR, "Newman!"), the Park computer chief. The park is almost entirely automated which means Nedry can control it all from his computer. He uses that ability in an attempt to steal the genetic source material for the dinosaurs so he can sell it to a rival company.
There's a lot of excellent scenes, especially involving the raptors, who are far more dangerous than the big T. Rex because they're far smarter. This movie is a lot of fun, but I wouldn't let impressionable children see it, not so much because of the gore as the far left political subtext. But if you're immune to that sort of thing then it's definitely worth seeing.
I give it four Shriek Girls.





This review copyright 2000 E.C.McMullen Jr.
*Well I hope you're happy! You've made my crocodile cry! - Feo