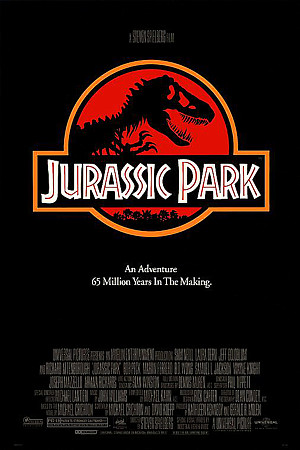 HOW MUCH ARE WE TALKING?


TIP JAR



JURASSIC PARK - ALL
!!!THE SCIENCE MOMENT!!!
All JURASSIC PARK
SCIENCE MOMENTS
JURASSIC PARK
Ian Malcolm (Jeff Goldblum) goes on at some length about how all their safeguards in regards to keeping the dinosaurs contained are doomed to failure because evolution shows that it is the nature of life to break free, to find a way: and that is true.
Evolution is all about life taking on new forms to handle new situations, if you give it a million years or so!
Later that afternoon? No.
Ian is supposed to be the "responsible" scientist warning everyone about the dangers of technology, which is why I'm so angry at Spielberg. He makes great movies but he feels the need to toss in this pop psychobabble and neo-luddite fear of innovation in a lot of them, in spite of the fact that most of his movies couldn't be made at all without using the very latest cutting edge technology!
I wish he'd either entertain me or go live with the Amish, but STOP PREACHING!
THE LOST WORLD: JURASSIC PARK
With all the lip service being paid to security procedures meant to keep these dinosaurs contained on the island, it makes you wonder why the final scene includes a pterodactyl.
"Uh, yeah, our security is absolutely air-tight. Well, except for the dinosaurs that can fly."

Morons!
JURASSIC PARK III
- Subset: Logic Moment
If there was an island full of actual, real, live, living, damn dinosaurs it would be mobbed by TV and film crews 24 hours a day.
The InGen corporation and/or the government of Costa Rica could make back all their costs with a decent website and a few dozen webcams
The Discovery channel would build a base there and never do a show about sand crabs again. It would be all people would talk about for years and years to come. The way this fact of life is completely ignored makes no sense.
This review copyright 1999 - 2021 E.C.McMullen Jr.