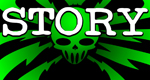 You Support This Site
When You Buy My Books
E.C. McMullen Jr.
PERPETUAL
BULLET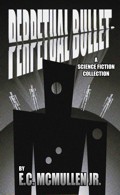 "'Some People' ... may be the standout story in the book."
-

John Grant

, Infinityplus

E.C. McMullen Jr.
WILLOW BLUE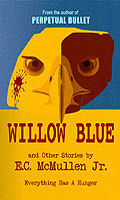 "'Willow Blue' will burrow under your skin and stay there long after you've put the book down."
- Jeffrey Reddick, Creator of
FINAL DESTINATION

IN OTHER BOOKS
E.C. McMullen Jr.'s
short story
CEDO LOOKED LIKE PEOPLE
in the anthology
FEAR THE REAPER

"This Ray Bradbury-esque is one of the most memorable and one of the more original stories I've read in a long time."
- Steve Isaak,
Goodreads

HORROR 201:
The Silver Scream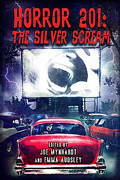 Filmmaker's Guidebook
featuring
RAY BRADBURY,
JOHN CARPENTER,
WES CRAVEN,
TOM HOLLAND,
E.C. McMULLEN Jr.,
GEORGE A. ROMERO,
and many more.



Extensively quoted in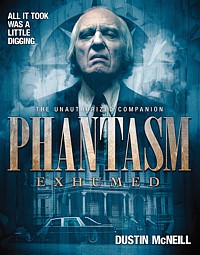 PHANTASM
EXHUMED
The Unauthorized Companion

Robert S. Rhine's
SATAN'S 3-RING
CIRCUS OF HELL

Forward by
GAHAN WILSON &
FEO AMANTE.
Featuring comics by
ALEX PARDEE,
WILLIAM STOUT,
STEVE BISSETTE,
FRANK DIETZ,
JIM SMITH,
FRANK FORTE,
ERIC PIGORS,
MIKE SOSNOWSKI,
OMAHA PEREZ,
DAVID HARTMAN,
STEVEN MANNION,
and more!

And In
CINEMA


E.C. McMullen Jr.


Head Production Designer

MINE GAMES


(Starring:
JOSEPH CROSS, BRIANA EVIGAN,
ALEX MERAZ)

Dept. head
Special Effects Make-Up
(SFX MUA)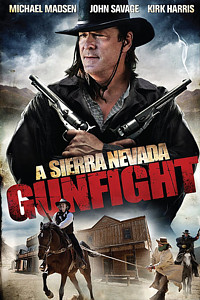 A SIERRA NEVADA
GUNFIGHT
(MICHAEL MADSEN & JOHN SAVAGE).

Production Designer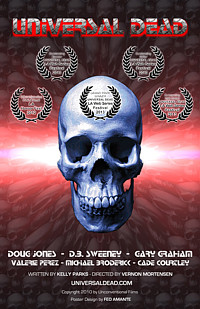 UNIVERSAL DEAD
(DOUG JONES,
D.B. SWEENEY,
GARY GRAHAM)

Art Director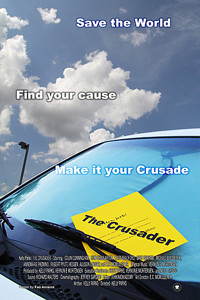 THE CRUSADER
(COLIN CUNNINGHAM,
GARY GRAHAM)
Review by
Kelly Parks

JURASSIC PARK III

- 2001
USA Release: July 18, 2001
Universal Pictures
Rated: Argentina: Atp / Australia: M / Brazil, Germany, Ireland, Netherlands, South Korea, Switzerland: 12 / Canada, New Zealand, Singapore, UK: PG / Chile: TE / Finland: K-11 / France: U / Hong Kong: IIA / Hungary: 14 / Iceland: 10 / Malaysia: U / Norway, Sweden: 11 / Spain: 7 / USA: PG-13
All through LOST WORLD: JURASSIC PARK I was asking myself, "Where are Alan and Ellie, the two main scientist characters from part one? And why won't Jeff Goldblum shut up?" Alan and Ellie were the characters you cared about and you want to find out what happens to them.
JURASSIC PARK III was directed by Joe Johnston and written by Peter Buchman, (and the comedy writing team of) Alexander Payne and Jim Taylor. It opens with an adventurous father and son parasailing near Isla Sorna, the dinosaur island seen in LOST WORLD: JURASSIC PARK. The whole area is supposed to be sealed off by the U.N. and the airspace restricted by Costa Rica (it's their territory) but apparently the Costa Rican air force isn't up to the task. Of course the boat pulling the parachute has some Jurassic bad luck and the two are forced to land on the forbidden island.
Cut to a charming family scene between Dr. Alan Grant (Sam Neill: OMEN III, DEAD CALM, EVENT HORIZON, IN THE MOUTH OF MADNESS) and Ellie (Laura Dern: BLUE VELVET, WILD AT HEART, JURASSIC PARK) playing with what we think are their children. We quickly are shown that the children belong to Ellie and her new husband. She and Alan are still friends but that's all, giving the movie a bittersweet twist.
Alan returns to his latest raptor dig, still studying the bones of the creatures that almost ate him. The existence of living dinosaurs would be a tremendous boon to paleontology but it wouldn't mean studying ancient fossils would become obsolete. The dinosaurs of Jurassic Park are mostly taken at random from many different eras and are as much strangers to each other as they are to us. The whole thing would still need to be put in context.
So here we are at JURASSIC PARK III
Did this one even need a book?
No, and Mike didn't bother to write one. They paid off another writer to do a novelization, but the book was already out of print within the year.
As always Alan is running low on funding for his studies. He travels around giving talks on raptors in a search for new benefactors. After one such talk a patented Simpson's moment takes place when he asks the audience if they have any questions. Every hand is raised. Alan says, "Does anyone have a question about something besides Jurassic Park?" Every hand drops.
Faster than you can say "rich crackpot" Alan is approached by Paul Kirby (William H. Macy: FARGO) and his wife Amanda (Téa Leoni). They're an adventure-seeking couple and have somehow gotten special permission to visit the dinosaur island seen in LOST WORLD: JURASSIC PARK and they want Alan to serve as tour guide. Alan plays hard to get until Paul offers him a big enough check. We've already established what you are; we're just negotiating the price.
Just that fast everyone is aboard a small plane flying through the "restricted" airspace that surrounds the island. The group includes Alan, The Kirby's, Alan's assistant Billy (Alessandro Nivola: FACE/OFF) and three mercenaries. Alan doesn't know these extra members are mercs, which is only the beginning of what Alan doesn't know.
It's just too much. The science here is fine but I feel an overwhelming need for a
!!!LOGIC CAUTION!!!:
If there was an island full of actual, real, live, living, damn dinosaurs it would be mobbed by TV and film crews 24 hours a day. The InGen corporation and/or the government of Costa Rica could make back all their costs with a decent website and a few dozen webcams. The Discovery channel would build a base there and never do a show about sand crabs again. It would be all people would talk about for years and years to come. The way this fact of life is completely ignored makes no sense.
The mercenaries are packing serious heat but (just as in all these movies) circumstances conspire to prevent them from using any firepower against the Jurassic monsters. I don't care how big and tough the T. Rex looks – one anti-tank missile and he'd be toast. Claws and teeth are impressive but in the long run they are no match for a big brain and opposable thumbs.
Of course the group gets stranded and after the mercs become dino-snacks Alan and Billy find out that Paul and Amanda aren't the rich adventure seekers they said they were which means – among other things – that the big check they wrote is going to bounce. The Kirby's reason for doing this is understandable but Alan and Billy are far too forgiving when they discover just how much they've been used. It's one more reminder that the whole plot is just a vehicle to show off some more dinosaur special effects. I would have appreciated a little more attention to logic, human nature and especially, acting.
I give it two shriek girls.



This review copyright 2001 E.C.McMullen Jr.