Review by
Kelly Parks

SHOULD YOU?


TIP JAR




ULTRAVIOLET - 1999
World Productions
Ratings: N/A
No, not the freaky Milla Jovovich ULTRAVIOLET movie turned into a TV series. I'm pretty sure that will never happen. No, this ULTRAVIOLET is from the BBC.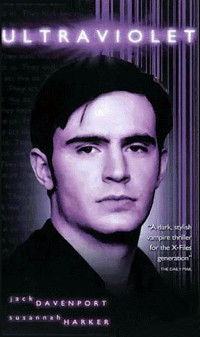 ULTRAVIOLET was written and directed by Joe Ahearne (SHOCKER: PARENT'S NIGHT [TV], STRANGE [TV]). It's the story of London police detective Michael Colefield (Jack Davenport: THE TALENTED MR. RIPLEY, PIRATES OF THE CARIBBEAN [all]) and how he stumbles upon the existence of vampires and ends up joining the special Vatican police force dedicated to fighting them.
This is a review of the DVD. It contains six episodes which constitute the entire series.
Michael is out celebrating the upcoming wedding of his best friend Jack (Stephen Moyer: HIGHLANDER: THE RAVEN, QUILLS) to Kirsty (Colette Brown). He gets called by an informant trying to reach Jack but Michael gives him the brush off. The informant later turns up dead but strangely (since he was shot in a well lit, crowded arcade) none of the many security cameras catch the shooter.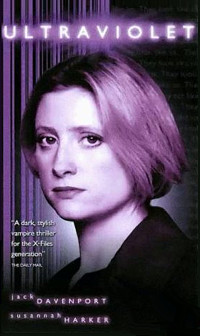 Not long after, Jack disappears. Rumors spread that he was on the take but his steadfast fiancé refuses to believe such nonsense. Michael is on her side at first but evidence mounts that something strange is happening here. Vaughn Rice (
Idris Elba: 28 WEEKS LATER, THE REAPING
) and Angela March (
Susannah Harker: TRANCE
), both detectives in the CIB (
the British equivalent of Internal Affairs
), start asking questions about Jack as well.
Things get stranger still as Michael discovers that Vaughn and Angela carry some very odd weapons. He doesn't really believe where it's all leading until he meets up with Jack again and finds Jack has gone through some changes.
Michael manages to survive the encounter and that's when Vaughn and Angela reveal their true identities. They and their leader, Father Pearse Harman (Philip Quast: THE FALL), are part of a Vatican sponsored secret organization dedicated to destroying vampires and they want Michael to sign up.
That's all in the first episode, of course, and the remaining five follow Michael as he learns just what vampires have in mind for humanity. It turns out they prefer "untainted" blood and seem to be investing a lot of effort in the study of blood based diseases. But that doesn't mean they're looking for cures. As one character remarks, when mad cow disease was discovered, how did we handle it? Did we find a cure? No. We slaughtered every cow that had even a slight chance of being infected.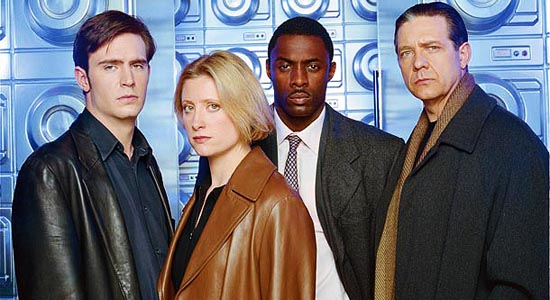 L TO R
JACK DAVENPORT, SUSANNAH HARKER, IDRIS ELBA, PHILIP QUAST
This is a cool show and it's done in a fairly "realistic", police procedural way. There's a lot of interesting conflict as the brooding Michael tries to balance his life and his relationship with his friends (including Jack's former fiancé) with his secret new profession.
It does fall short here and there, though. The vampires are never seen as especially menacing or murderous and are usually easily dispatched. And Michael doesn't move or make much effort to protect himself from the creatures of the night. The vampires come off as more of an evil cult than an organization of blood thirsty monsters.
I would have written this very differently, but it's too late for that. However it's never too late for me to say that ULTRAVIOLET: THE TV SERIES gets three shriek girls.




This review copyright 2008 E.C.McMullen Jr.
E.C. McMullen Jr. is a participant in the Amazon Services LLC Associates Program, an affiliate advertising program designed to provide a means for sites to earn advertising fees by advertising and linking to amazon.com.
BOOKS FROM
E.C. McMullen Jr.
WILLOW BLUE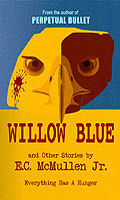 "'Willow Blue' will burrow under your skin and stay there long after you've put the book down."
- Jeffrey Reddick, Creator of FINAL DESTINATION

PERPETUAL BULLET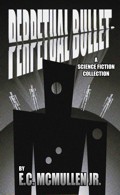 "'Some People' ... may be the standout story in the book."
- John Grant, Infinityplus

IN OTHER BOOKS
E.C. McMullen Jr.'s
short story
CEDO LOOKED LIKE PEOPLE
in the anthology
FEAR THE REAPER


"This Ray Bradbury-esque is one of the most memorable and one of the more original stories I've read in a long time."
- Amazon Review
HORROR 201: The Silver Scream
PAPERBACK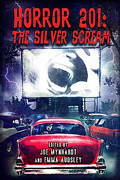 A tome of interviews with
RAY BRADBURY,
JOHN CARPENTER,
WES CRAVEN,
TOM HOLLAND,
E.C. McMULLEN Jr.,
ED NAHA,
GEORGE A. ROMERO, and many more.
Extensively quoted in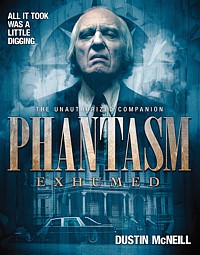 PHANTASM EXHUMED
The Unauthorized Companion

Robert S. Rhine's
SATAN'S 3-RING CIRCUS OF HELL


Forward by
GAHAN WILSON,
FEO AMANTE.
Featuring comics by
WILLIAM STOUT,
HILARY BARTA,
STEVE BISSETTE,
SPAIN RODRIGUEZ,
FRANK DIETZ,
JIM SMITH,
TONE RODRIGUEZ,
FRANK FORTE,
ERIC PIGORS,
ALEX PARDEE,
MIKE SOSNOWSKI,
OMAHA PEREZ,
DAVID HARTMAN,
D.W. FRYDENDALL,
SHANNON WHEELER,
VINCENT WALLER,
JACOB HAIR,
NENAD GUCUNJA,
STEVEN MANNION,
NORMAN CABRERA,
and more!