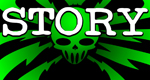 You Support This Site
When You Buy My Books
E.C. McMullen Jr.
PERPETUAL
BULLET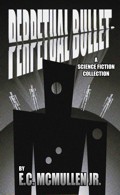 "'Some People' ... may be the standout story in the book."
-

John Grant

, Infinityplus

E.C. McMullen Jr.
WILLOW BLUE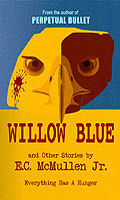 "'Willow Blue' will burrow under your skin and stay there long after you've put the book down."
- Jeffrey Reddick, Creator of
FINAL DESTINATION

IN OTHER BOOKS
E.C. McMullen Jr.'s
short story
CEDO LOOKED LIKE PEOPLE
in the anthology
FEAR THE REAPER

"This Ray Bradbury-esque is one of the most memorable and one of the more original stories I've read in a long time."
- Steve Isaak,
Goodreads

HORROR 201:
The Silver Scream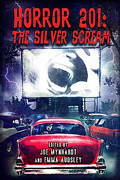 Filmmaker's Guidebook
featuring
RAY BRADBURY,
JOHN CARPENTER,
WES CRAVEN,
TOM HOLLAND,
E.C. McMULLEN Jr.,
GEORGE A. ROMERO,
and many more.



Extensively quoted in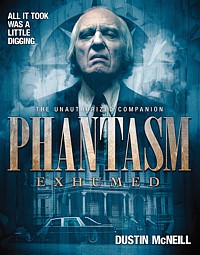 PHANTASM
EXHUMED
The Unauthorized Companion

Robert S. Rhine's
SATAN'S 3-RING
CIRCUS OF HELL

Forward by
GAHAN WILSON &
FEO AMANTE.
Featuring comics by
ALEX PARDEE,
WILLIAM STOUT,
STEVE BISSETTE,
FRANK DIETZ,
JIM SMITH,
FRANK FORTE,
ERIC PIGORS,
MIKE SOSNOWSKI,
OMAHA PEREZ,
DAVID HARTMAN,
STEVEN MANNION,
and more!

And In
CINEMA


E.C. McMullen Jr.


Head Production Designer

MINE GAMES


(Starring:
JOSEPH CROSS, BRIANA EVIGAN,
ALEX MERAZ)

Dept. head
Special Effects Make-Up
(SFX MUA)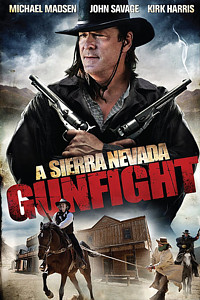 A SIERRA NEVADA
GUNFIGHT
(MICHAEL MADSEN & JOHN SAVAGE).

Production Designer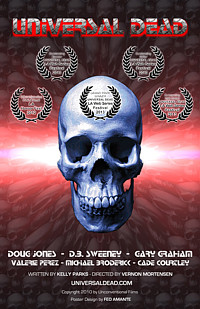 UNIVERSAL DEAD
(DOUG JONES,
D.B. SWEENEY,
GARY GRAHAM)

Art Director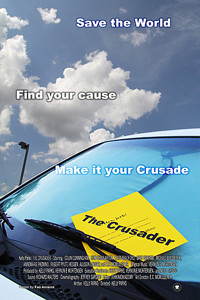 THE CRUSADER
(COLIN CUNNINGHAM,
GARY GRAHAM)
Review by
Kelly Parks

SHOULD YOU?


TIP JAR




THE FLY


SEQUELS, PREQUELS, AND REMAKES

RETURN OF THE FLY

- 1959
USA Release: July, 1959
20th Century Fox, Associated Producers
Rated: No rating
"What's that? We've got money left over from THE FLY? How much? Twenty-seven dollars? Use it to make a sequel."
RETURN OF THE FLY was co-written and directed by Edward Bernds (THE THREE STOOGES MEET HERCULES).
It would have been more aptly titled "Son of the Fly", since the story takes place fifteen years later and centers around Phillipe Delambre (Brett Halsey: REVENGE OF THE CREATURE, DEMONIA, QUANDO ALICE RUPPE LO SPECCHIO, IL GATTA NERO, UN GATTO NEL CERVELLO), the grown up son of André Delambre, the scientist horribly transformed in the previous film.
The story opens with the funeral of Phillipe's mother. In attendance is Phillipe's uncle Francois (Vincent Price: THE FLY, THE HOUSE ON HAUNTED HILL, THE TOMB OF LIGEIA, THE LAST MAN ON EARTH, THE FALL OF THE HOUSE OF USHER, THE ABOMINABLE DR. PHIBES, DR. PHIBES RISES AGAIN!, EDWARD SCISSORHANDS). After the service Phillipe and Francois have to fend off a tabloid reporter curious about the details of Phillipe's father's death.
Riding home in the limo conversation makes it plain that Francois has never told Phillipe exactly what happened. Francois reluctantly reveals all and even takes Phillipe on a tour of his father's long abandoned lab. It turns out that Phillipe has been studying his father's work on teleportation and become a scientist himself. He decides to pick up where his father left off, and all Francois' warnings of the dire consequences that await those who seek knowledge "man was not meant to know" are fruitless.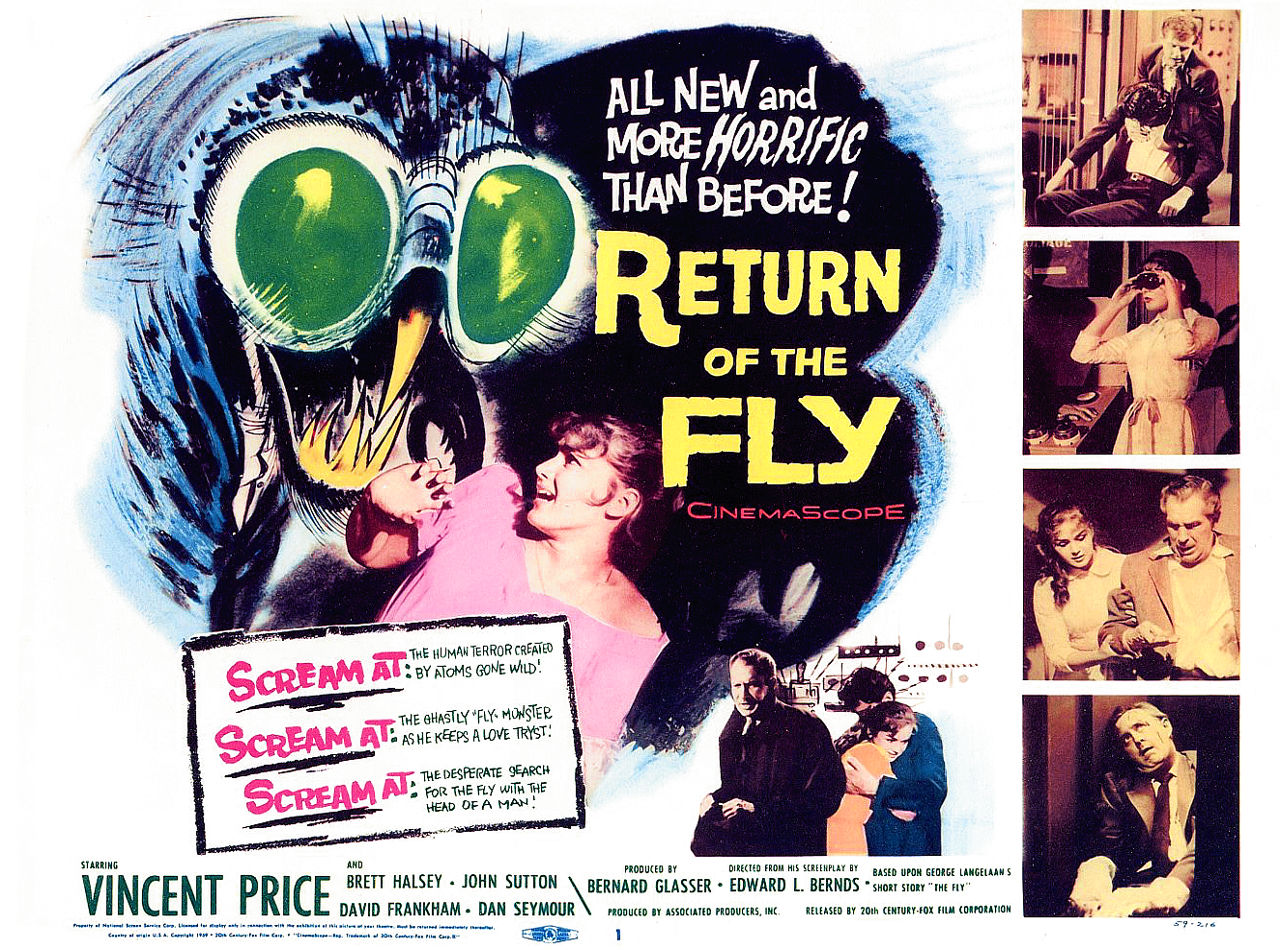 Phillipe hires his friend Ronald (David Frankham: TALES OF TERROR) as a lab assistant, but finds out too late that Ronald is a con man bent on stealing the teleporter for himself. When Ronald is found out he overpowers Phillipe and decides to have a bit of fun with Phillipe's fear of flies . . .
Don't get me wrong. This movie was terrible. THE FLY was in Technicolor but THE RETURN OF THE FLY is in very bad black and white (a corporate culture where 20th Century Fox and sequels were concerned -Feo). The whole movie has a cheap feeling, like an afterthought. Vincent Price is the only decent actor and he's not used enough, and the special effects are just sad, even allowing for the era. The fly head looks like one of those oversized Mardi Gras masks.
!!!SCIENCE MOMENT!!!:
Teleportation, even as described in a bad movie like this, isn't quite impossible. But let's consider the technique:
This device works by scanning you and recording the position of every particle in your body, disintegrating you and sending you and your data to the receiver, which reassembles you.
So for each atom in your body you need three numbers (x,y,z) to indicate location, plus another number to indicate what kind of atom it is and maybe one more to indicate the atom's state (ionized, etc.)
All these numbers represent about 20 bytes (in computerese) of information. Take that times the number of particles in your body (something in the neighborhood of 3 x 1027 atoms) and you get 6 x 1019 gigabytes of information storage required each time.
A good, top of the line computer (for March, 2000 -Feo) comes with a hard drive that can store about 20 gigabytes. You'd need 2.8 x 1018 computers (enough for every person on Earth to have more than 465 million computers each). Think of the download time!
Continued at !!!THE SCIENCE MOMENT!!! /The Return of The Fly
There's not one memorable thing about this movie. I give it a forgettable two shriek girls.



This review copyright 2000 E.C.McMullen Jr.