A review archive of the films of VINCENT PRICE
CLICK ON MOVIE POSTER FOR REVIEW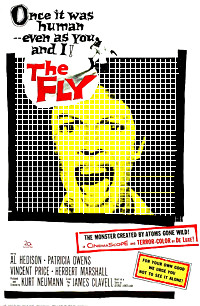 THE FLY
- 1958
20th Century Fox
Rated: No rating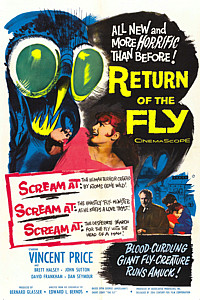 RETURN OF THE FLY
- 1958
20th Century Fox
Rated: No rating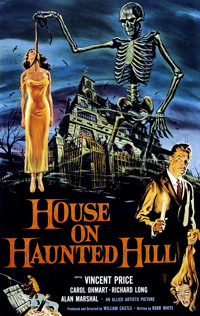 HOUSE ON HAUNTED HILL
- 1959
William Castle Productions, Legend Films, Allied Artists Pictures
Rating: USA: N/A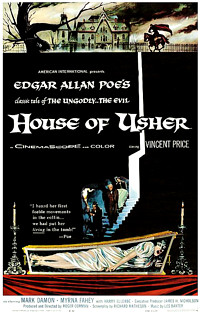 FALL OF THE HOUSE OF USHER
- 1960
American International Pictures, Alta Vista, MGM
Ratings: USA: N/A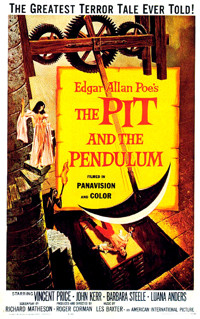 THE PIT AND THE PENDULUM
- 1961
American International Pictures, Alta Vista, MGM
Ratings: USA: N/A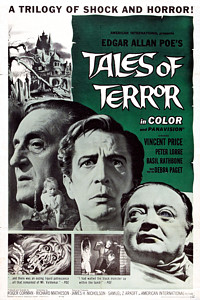 TALES OF TERROR
- 1962
American International Pictures, Alta Vista, MGM
Ratings: USA: N/A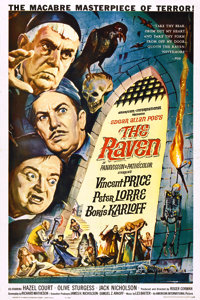 THE RAVEN
- 1963
American International Pictures, Alta Vista, MGM
Ratings: USA: M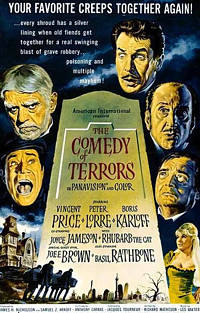 THE COMEDY OF TERRORS
- 1964
American International Pictures, Alta Vista, MGM
Ratings: USA: N/A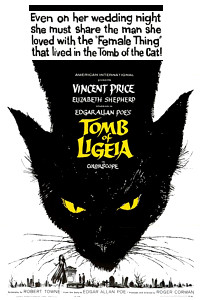 THE TOMB OF LIGEIA
- 1964
Alta Vista Films, An Anglo Amalgamated Presentation
Rated: Australia: M / Finland: K-18 / Germany: 16 / Sweden: 15 / U.K.: 18 / USA : PG-13 (Re-rated)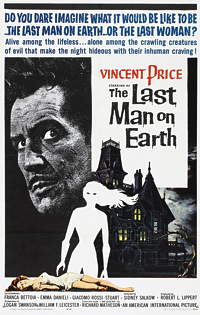 THE LAST MAN ON EARTH
- 1964
Produzioni La Regina, Associated Producers (API), American International Pictures (AIP)
Rated: N/A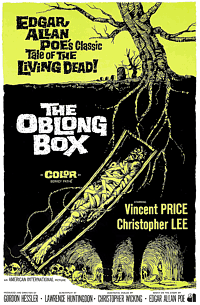 THE OBLONG BOX
- 1969
American International Pictures, Alta Vista, MGM
Ratings: USA: M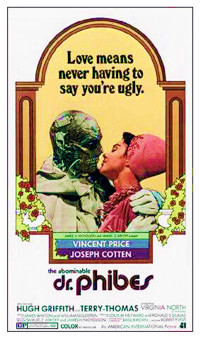 THE ABOMINABLE DR. PHIBES
- 1971
American International Pictures / MGM
Rated: Australia: M / Finland: K-18 / Germany: 16 / Sweden: 15 / U.K.: 18 / USA : PG-13 (Re-rated)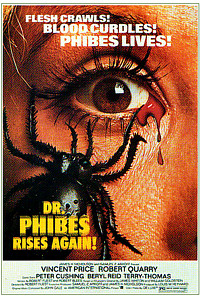 DR. PHIBES RISES AGAIN!
- 1972
American International Pictures / MGM
Rated: Australia: M / Finland: K-18 / Germany: 16 / Sweden: 15 / U.K.: 18 / USA : PG-13 (Re-rated)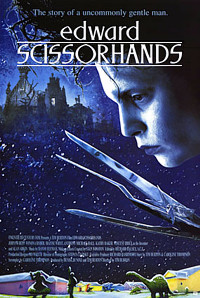 EDWARD SCISSORHANDS
- 1990
20th Century Fox
Rated: USA: PG
This review copyright 2012 E.C.McMullen Jr.
E.C. McMullen Jr. is a participant in the Amazon Services LLC Associates Program, an affiliate advertising program designed to provide a means for sites to earn advertising fees by advertising and linking to amazon.com.
FROM


E.C. McMullen Jr.




WILLOW BLUE




KINDLE



"'Willow Blue' will burrow under your skin and stay there long after you've put the book down."
- Jeffrey Reddick, Creator of FINAL DESTINATION

PERPETUAL BULLET
PAPERBACK

"'Some People' ... may be the standout story in the book."
- John Grant, 2 time Hugo Winner and creator of Infinityplus

ALSO

E.C. McMullen Jr.'s
short story
CEDO LOOKED LIKE PEOPLE
in the anthology


FEAR THE REAPER




PAPERBACK


"This Ray Bradbury-esque is one of the most memorable and one of the more original stories I've read in a long time."
- Reviewer, Amazon

HORROR 201: The Silver Scream
PAPERBACK
A tome of interviews and essays by
RAY BRADBURY,
JOHN CARPENTER,
WES CRAVEN,
TOM HOLLAND,
E.C. McMULLEN Jr., GEORGE A. ROMERO, and many more.