HOME AND OFFICE DEFENSE REQUIRES A GOOD OFFENSE
For years we've been warning you about giant monsters.
Through our reviews here and with further details at SCIENCE MOMENT, Feo Amante's Horror Thriller has stayed on the cutting edge of providing you with all the information you need to defend yourself from the likes of GODZILLA, KING KONG, ANACONDA, PYTHON, THE DEADLY MANTIS, and whatever the hell that bladder-head thing was in CLOVERFIELD, as well as so many more.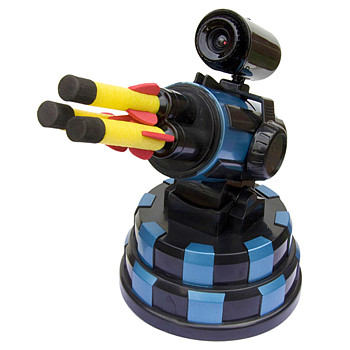 That's why we are proud to present you with the very weapon you need to fight these creatures of mass destruction! A USB computer powered tracking missile launcher that fires foam rubber rockets!
Now granted, there are more than a few of you who don't believe in giant monsters. But I'll have you know that the USB missile launcher works just as well on zombies as it does on giant monsters! Do you have a few ZOMBIES at your office trying to pick your brains? Well what office doesn't have a few of those?
Are your children staring at their phones like mindless creatures? Does your spouse seem lifeless in bed?
Take no chances! Arm yourself with a USB missile launcher that fires foam rubber missiles up to 15 feet! The software runs on Windows* and allows you to use your computer to track your target, lock on, and fire, with reasonably accurate targeting, especially at close range.
FeoNote: No manufacturer makes or implies any warranty as to the efficacy of the USB Powered Missile Launcher (with foam rubber missiles) to work on giant monsters as well as it does on zombies.
Arm yourself with a USB powered 908 Thunder Missile Launcher that fires foam rubber missiles up to 15 feet! The software runs on
FINE PRINT:
Windows 7,
Vista,
XP SP2,
Windows 8,
Windows 10?
or whatever*
*
You have an Apple, you say? No problem! You need the 358 iLaunch Thunder for iPhone and iPad!
Sure it costs a little more, but You Are Worth it!