Review by
E.C.McMullen Jr.

END OF THE WORLD

- 1977
Charles Band Productions, The Irwin Yablans Company
Ratings: USA: PG
Guy plays pinball, priest shows up, guy dies screaming. It helps to know that the priest is played by Christopher Lee (HORROR HOTEL, TASTE THE BLOOD OF DRACULA, THE WICKERMAN, DRACULA HAS RISEN FROM THE GRAVE, GREMLINS 2, SLEEPY HOLLOW, THE LORD OF THE RINGS [all], CORPSE BRIDE, Tim Burton's ALICE IN WONDERLAND).
Priest goes back to his church to find that he is already standing there, welcoming him back. Well, that's not something you see every day, even if you are Christopher Lee.
At a 1977 style computer lab, scientist Andrew Boran (Kirk Scott: HEATHERS) is mulling over the odd results he sees on his computer monitor. It appears as if there are coded messages coming from outer space! And when you uncode them, there's no need to translate, because they're in English no less!
Because this movie is so poorly shot and intended for giant screen theaters, what he is reading is nearly impossible to see. Maybe when it winds up on Blu-Ray... Yeah, I'll hold my breath!
A worker bee reminds Dr. Borans that he will be late for his own banquet of honor if he doesn't hurry home. Doctor Boran could care less and goes home, dallies with his wife Sylvia (Sue Lyon: TAROT, CLOCKWORK TERROR, THE ASTRAL FACTOR, CRASH! [1977], ALLIGATOR [1980]), and begrudgingly goes to his own banquet.
Driving home while his wife praises him, he hushes her to listen to something on the radio. The news speaks of an earthquake in China that killed over 20,000 people: Possibly ten times that amount!
Dr. Borans finds himself suddenly removed from his project when his boss Collins (Dean Jagger: REVOLT OF THE ZOMBIES, UNDER COVER OF NIGHT, X: THE UNKNOWN, THE BROTHERHOOD OF THE BELL, ALLIGATOR, EVIL TOWN) tells him that he's going on a lecture tour.
Borans doesn't want to go on a lecture tour. His boss doesn't care what his employee wants and neither does the government to which they're both contracted.
So Dr. Borans goes on the stupid old lecture tour. Meanwhile, the radio is full of news about various natural disasters all over the world. Borans feels certain it has something to do with those outer space messages! You know, the ones written in English!
Sneaking off to work between lectures, he gets busted by Collins, but still gets to his computer to find that there are two sources on earth that seem to be receiving those outer space messages and sending them back! In English!
One is a monastery or possibly a nunnery.
The other is an abandoned something or other that winds up being a top secret government installation run by Beckerman (Lew Ayers: DONOVAN'S BRAIN, BATTLE FOR THE PLANET OF THE APES, OMEN II) who, as sheer luck would have it, is an old friend of Dr. Borans. And that's as far as that goes.
*
Thankfully, we had Alan Ladd Jr.
**
What does Christopher Lee think of this movie?
"Some of the films I've been in I regret making. I got conned into making these pictures in almost every case by people who lied to me. Some years ago, I got a call from my producers saying that they were sending me a script and that five very distinguished American actors were also going to be in the film. Actors like 'José Ferrer', Dean Jagger, and John Carradine. So I thought "Well, that's all right by me". But it turned out it was a complete lie. Appropriately the film was called End Of The World."
- Christopher Lee


Source - IMDb.com.
So then Dr. Borans and his wife... yawn...
Sorry, but this movie is seriously dull.
Written by Frank Ray Perilli (MANSION OF THE DOOMED, LASERBLAST, ZOLTAN: HOUND OF DRACULA, ALLIGATOR), directed by porn director John Hayes (DREAM NO EVIL, GRAVE OF THE VAMPIRE, GARDEN OF THE DEAD), Produced by Charles Band (TOURIST TRAP, PARASITE, RE-ANIMATOR, FROM BEYOND, DOLLS, DEMONIC TOYS), and with the worst Cinematography I can remember seeing anywhere, by John Huneck (WATCHUSDIE.COM). END OF THE WORLD also boasts one of the worst scores I've ever heard, courtesy of Andrew Belling (WIZARDS, ZOLTAN: HOUND OF DRACULA, HANGAR 18) who has actually done better. The unspecial effects by Lasergraphics are too dumb to be laughable. Strictly kids with a Super 8 camera kind of stuff.
Speaking of laughable: Back in 1976, George Lucas was making this film called Star Wars. Even 20th Century Fox didn't think much of it and they were funding it!* At this stage of the mid 1970s, actors Christopher Lee and his good friend, Peter Cushing, were used to making cheapo creature features. On paper and on the set, Cushing dismissed Star Wars and its cardboard sets. Lee was living in Hollywood and felt even worse about his job on END OF THE WORLD.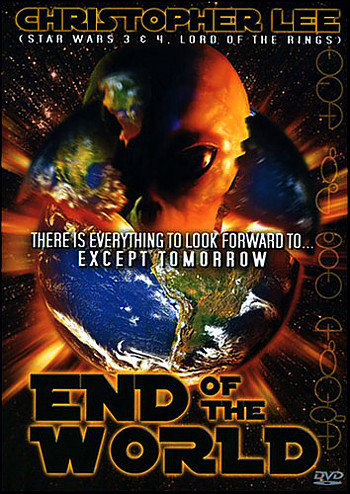 ***
I know, I know. But to this day, Charles Band gives END OF THE WORLD so little regard that he actually allowed the DVD box cover to announce Christopher Lee's credentials just like that!
Like Star Wars, END OF THE WORLD was led by nobodies but starred proven character actors Dean Jagger and Lew Ayers**, in minor roles. As usual, Lee was the villain.
What's more, Charles Band actually got Rockwell International to let his film crew in their California hangars to shoot around the then brand spanky new futuristic stage for NASA, The Space Shuttle! This got big time advance buzz for Charlie's movie. So much so that he was rather brazen about ending his movie with planet earth exploding ("We're gonna blow up the world!") - even going so far as to put it on the movie poster: Guaranteed, you WILL see the earth go KA-BLOOEY!

In 1976, the advance buzz for END OF THE WORLD was so great that celebrated playwright and screenwriter, Neil Simon, in his 1977 movie, The Goodbye Girl, had one of his characters mention to her daughter that they were moving to Hollywood where you could watch the world explode from your backyard.

So for Chris and Pete, Star Wars and END OF THE WORLD were nothing to get excited about, just move on to the next job. For Peter that was SHOCK WAVES and THE UNCANNY. For Chris that was MEATCLEAVER MASSACRE and STARSHIP INVASIONS.
So it was, in 1977, that both movies were released. Star Wars went on to astound audiences world wide and change the face of cinema for at least the next 35 years. What's more, despite his illustrious history in movies, Peter Cushing's two day shoot on Star Wars became his legacy.
END OF THE WORLD, on the other hand, got the attention it deserved. Even the most forgiving, hardest of the hardcore scifi audience was angrily agog at the amateurish embarrassment of such an untalented waste of celluloid. Today, END OF THE WORLD is marketed to remind people that it starred Christopher Lee, who has since played better roles in better movies... like Star Wars 3 & 4***.
1 Negative Shriek Girl.


This review copyright 2012 E.C.McMullen Jr.