Review by
E.C.McMullen Jr.

SHOULD YOU?


TIP JAR




ALICE IN WONDERLAND

- 2010
Walt Disney Pictures, Roth Films, The Zanuck Company, Team Todd
Rating: Argentina: Atp / Australia, Ireland, New Zealand, Singapore, UK, USA: PG / Canada, Japan: G / Finland: K-11 / Hong Kong: IIA / Netherlands: 9 / Norway: 11 / Portugal: M/12 / South Africa: 10M / South Korea: All / Switzerland: 7
Once upon a time, back in the early 1800s, there was a most imaginative man. So expansive were his ideas that they very nearly put off the businessmen: men whose fortunes he needed to fund his wild ideas. Very nearly, but not quite put off, for the man was Charles Kingsleigh (Marton Csokas: THE LORD OF THE RINGS: THE FELLOWSHIP OF THE RING, THE LORD OF THE RINGS: RETURN OF THE KING, CORPSE BRIDE) and he had already accomplished six impossible, very profitable, things in his brief life. His potential investors were willing to listen to the wild.

Such was his wildness though, that when his sick child, Alice (Mairi Ella Challen), passed by the open door to his office, he stopped courting his investors and took his daughter to bed. She told him of the strange dream she had and, near tears, asked her father if she might be mad.
He assured her that she was in fact, "Quite mad!" Then he told his child a secret: "All the best people are!"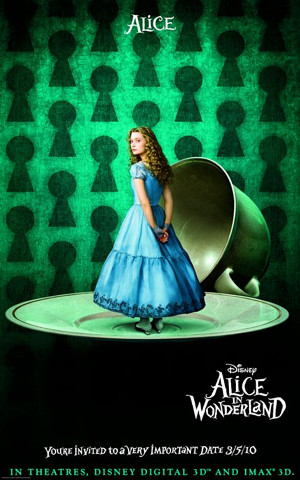 Twelve years later, Alice is 18 (and now played by Mia Wasikowska: ROGUE). Her father never returned from his impossible dream and her Mother Helen (Lindsay Duncan: BODY PARTS) wants to marry her daughter off before she's too old to marry anyone. Her arranged betrothed is Hammish (Leo Bill: 28 DAYS LATER, THE LIVING AND THE DEAD). Hammish appears to have no interest in her, he only wants to please the expectations put upon him, and he expects Alice to want the same. As the trap of this sham marriage closes in on her, Alice makes a last bid for momentary freedom by simply running away from the gathered crowd. Ostensibly she is chasing a white rabbit who looks at her meaningfully and points to his giant pocket watch. One thing leads to another and soon Alice is falling down an impossible hole all the way to Underland (not Wonderland).

You'd expect the precocious, no-nonsense Alice of Wonderland and Looking Glass to grow into a very independent young woman and such a personality makes sense in this Burton-esque world.

Visually, ALICE IN WONDERLAND is every bit as amazing as you'd expect from Tim Burton. But it is the story that is the star here. As a lifelong fan of the Alice novels (ALICE IN WONDERLAND and ALICE THROUGH THE LOOKING GLASS), I want to give huge kudos to screenwriter Linda Woolverton. Throughout the long years of cinematic history there have been any number of attempts to make a live action ALICE IN WONDERLAND and except for a couple made in the 1930s, all the rest I've seen have been utter garbage.

Such garbage!
The amazing, impossible thing that Linda did was to create a third story. In the novel, ALICE IN WONDERLAND, Alice is a child. In ALICE THROUGH THE LOOKING GLASS, Alice is an adolescent. This then would be the third novel that Lewis Carroll never wrote. Alice's journey down the rabbit hole as an adult.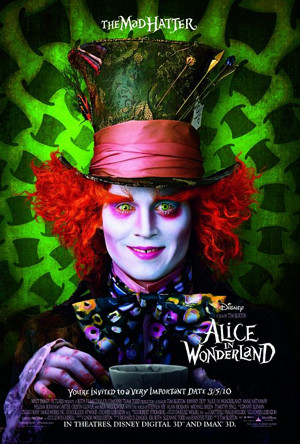 And it all works! There is a real love for the story and characters in Linda's writing and Director Burton's orchestration of the visual effects - this is largely an animated film made to appear like live-action - is superb.

For the creatures, children's book illustrator team of Kei Acedera and Bobby Chui of Ardludik did a wonderful job of re imagining the original illustrations of Sir John Tenniel into fully fleshed out forms. Part of their creature design also borrows from the 1951 Disney animated Alice In Wonderland, which departed from some of Tenniel's scarier illustrations.

Lots of old and new actors in Tim's pantheon come out to play. There's Johnny Depp (A NIGHTMARE ON ELM STREET, EDWARD SCISSORHANDS, FREDDY'S DEAD: THE FINAL NIGHTMARE, THE NINTH GATE, THE ASTRONAUT'S WIFE, SLEEPY HOLLOW, PIRATES OF THE CARIBBEAN [all], CORPSE BRIDE, SWEENEY TODD) as the dangerously crazed and unpredictable, yet somehow fragile and pathetic Mad Hatter.

Tim's wife, Helena Bonham Carter (FRANKENSTEIN [1994], PLANET OF THE APES [2001], WALLACE & GROMIT IN THE CURSE OF THE WERE-RABBIT, CORPSE BRIDE, HARRY POTTER AND THE ORDER OF THE PHOENIX, SWEENEY TODD, TERMINATOR: SALVATION, HARRY POTTER AND THE HALF-BLOOD PRINCE) as the Red Queen.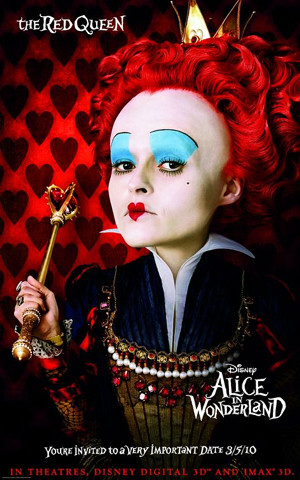 Timothy Spall (GOTHIC, HARRY POTTER AND THE PRISONER OF AZKABAN, LEMONY SNICKETT'S A SERIES OF UNFORTUNATE EVENTS, HARRY POTTER AND THE GOBLET OF FIRE, SWEENEY TODD, HARRY POTTER AND THE HALF-BLOOD PRINCE) as the voice of the bloodhound, Bayard.

Christopher Lee (HORROR HOTEL, TASTE THE BLOOD OF DRACULA, THE WICKER MAN, GREMLINS 2, SLEEPY HOLLOW, THE LORD OF THE RINGS [all], CORPSE BRIDE) as the voice of the Jabberwocky. And of course, Tim's orchestrator, Danny Elfman.

New comers include Anne Hathaway (PASSENGERS) as the spidery, creepy White Queen, who is supposed to be the good one. Crispin Glover (WILLARD [2003], 9) as Stayne, the Red Queen's disloyal Royal consort (ever since the Red King... lost his head). Matt Lucas as both Tweedledee and Tweedledum. Stephen Fry (V FOR VENDETTA) as the very nearly neutral Cheshire cat. Michael Sheen (UNDERWORLD [all]) as the White rabbit, who gets Alice caught up in Wonderland Underland in the first place, and Alan Rickman (DOGMA, HARRY POTTER [all], SWEENEY TODD) as Absolem the sneering Blue Caterpillar.

The characters all remain as vapid and two-dimensional as playing cards, each one nearly unique in both the portrayal of a human foible as well as a species (Woolverton added a bunch of dogs and multitudes of frogs and of course, there are plenty of humans). As it ever was, it's Alice's own layers of character and being that confound and confuse the inhabitants of Wonderland Underland. To the rest of the singular folks of Underland, the curious thing about Alice is how she can always be so many people at once.
"Oh Alice. Why is it you're always too small or too tall?"
The superficial residents of this fantasyland can't fathom multiple facets of personality. Even the Mad Hatter has difficulty with the concept, though he does notice a change in the self-repressed, grown-up Alice. He can't quite put his finger on the problem and is only left saying,
"You used to be much more...'muchier.' You've lost your muchness."
But this time the reason for their shallow personalities is revealed and it's from the constant, harrowing fear of the Red Queen. Her capricious power is enforced by the Jabberwock (a kind of dragon), the Jube-Jube Bird, and the frumerous Bandersnatch. The Red Queen has launched wholesale slaughter on the inhabitants of Underland and her sister, the White Queen, has no interest in stopping Red unless a brave warrior will come and do it for her.

The hideous police state that Underland has become is driving the fearful residents most mad.

As in the previous Alice tales, and foretold from the beginning of Alice's entrance into Underland, the story must end with a war. In the previous books, the fight was scaled to the size of Alice herself. Adult Alice has a much larger confrontation than simply fighting off the Red Queen's men "Why you're nothing but a pack of playing cards!" As in Carroll's original Jabberwocky poem, a battle must be fought.

All the actors turn in fine performances and each one is given just enough time without too much or too little time. Despite his utterly different appearance Johnny Depp is falling into the aging actor's trap of playing the same character in different roles. There was a lot of Jack Sparrow under the Hatter make-up, and his Sparrow-ism of moving from disarming kookie voice to serious, low throaty voice is one I heard in SWEENEY TODD as well.
Stop it Johnny.

One more thing. There are those who aren't much smitten with Tim Burton. Everyone knows that Tim is compelled by what some see as a flaw, and that's the entirely unnecessary addition of a "silly scene" at or near the end of his films. Every one of them (BEETLEJUICE, EDWARD SCISSORHANDS, PLANET OF THE APES, and more), save SWEENEY TODD has had one, and some people find it childishly cloy. Yet we're over 20 years into Tim's career and he shows no sign of letting his personal moment go. In fact, this time he warned us well in advance as the Cheshire cat speaks of, missing the way the Mad Hatter would "dance the futterwhacken." The dance is mentioned by Tweedledum and Tweedledee as well, though the Mad Hatter makes it clear that, until the shadow of the Red Queen is gone from Underland, he shall never dance that dance again. BUT - on the subject of the Red Queen being successfully overthrown? "When that day comes I shall futterwhacken... vigorously."

And does he ever, which will make you either enjoy another in a long line of Burton's personal quirks or cringe in your chair.

If you are a fan of the Alice, Wonderland, Looking Glass books (different fans have their own names for the two), think of this movie as the worthy third story of the Dark Fantastic trilogy and let yourself be captivated.

5 Shriek Girls.






This review copyright 2010 E.C.McMullen Jr.
E.C. McMullen Jr. is a participant in the Amazon Services LLC Associates Program, an affiliate advertising program designed to provide a means for sites to earn advertising fees by advertising and linking to amazon.com.
3D BLU-RAY


BOOK


SOUNDTRACK


TRIVIA

ALICE IN WONDERLAND was shot in 2D and later digitally fixed for 3D. It isn't worth the extra price of admission as it lacks the depth of a true 3D film. This doesn't spoil the movie itself though, but save your money and enjoy the widescreen 2D version.

As Stayne, only actor Crispin Glover's head is real. The rest of his body is a cgi animation.

As the Red Queen, actor Helena Bonham Carter's entire body is her own, but then digitally enhanced to enlarge her head.
FROM


E.C. McMullen Jr.




WILLOW BLUE




KINDLE



"'Willow Blue' will burrow under your skin and stay there long after you've put the book down."
- Jeffrey Reddick, Creator of FINAL DESTINATION

PERPETUAL BULLET
PAPERBACK

"'Some People' ... may be the standout story in the book."
- John Grant, 2 time Hugo Winner and creator of Infinityplus

ALSO

E.C. McMullen Jr.'s
short story
CEDO LOOKED LIKE PEOPLE
in the anthology


FEAR THE REAPER




PAPERBACK


"This Ray Bradbury-esque is one of the most memorable and one of the more original stories I've read in a long time."
- Reviewer, Amazon

HORROR 201: The Silver Scream
PAPERBACK
A tome of interviews and essays by
RAY BRADBURY,
JOHN CARPENTER,
WES CRAVEN,
TOM HOLLAND,
E.C. McMULLEN Jr., GEORGE A. ROMERO, and many more.