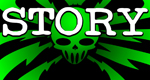 You Support This Site
When You Buy My Books
E.C. McMullen Jr.
PERPETUAL
BULLET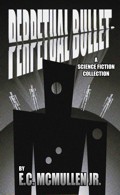 "'Some People' ... may be the standout story in the book."
-

John Grant

, Infinityplus

E.C. McMullen Jr.
WILLOW BLUE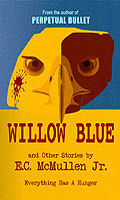 "'Willow Blue' will burrow under your skin and stay there long after you've put the book down."
- Jeffrey Reddick, Creator of
FINAL DESTINATION

IN OTHER BOOKS
E.C. McMullen Jr.'s
short story
CEDO LOOKED LIKE PEOPLE
in the anthology
FEAR THE REAPER

"This Ray Bradbury-esque is one of the most memorable and one of the more original stories I've read in a long time."
- Steve Isaak,
Goodreads

HORROR 201:
The Silver Scream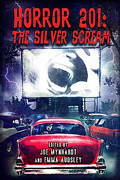 Filmmaker's Guidebook
featuring
RAY BRADBURY,
JOHN CARPENTER,
WES CRAVEN,
TOM HOLLAND,
E.C. McMULLEN Jr.,
GEORGE A. ROMERO,
and many more.



Extensively quoted in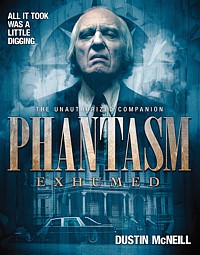 PHANTASM
EXHUMED
The Unauthorized Companion

And In
CINEMA


E.C. McMullen Jr.


Head Production Designer

MINE GAMES


(Starring:
JOSEPH CROSS, BRIANA EVIGAN,
ALEX MERAZ)

Dept. head
Special Effects Make-Up
(SFX MUA)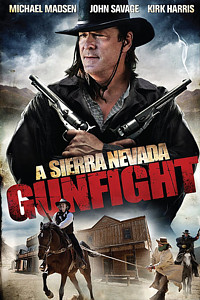 A SIERRA NEVADA
GUNFIGHT
(MICHAEL MADSEN & JOHN SAVAGE).

Production Designer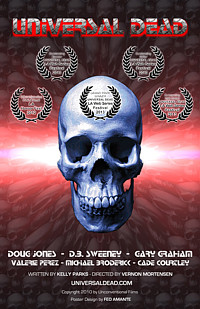 UNIVERSAL DEAD
(DOUG JONES,
D.B. SWEENEY,
GARY GRAHAM)

Art Director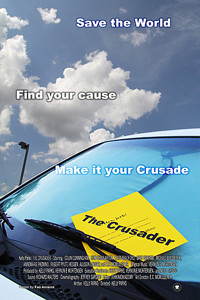 THE CRUSADER
(COLIN CUNNINGHAM,
GARY GRAHAM)
Review by
Mike Oliveri

BE COOL IF YOU DID


TIP JAR




SCANNERS

- 1981
USA Release: January 14, 1981
Film Plan / AVCO Embassy Pictures / MGM
Ratings: USA: R
Written and directed by David Cronenberg (RABID, VIDEODROME, THE FLY [1986], NAKED LUNCH, eXistenZ), SCANNERS is about a new "breed" of human beings with psychic abilities. Most notably, they can scan other people and read their thoughts in a form of telepathy. More specifically, as the film explains, the scanner is linking his nervous system with that of the victim and is then able to manipulate their actions, inflict pain, and even cause a rather traumatic death. Throw in some conspiracy and intrigue, and voila: we have a screenplay.
Not a bad concept on which to base a movie, if you ask me. Unfortunately, Cronenberg is unable to follow through. The plot grows weaker as the film progresses, and there are several holes and mistakes throughout the action.
Get this: it appears a computer somehow has a nervous system. Oh! That means the scanner can link up with a computer and read or alter its programming! So our protagonist simply dials in from a pay phone and takes over.
"What's happening?" cries the bad guy henchman.
"Gee, it appears the system's been invaded. That's too bad," says the unconcerned computer lab technician. Now honestly, how many programmers or IT support employees do you know that wouldn't have a serious heart attack if they stumbled upon a hacker in their system?
"Damn!" says the henchman. And nobody reaches for a plug, a telephone cord, anything.
But wait! That leaves out the possibility for drama! If they throw the emergency switch that blows all the circuits, we can fry the scanner's mind! Unfortunately, the computer geek has to have WRITTEN PERMISSION from the chief of the corporation to blow the computer.
So let's get this new bit straight: picture our average friendly neighborhood network administrator. A hacker is in his system right now, wreaking havoc. Do you honestly think he is going to go through bureaucratic red tape, or waste time with voice mails, pagers, and faxes trying to track down the CEO so he can get permission to shut down the system? Granted, this was filmed in the 80's, but I think every company, even then, had some idea of system security!*
*FeoNote: Actually, they didn't.
36 years ago, corporate security was protecting the company system from outsiders physically walking in and getting access to the computer.
Those commercial systems that were connected by phone lines to computers elsewhere, were wide open to the outside and you didn't need a computer or password to hack in. You could do it with a dime and some aluminum foil.
Phone Phreaks were notorious.
So, we have more drama as the henchman pulls his gun on the tech geeks and says "Here's your permission!"
Cheesy and cliché.
And that's not the least of them! The others would give away parts of the plot, which I feel I should, out of some sense of decency, keep from revealing here lest you decide to actually go out and rent this film if only for the sake of seeing a cult favorite.
And why a cult favorite, you may ask? First of all, Cronenberg's name is on the cover. And again, the horror/thriller concept of the psychic scanners drives some interest. But if you're at all a fan of Michael Ironside (TOTAL RECALL, STARSHIP TROOPERS) and his excellent portrayals as an all-around bad-ass in both protagonist and antagonist roles, it's worth seeing this early performance when he was still showing up rather low in the credits lists.
Ironside (nominated for the Canadian GENIE award as Best Supporting Actor for this role) plays Darryl Revok, a renegade scanner who is out to conquer the world with his powers and an army of fellow scanners. He is a very eccentric character, with a mean and cunning streak that Ironside conveys very well. His motives may be simple, but they're probably the most realistic motives in the film.
The protagonists performances are very flat, and they appear to be going through the motions of chasing Revok for no reason other than they have nothing better to do.
Patrick McGoohan ([TV] THE PRISONER, TRESPASSES) was probably at a career low in this one, playing Doctor Paul Ruth, an employee of a top security company that recruits and trains scanners. He tracks down Cameron Vale, played by Stephen Lack (of talent? There was less wood in the first half of Pinocchio's performance, yet he is allowed to act again in Cronenberg's DEAD RINGERS). Vale was homeless, unable to cope with his abilities or function in society until his one day of training against an old Yoga master turns him into a force to be reckoned with and he's sicked on Revok by Ruth.
Vale is led to Kim Obrist, played by Jennifer O'Neill (THE RIDE). Obrist belongs to a small group of hippie-like scanners that link to one another in some funky mental lovefest that allows them to share their love and their feelings. Of course, the hippies are all conveniently wiped out by a couple of guys with shotguns, who also fail to make another appearance in the film.
SCANNERS starts strong with some mystery as to Vale's powers and Ruth's involvment, and Revok's assassination of the company's last scanner and his subsequent escape from their security team is a good attention-getter. Unfortunately, as the plot tries to become more convoluted, it just gets sillier and develops ever-growing holes that swallow even the greatest suspensions of disbelief.
Great idea but poor execution, granting it three negative shriek girls.




This review copyright 1999 E.C.McMullen Jr.
YOU MIGHT ALSO ENJOY
(Sub-Section: CREATED SUPER-HUMANS)
ALTERED
MOVIE REVIEW
CHRONICLE
MOVIE REVIEW
SPLIT
MOVIE REVIEW