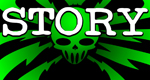 You Support This Site
When You Buy My Books
E.C. McMullen Jr.
PERPETUAL
BULLET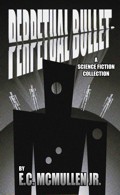 "'Some People' ... may be the standout story in the book."
-

John Grant

, Infinityplus

E.C. McMullen Jr.
WILLOW BLUE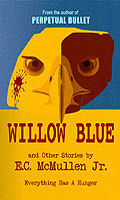 "'Willow Blue' will burrow under your skin and stay there long after you've put the book down."
- Jeffrey Reddick, Creator of
FINAL DESTINATION

IN OTHER BOOKS
E.C. McMullen Jr.'s
short story
CEDO LOOKED LIKE PEOPLE
in the anthology
FEAR THE REAPER

"This Ray Bradbury-esque is one of the most memorable and one of the more original stories I've read in a long time."
- Steve Isaak,
Goodreads

HORROR 201:
The Silver Scream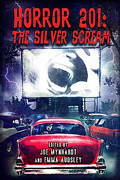 Filmmaker's Guidebook
featuring
RAY BRADBURY,
JOHN CARPENTER,
WES CRAVEN,
TOM HOLLAND,
E.C. McMULLEN Jr.,
GEORGE A. ROMERO,
and many more.



Extensively quoted in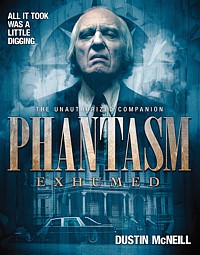 PHANTASM
EXHUMED
The Unauthorized Companion

Robert S. Rhine's
SATAN'S 3-RING
CIRCUS OF HELL

Forward by
GAHAN WILSON &
FEO AMANTE.
Featuring comics by
ALEX PARDEE,
WILLIAM STOUT,
STEVE BISSETTE,
FRANK DIETZ,
JIM SMITH,
FRANK FORTE,
ERIC PIGORS,
MIKE SOSNOWSKI,
OMAHA PEREZ,
DAVID HARTMAN,
STEVEN MANNION,
and more!

And In
CINEMA


E.C. McMullen Jr.


Head Production Designer

MINE GAMES


(Starring:
JOSEPH CROSS, BRIANA EVIGAN,
ALEX MERAZ)

Dept. head
Special Effects Make-Up
(SFX MUA)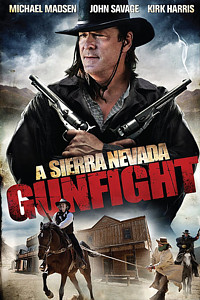 A SIERRA NEVADA
GUNFIGHT
(MICHAEL MADSEN & JOHN SAVAGE).

Production Designer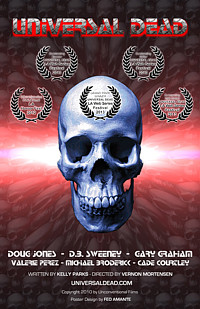 UNIVERSAL DEAD
(DOUG JONES,
D.B. SWEENEY,
GARY GRAHAM)

Art Director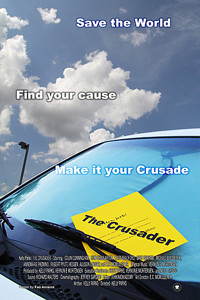 THE CRUSADER
(COLIN CUNNINGHAM,
GARY GRAHAM)
Review by
Kelly Parks

STAR TREK VIII: FIRST CONTACT

- 1996
USA Release: Nov. 22, 1996
Paramount
Rating: USA: PG-13
Good news, Captain. Sensors indicate a minimum of exposition.
STAR TREK VIII: FIRST CONTACT (the 8th Trek movie) was written by Rick Berman, Brannon Braga (MISSION IMPOSSIBLE II) and Ronald D. Moore (MISSION IMPOSSIBLE II) and directed by Jonathon Frakes (ROSWELL [TV], TOTAL RECALL 2) who also stars as Commander Riker, first officer of the Enterprise.
Jean-Luc Picard (Patrick Stewart: DUNE, LIFEFORCE, X-MEN, CONSPIRACY THEORY) is having a very bad dream. Years ago he was kidnapped and assimilated by the Borg, a race of cyborgs intent on galactic conquest. Picard was ultimately rescued but still suffers from post traumatic stress syndrome and occasional nightmares. He wakes up just in time to receive a call from Admiral Hayes (Jack Shearer: END OF DAYS) concerning a Federation colony that's been attacked and destroyed. Before the Admiral can finish his sentence Picard knows: the Borg invasion has begun.
For those non-Trekkies out there allow me to explain (C'mon! You're a trekkie! Admit it). Borg comes from cyborg, which is a contraction of cybernetic organism. It means a being that is part living and part machine (it's wrong to say part organic and part machine because it's perfectly possible to build a machine from organic materials). The Borg are a race that started out much like us, but gradually surrendered their bodies and finally their individualness to a collective machine consciousness. Sounds very zen, I know, but these guys ain't hippies. The Borg are intent on forcibly assimilating every culture they meet into their collective.
Picard informs his crew about the invasion and everyone is eager to go kick Borg ass, but Starfleet has issued orders that the Enterprise sit this one out. It seems they're a little leery of letting a man who says he can still hear Borg voices in his head be part of the fight against them. But as the crew listens to the battle unfold between the entire Federation and a single Borg ship it doesn't take long before Picard orders the Enterprise into action.
The Enterprise arrives just in time. Picard takes charge and takes names as his special knowledge of the Borg allows him to quickly defeat the alien enemy. During the battle the Enterprise rescues the crew of a small starship called the Defiant – including Lt. Commander Worf (Michael Dorn: THE PROPHET'S GAME, MACH 2).
All this happens in the first ten minutes! The first time I saw this movie I had decided by this point that it was the best Star Trek movie ever made, and the remaining 90% did not change my mind. A small Borg ship escapes the battle and creates a time warp. The Enterprise is caught in the warp and both ships are thrown back to April 4th, 2063 (still decades in our future but about three hundred years into the past from the Enterprise's point of view). The Borg vessel immediately fires on a missile complex in central Montana before being finally destroyed.
Picard puts the location - Montana - and the date together and realizes what the Borg were trying to do. Tomorrow, on April 5th, 2063 (which will be my sister's 100th birthday), First Contact occurs. Dr. Zefram Cochrane (James Cromwell: THE GREEN MILE, SPECIES II) is about to make a test flight in the first warp ship and this test will attract the attention of other star traveling aliens, resulting in Earth joining an interstellar community that ultimately becomes the Federation. The Montana missile complex is Cochrane's launch site.
Picard, Riker, Dr. Crusher (Gates McFadden: THE HUNT FOR RED OCTOBER) and councilor Troi (Marina Sirtis: WARLOCK II) beam down disguised as locals. The Earth of the mid 21st century is pretty grim, still recovering from WWIII ten years before. It's never made clear who the combatants were although one character refers to the enemy as E-con and as the Eastern Coalition. If you're a Trekkie you know this is a reference to the Eurasian empire of Khan Noonean Singh (as in STAR TREK II: The Wrath of Khan). Khan was the leader of a group of transgenic superhumans that came close to taking over the world. What a perfect lead in for my….
!!!SCIENCE MOMENT!!!:
World War III in the Star Trek universe is what prevented humanity from ending up like the Borg. It was a battle between those who adopted the new cybernetic and genetic technology that we are developing today and those who chose to remain human. The normals won and there was such a backlash against genetic enhancement that even centuries later genetic defects (like Picard's baldness) exist. Maybe this is more of a psychic moment than a science moment because I have a prediction: World War III will happen, it will happen this century, and the normals will lose. But don't feel too bad. Unlike the Neanderthals, we have the opportunity to become our own replacements.
Cochrane and his assistant Lilly (Alfre Woodard: SCROOGED, PRIMAL FEAR) survive the Borg attack, but the warp ship is damaged. And of course the Borg aren't vanquished so easily. They come roaring back, led by their Queen (Alice Krige: GHOST STORY, HAUNTED SUMMER, Stephen King's SLEEPWALKERS, HABITAT, THE CALLING).
Lilly is especially memorable for putting Picard in his place when his obsession with the Borg gets in the way of the right decisions. Cochrane is great too, as the selfish, whiskey drinkin' genius uncomfortable with the worshipful stares of the Enterprise crew, who regard him as history's greatest hero.
There are a couple of cameos dear to a Trekkie's heart. At one point Dr. Crusher has to activate the Emergency Medical Hologram, a medical computer program that appears as the doctor from Star Trek: Voyager (Robert Picardo: THE HOWLING, GREMLINS 2). And when Lt. Commander Geordi La Forge (LeVar Burton: THE SUPERNATURALS) leads an engineering detail to the surface to fix the warp ship, he brings along Trekkie favorite Lt. Reg Barclay (Dwight Schultz: THE TEMP, A KILLER AMONG US).
This movie absolutely rocks! The story never stops and the heroism and technical wizardry are plentiful. I give it a definite 5 Shriek Girls.






This review copyright 2000 E.C.McMullen Jr.