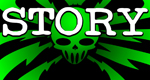 You Support This Site
When You Buy My Books
E.C. McMullen Jr.
PERPETUAL
BULLET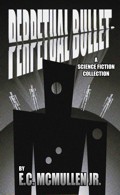 "'Some People' ... may be the standout story in the book."
-

John Grant

, Infinityplus

E.C. McMullen Jr.
WILLOW BLUE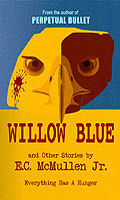 "'Willow Blue' will burrow under your skin and stay there long after you've put the book down."
- Jeffrey Reddick, Creator of
FINAL DESTINATION

IN OTHER BOOKS
E.C. McMullen Jr.'s
short story
CEDO LOOKED LIKE PEOPLE
in the anthology
FEAR THE REAPER

"This Ray Bradbury-esque is one of the most memorable and one of the more original stories I've read in a long time."
- Steve Isaak,
Goodreads

HORROR 201:
The Silver Scream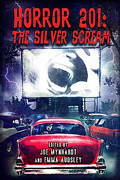 Filmmaker's Guidebook
featuring
RAY BRADBURY,
JOHN CARPENTER,
WES CRAVEN,
TOM HOLLAND,
E.C. McMULLEN Jr.,
GEORGE A. ROMERO,
and many more.



Extensively quoted in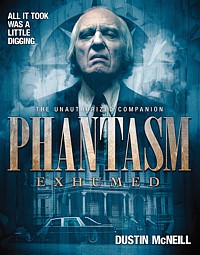 PHANTASM
EXHUMED
The Unauthorized Companion

Robert S. Rhine's
SATAN'S 3-RING
CIRCUS OF HELL

Forward by
GAHAN WILSON &
FEO AMANTE.
Featuring comics by
ALEX PARDEE,
WILLIAM STOUT,
STEVE BISSETTE,
FRANK DIETZ,
JIM SMITH,
FRANK FORTE,
ERIC PIGORS,
MIKE SOSNOWSKI,
OMAHA PEREZ,
DAVID HARTMAN,
STEVEN MANNION,
and more!

And In
CINEMA


E.C. McMullen Jr.


Head Production Designer

MINE GAMES


(Starring:
JOSEPH CROSS, BRIANA EVIGAN,
ALEX MERAZ)

Dept. head
Special Effects Make-Up
(SFX MUA)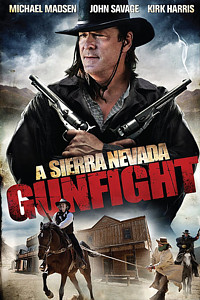 A SIERRA NEVADA
GUNFIGHT
(MICHAEL MADSEN & JOHN SAVAGE).

Production Designer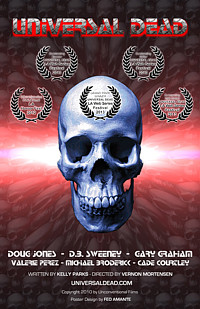 UNIVERSAL DEAD
(DOUG JONES,
D.B. SWEENEY,
GARY GRAHAM)

Art Director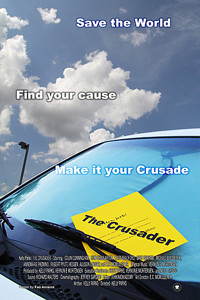 THE CRUSADER
(COLIN CUNNINGHAM,
GARY GRAHAM)
Review by
Kelly Parks

LIFEFORCE

- 1985
USA Release: June 21, 1985
Canon Group / Easedram Limited / Golan-Globus Productions / TriStar Pictures
Rated: Germany, Norway, UK: 18 / USA: R
Before I talk about the movie I just want to mention that a super hot chick walking around completely naked is very distracting. Especially when you're a young guy seeing it for the first time. The movie, I mean. Not naked super hot chicks.
LIFEFORCE was directed by Tobe Hooper (THE TEXAS CHAINSAW MASSACRE, SALEM'S LOT [TV – 1979], POLTERGEIST, INVADERS FROM MARS, MASTERS OF HORROR: DANCE OF THE DEAD, MASTERS OF HORROR: THE DAMNED THING) and written by Dan O'Bannon (ALIEN, DEAD AND BURIED, INVADERS FROM MARS, TOTAL RECALL, BLEEDERS) and Don Jakoby (INVADERS FROM MARS, ARACHNOPHOBIA, VAMPIRE$, EVOLUTION), based on the 1976 novel THE SPACE VAMPIRES by Colin Wilson.
Very impressive credentials.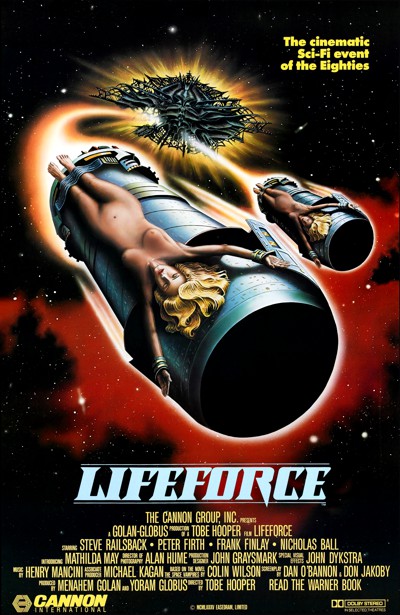 "Cinematic Sci-Fi event!" Pff!
Before Internet Porn: The UK Version of the Poster
Selling that Space Sex
The story opens with a narrator telling us about the journey of the HMS Churchill, a joint British/American space mission to Halley's comet. The first sight of the spaceship was almost enough to send me into science moment mode, but I'll hold off for a little while.
As they approach the comet they discover a huge (as in 150 miles long) alien spaceship. Strange interference prevents them from reporting to Earth. They board the ship and discover huge numbers of dead alien space bats and an alarmingly beautiful naked woman (and two naked dudes) in crystalline coffins. Mission commander Colonel Tom Carlsen (Steve Railsback: DISTURBING BEHAVIOR, THE DEVIL'S REJECTS) brings the coffins on board.
Jump ahead a few months and the Churchill arrives in Earth orbit, but doesn't respond to radio calls. Space Shuttle Columbia is launched to rendezvous and finds the crew very dead. All the corpses are burned out husks. But the aliens in their coffins remain intact. They are returned to Earth and studied in a British space center in London under the direction of Dr. Fallada (Frank Finlay: A STUDY IN TERROR, THE DEADLY BEES).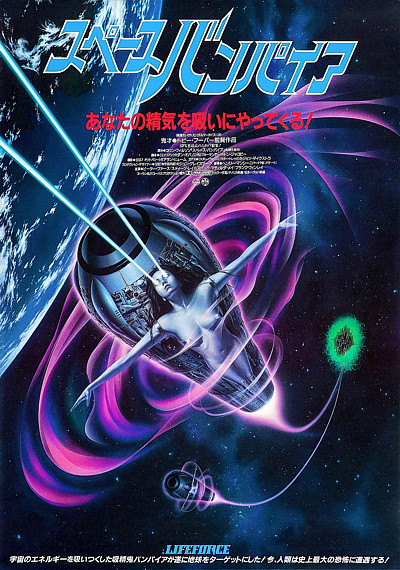 Before Internet Porn: Don't even pretend LIFEFORCE was going for anything else.
This movie lives or dies by actress Mathilda May's naked body and selling that Space Sex!
I think it goes without saying that the space girl (Mathilda May: PRIVATEER 2: THE DARKENING) is far from dead. She wakes up and chooses not to adopt the Earth custom of wearing clothes. And as you may have guessed, she's a vampire. But she doesn't take blood – she drains energy1, leading to some semi-cheesy but sometimes cool effects, as her victims try to regain their lifeforce by stealing someone else's.
TRIVIA
1 The sexy naked Space Vampire drains men of their "energy" IF you know what I mean... ahem.
Colonel Caine (Peter Firth: HIGHLANDER [TV], THE HUNT FOR RED OCTOBER, MIGHTY JOE YOUNG) of the SAS shows up to head the search for the escaped aliens, just as the presumed dead Colonel Carlsen returns to Earth in one of the Churchill's escape pods. It's then that Carlsen reveals what really happened aboard his ship. What happened was…
But that's enough. And before I tell you what I thought of this nude alien adventure, I must take time out for a
!!!SCIENCE MOMENT!!!:
I'm not sure who it was (my guess is Dan O'Bannon) but somebody involved in this movie was a science geek. I know that because the Churchill maintains the illusion of gravity on board by use of a nuclear engine (properly placed underneath the ship rather than behind) that provides a steady 1 gravity acceleration while the rocket is burning. That would actually work (if you had an engine powerful enough – which we have a pretty good idea how to make)* as opposed to magical gravity generators used in so many other movies and TV shows, which we don't have the first clue how to build.
*Indeed we do.
"NERVA is an acronym for Nuclear Engine for Rocket Vehicle Application, a joint program of the U.S. Atomic Energy Commission and NASA managed by the Space Nuclear Propulsion Office (SNPO) until both the program and the office ended at the end of 1972"
- IMDb.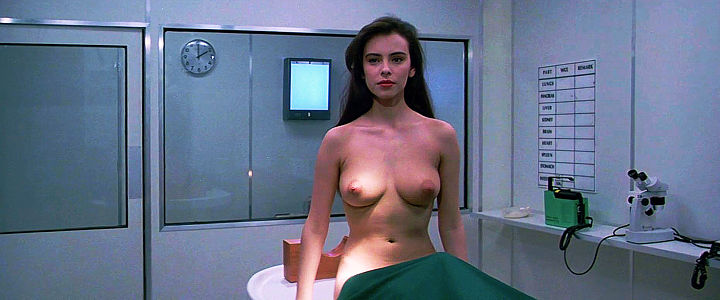 A GOLAN-GLOBUS Production: Featuring a nice pair of Globus!
When I saw this movie back in the 80's I thought it was awesome. But my older self must point out to my younger self that although it's not bad and does have some cool parts (including a weird cameo by Patrick Stewart) it's also amateurish and lame and cheesy and that my younger self was clearly distracted by the luminescently beautiful naked space girl. That's why my older self barely gives LIFEFORCE a three on the shriek girl scale.




This review copyright 2003 E.C.McMullen Jr.
YOU MIGHT ALSO ENJOY
(Sub-Section: SPACE MONSTERS)
EVENT HORIZON
MOVIE REVIEW
ALIEN
MOVIE REVIEW
THE THING

- 1982


MOVIE REVIEW