Review by
E.C.McMullen Jr.

INCEPTION

- 2010
USA Release: July 16, 2010
Syncopy, Legendary Pictures, Warner Bros.
Ratings: USA: R
How is it possible that director Christopher Nolan (MEMENTO, BATMAN BEGINS, THE DARK KNIGHT) and actor Leonardo DiCaprio (SHUTTER ISLAND), and Warner Bros., all tread over plots and stories that are well worn for - and by - them and still make it work?

The title track that sticks in everyone's mind in this movie, actually came from the movie trailer and not the film itself. And it doesn't belong to Hans Zimmer, but to original composer, Zack Hemsey. It's called MIND HEIST.
Because like any story no matter how many times it has been told, it's what new stuff you bring to the table. 5,000 years from now someone may still be making a vampire movie - their version of whatever a movie will that far into the future - and as long as they bring something fresh and new to it, that story will still be good.
Anyone who has watched Mr. Nolan's body of work will recognize the plot of INCEPTION. Anyone who saw Leonardo DiCaprio in SHUTTER ISLAND will recognize his character and motivations. And of course, there is no mistaking that we're in the same realm as Warner Bros. THE MATRIX. I've enjoyed MEMENTO and THE MATRIX many times and I've seen SHUTTER ISLAND once. And I really enjoyed INCEPTION.
A man washes up onto a shore, sees some kids on the beach, is hustled to an aging wealthy man's castle, and tells a story.
In a luxurious meeting room, Cobb (Leonardo DiCaprio) and his partner, Arthur (Joseph Gordon-Levitt: DARK SHADOWS [TV- 1991], HALLOWEEN H20, BRICK) are attempting to sell a wealthy man, Saito (Ken Watanabe: BATMAN BEGINS, CIRQUE DU FREAK) a security system. The security they have in mind requires Saito to trust them with his most secret information. Things he would even keep from his wife; his best friend; only then can Cobb and Arthur ensure his absolute security. Saito smiles at them, invites them to finish their meal, and walks out. Cobb and Arthur realize they didn't make the sale. This means they'll have to do things the hard way.
Meanwhile, Cobb and Arthur are asleep in their chairs in a weedy looking apartment.
They have cables running from underneath their sleeves to a machine. A cable also runs to a bed where lies Mr. Saito. Nash (Lukas Haas: MARS ATTACKS!, BRICK, TRIPPER) monitors all the sleepers and keeps watch on an approaching riot in the street below.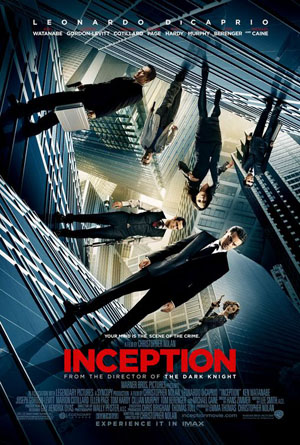 Meanwhile, Cobb and Arthur, having left the restaurant/club, are wondering about their next move when both spot Mal (Marion Cotilliard: INNOCENCE). Cobb has Arthur return to the restaurant while he speaks to Mal, who is a Shade. Soon Mal ruins everything and the world that they inhabit comes crashing in. Then Saito wakes up and so does Cobb and Arthur and everything goes to hell. The riot in the street breaks into the apartment.
In the unknown, shadowy near future of this world, the ability to enter other people's dreams is a fact. There are machines that help you do it. But just as there are technologies there are rules and laws which bind them, and there are those - like Cobb and Arthur - who use the technology to infiltrate the dreams of wealthy men to expose their secrets and steal from them.
It's called extraction. The ability to catch a wealthy man sleeping usually involves breaking and entering or kidnapping. Because wealthy people tend to be well-guarded, people like Cobb and Arthur are ultra-high-powered mercenaries in the latest art of corporate espionage. And of course the stakes are very high. If you aren't at the top of your game and get caught in the act, you'll likely never be heard from again.
Arthur is willing to take risks because, like many who have developed talents within dreams, he is an adrenalin junkie and a thief. Cobb is neither, but he was taught by the man that first discovered the ability to jump into other people's dreams, Dr. Miles (Michael Caine: BATMAN BEGINS, THE DARK KNIGHT, THE PRESTIGE). Dr. Miles created the ability to help people. His ace student became a fugitive from the law and now performs heists. The reason Cobb needs such a great amount of money is to fight his case in court for a crime he almost surely did commit. At stake are his two children, well protected by their grandparents but out of his reach. Cobb's wife Mal, is dead.
The extraction job Cobb and Arthur pull goes horribly wrong and their mark catches them. Simply killing them or even threatening them isn't enough. Not when Saito has his own uses for a dream extraction team. Only he doesn't want to extract information from his chief competitor. Instead he wants to do something that no dream mercenary team has ever been able to accomplish: implant an idea into someone's mind so powerful that they will act on it. Saito knows that threatening Cobb won't be enough, because Cobb needs to assemble a crack team - a better team than the one he had before. The only person who won't get paid is Cobb. Saito is wealthy enough to offer Cobb something more valuable than money or even his life.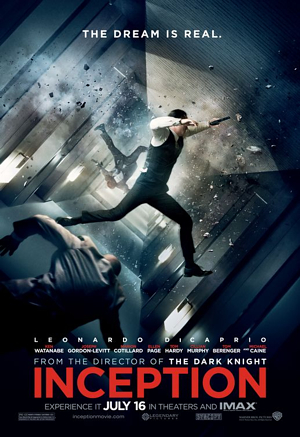 Among the extras and on this poster
are the only places you'll find any black people.
So Cobb, The Extractor, assembles his team. Among the experienced, he stays with his Pointman, Arthur. Then he adds the Dream Forger, Eames (Tom Hardy: STAR TREK: NEMESIS).
His old teacher, assured that his finest brightest students won't be involved in any actual criminal activity, recommends his best Dream Architect, Ariadne (Ellen Page: HARD CANDY, X-MEN: THE LAST STAND). Ariadne has the necessary ability to build complex entire cities within dreams. This is vital because when the merc dreamers go into someone else's mind, they need to control as much of the dream as possible and the environment in which the dreamer dreams is the most important.
Ariadne becomes a sort of Neo in that she is exposition girl.
Unlike THE MATRIX, Christopher Nolan's script visually cues the lessons that Cobb is attempting to teach, and there are enough scenes of the actors acting and interacting with the massively pliable, M.C. Escher environment of dream, that incessant Morpheus talk becomes unnecessary. Don't get me wrong, when THE MATRIX first came out, I adored it. But it doesn't age well.
Finally there is Yusuf (Dileep Rao: DRAG ME TO HELL, AVATAR). Actor Rao has only been in three feature films and he plays the same character in all of them. He's the tour guide.
DRAG ME TO HELL: I will guide you through your curse.
AVATAR: I will guide you through your Avatar.
INCEPTION: I will guide you through your dreams.
But his characters are never actually involved in the story and they never need the ethnic overcoat they're given. DiLeep would be just fine to the tale as a researcher in a lab or one of the teachers at the university Cobb, Adriadne, and Dr. Miles belong to.
Instead, Yusuf is needlessly spiritual, dwelling in a shadowy cubby hole of a shop, dressed up to shout, "Look, I'm kinda Middle-Eastern and I adhere to the old ways!" Everyone else on the team is as beautifully delicate as runway models: expensive clothes, coiffed, and manicured from hair to skin; university educated, elite, connected, and moneyed. Dark skinned Yusuf is a tubby backwater mystic with wild bed head hair who knows his potions. Cobb and crew have their science and their well-appointed social standing. They have their high-tech machines, and their education. But when they need a mild sedative it's off to Morocco to find a scruffy witch doctor. He's the only one on the team who doesn't even get his own character poster. I hope Dileep can break out of the stereotypical typecasting, though right now he's got nothing going on for the near future.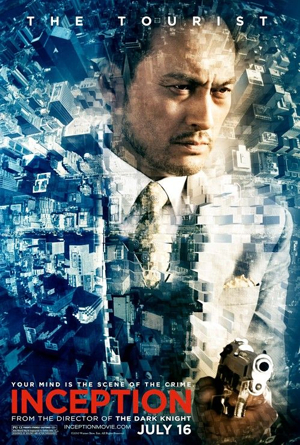 Unlike Dileep Rao, at least
Ken Watanabe got a character poster.
Anyway, once the team is assembled they attempt to infect an innocent man, Robert Fischer Jr. (Cillian Murphy: 28 DAYS LATER, BATMAN BEGINS, RED EYE, THE DARK KNIGHT) with the idea of his enemy, Saito, so the man can control the actions of Robert.
Robert is The Mark, and if Inception is successful, Robert will betray both his father Maurice (Peter Postlewaite: ALIEN3, THE LOST WORLD: JURASSIC PARK, DARK WATER [2005], THE OMEN [2006], CLASH OF THE TITANS), and his godfather, Browning (Tom Berenger: SHATTERED, SLIVER, THE GINGERBREAD MAN, SILENT VENOM).
What stands in Cobb's way is the memory of his dead wife Mal, who infiltrates and destroys everything within the dreams that he tries to control. The huge issue for Cobb, and the reason his last job failed, is because Mal walks into the picture and gives everything away. This will be Cobb's last job and what he has to do is contain his mind to keep his memory of Mal from destroying their plan.
INCEPTION is not a story about a good hero doing a good thing for the best reasons. Cobb is a bad man doing bad things for his personal gain. The reason we want him to succeed is because his personal gain is not something so selfish as more money, more stuff, more power, but to give his children the father they need. Cobb is a fugitive without a country, a parent without children, hoping that he can come through the bad things he is doing toward a life free from crime where he can simply be a good father to his kids.
Still, this is Chris Nolan writing and directing here, so just as there are layers of dreams within the story, there are layers of story within this movie. This is one of those rare wonderful movies that have you thinking and talking about it with your friends, and THAT is what gives it power.
The more we learn of Cobb's backstory and why he's a fugitive, the less believable his own side of the story becomes. In fact, it gets to the point where you become incredulously amazed that his father and mother-in-law would actually buy into it. Cobb's alibi is so convoluted and unlikely that the only way it could make sense ...
But then, that would be telling.
What stops me from giving INCEPTION 5 Shriek girls all the way is a number of repetitive scenes that go on too long - repetitive AND too long. And an orchestral wall of music (composer Hans Zimmer: HANNIBAL, THE RING, BATMAN BEGINS, PIRATES OF THE CARIBBEAN: DEAD MAN'S CHEST, PIRATES OF THE CARIBBEAN: AT WORLD'S END, THE DARK KNIGHT, SHERLOCK HOLMES) that becomes a noticeable, sometimes distracting character and never seems to stop. Make no mistake, Nolan tells a difficult story that could have easily gone off the rails into a confused mess in lesser hands. And maybe the movie needs to be repetitive and long past the point of "We get it, already!" to maintain cohesion. But it still felt that way.
Now how about the
!!!UNFAIR RACIAL CLICHE ALERT!!!:
Do you know what the URCA is? Because there's no URCA in INCEPTION. While there are two prominent non-whites in this movie, actors Ken Watanabe and Dileep Rao, they are both relegated to looking on while the white folks all get down to business.
Only white people are smart enough and educated enough to know what they are doing. In INCEPTION, non-whites like Yusuf can only drive a van around and try to stay out of trouble (and do a real poor job of it) while the white folks sleep. Or like Saito, they get involved in white folk business and go where they are told not to go, thus becoming a liability and nuisance. Luckily (and this is no spoiler since the movie begins this way) there is a white guy around to save Saito the lost "Tourist" from himself (INCEPTION even had a character poster of Saito with the words, "The Tourist" over his head!). So according to the strict and narrow definitions of THE UNFAIR RACIAL CLICHE ALERT, INCEPTION doesn't earn one since non-whites in this movie don't wind up corpses, but are merely rendered useless.
That said, I enjoyed this movie so much that I'm heading back to the theater to see it again! It's that good, that cinematic, that involving. INCEPTION is the marvel and fun of what a theatrical experience can be.
Four Shriek Girls.





This review copyright 2010 E.C.McMullen Jr.